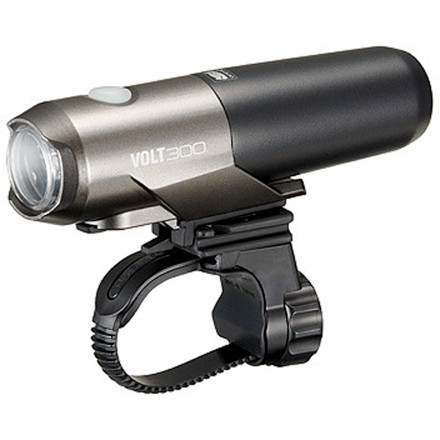 Colors
Portable light
Headlight technology has evolved quickly from days of yore when you needed to carry two water-bottle sized batteries for a few hours of illumination. Now you can literally hold a complete light in the palm of your hand. The Cateye Volt 300 is the latest in portable lumens – quick to charge and quick to attach, so that you'll have it whenever your trails lead you into the night.
The Volt 300, is smaller and lighter than lights with external batteries. The battery and light are housed in a self-contained body. It runs off of a cartridge-style Li-ion rechargeable battery in a quick-change compartment ideal for longer rides and commutes, and additional batteries and charging cradles are available separately.
Cateye's Volt 300 is an LED X1 light that features five modes: High, Normal, Low, Hyper Constant, and Flashing. Depending on your setting , it will last 3 hours on high mode, 8 hours on normal mode, 18 hours on low mode, 11 hours on hyper constant, and a full 60 hours on flashing mode. It is mounted under your handlebars or on your helmet. The Volt 300 features a low battery indicator, lighting mode memory function, and a helmet mount.
The Cateye Colt 300 comes with a USB charging cable and takes about 6 hours to reach a full charge. The entire unit weighs 120grams.
These lights are awesome for my teen mountain bikers. They love them!
Travis McGrew
This light is super bright and the charge lasts pretty long. I like how it fits on my bars without getting in the way. The adjustability is great and it quickly disconnects at the bar so it doesn't get stolen
Adam
Video of USB Rechargeable Volt 300
Familiarity:

I've put it through the wringer
Very light, bright and inexpensive. Helmet and handlebar mountable! Video show in use and feature info.
Jeff Perlman
Great Light in a Small Package
Familiarity:

I've put it through the wringer
I usually ride during the week in the mornings and its usually in areas without a lot of light. I was replacing my Mi Newt (bought in 2009) and was hesitant to buy a light w/o a separate battery - how good could it be? I was shocked that, at least on its highest power setting, the Volt is as bright as the MiNewt. I usually have to recharge it after 4 hours of use, but I don't find that a hassle at all.
Josh G
This is the single best purchase I have made for the bike. Commuting regularly requires a good front light, and this one commands the attention of motorists which makes me feel much safer.



Seems pricey, but this is a nice light. Bright like the sun. Ok, maybe not that bright. I can see this light flash off the street signs where ever I go, and at great heights and distances. Definitely recommend this, and it charges with a USB cable.
Peter Hamm