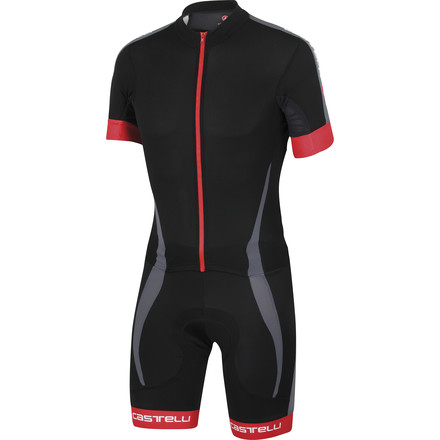 Colors

Detail Images
Like riding naked, only better.
You're perfect just the way you were born, but you'd be a little more perfect if you zipped yourself into the Castelli Velocissima Sanremo Men's Suit. Not to disrespect you birthday suit, which is great for lots of things, but it was never really intended for cycling, which is, believe it or not, the Sanremo's bread and butter. It's essentially a pair of bib shorts that have a full jersey instead of shorts, and this singular construction is part of what makes it so fast. The top, which Castelli calls Aero Race 5.0, is made primarily of Velocity Dry, a microscopically dimpled fabric that sheds wind and slides down the road like a greased eel down a waterslide. It's tightly woven to provide muscle support, and designed to breathe exceptionally will and wick moisture away from your skin with lightning speed.
The shorts, Castelli's Velocissimo, are made of Affinity Lycra, a spectacularly stretchy but supportive material that moves precisely as you do, so you don't waste energy fighting your clothing or the vibrations of the road. It's finished off with a KISS Air chamois, which is virtually as comfortable as Castelli's top-shelf Progetto X2 but not nearly as expensive. It's completely seamless to eliminate irritation and hot spots, and has an anatomical shape and variable-thickness foam to provide firm support where you need it and gentle cushioning where you don't. Best of all, Castelli finished the KISS Air with a bacteriostatic treatment, which prevents the growth of odor-causing microorganisms, a benefit that doesn't require explanation.
Aero Race 5.0 top
Affinity Lycra 210GR short fabric
3D sleeves
Form fit
Full-length zipper
Seamless KISS Air chamois
Three rear pockets