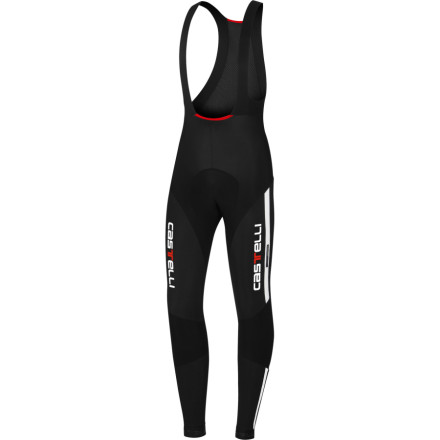 Colors

Detail Images
Do the work now, reap results when it counts.
Imagine being able to ride in cold weather with clothing that emulated all the best features of your summer-weight kit: bibs that didn't restrict breathing, a chamois as good as the one in your best shorts, and lightweight materials that didn't feel bulky or restrictive. The Castelli Sorpasso Bib Tights are part of Castelli's Rosso Corsa line of products, and as a result, they get the Italian manufacturer's very best treatment in materials, design, and fit.
The Sorpasso Bib Tights begin with Castelli's top-of-the-line Progetto X2 pad, the same pad found in their best shorts. The top layer that contacts your skin is a made from a seamless, four-way stretch microdenier fabric designed to move in harmony with your body and eliminate the chafing that can come with materials with too little stretch. It receives an antibacterial treatment and is bonded to a variable thickness pad made from multiple density foams; the result is a smoothly contoured pad that places the firmest foam where support is most needed. Perforated inserts help to relieve pressure on the sit bones and perineum -- just where riders experience the greatest pressure.
The front of the tights are cut from Thermoflex Core Due to keep the wind out. This two-layer material traps air in a hollow-core layer of polyester while moisture is transported to the outer nylon/Lycra layer where it can evaporate. A simpler fabric, Thermoflex, is used for the portions of the tights not exposed to the wind for greater breathability. Giro++ grippers keep both the bib straps and ankles in place. It's rare to find bibtights that are this light and this warm.
Like the bibs in the Rosso Corsa line, the waist of the Sorpasso Bib Tights is cut very low to eliminate restrictions on breathing caused by pressure on the belly.
The Castelli Sorpasso Bib Tights are Black/white and are available in six sizes from Small through XXX-Large.
Hollow core fibers trap warm air and move moisture better than traditional fibers
Progetto X2 chamois keeps your nether regions comfortable on long rides
Ankle zippers make the early-morning dressing routine a little easier
Breezly On Ones Junk
Fit:

Runs small

Size Bought:

Small (If I correctly recall)
This is a nice piece of kit, but not for temps below 45ish (your mileage may vary.) First ride on a pretty cold day, around 32 had my legs feeling fine but a brisk knifelike breeze blowing all round my junkular area. It seems like the parts are mismatched. Legs good down below freezing for a hard effort, but your privates are only going to be OK in a much higher range. Haven't been having that warmer range yet this winter in which to test their ability to manage hardworking legs. Sizing was as expected for Castelli, order per chart.
kls
Height:
5'11"
Weight:
130lbs
favorite cold weather tight
Familiarity:

I've put it through the wringer

Fit:

True to size

Size Bought:

large
I wear these is seattle for cold days - around here that's usually high 30's to high 40's. They seem ideal for that temperature. I'm buying a 2nd pair for the rotation. True to size for Italian bike clothing expectations.
KurtK
Height:
5'10"
Weight:
170lbs
Snug and Comfortable
Familiarity:

I've used it once or twice and have initial impressions

Fit:

Runs small

Size Bought:

Large
I live in East-Central Indiana and bought these to extend my riding seasons. For my cold-tolerance, they were very comfortable in the dry, high 30's and think they would be equally so into the low 30's, if you can keep everything else warm.
These are my first pair of bib tights and am quite happy with the fit, the quality, the chamois, and the service provided by the Competitive Cyclist's Gearheads. Ian recommended the Large and he was correct - they do run a bit small.
terry
Height:
5'10"
Weight:
165lbs
excellent winter tights
Familiarity:

I've used it once or twice and have initial impressions

Fit:

Runs small

Size Bought:

large
Great quality, very warm, runs a bit small, definitely "race fit."
jeremy T.
Height:
6'0"
Weight:
170lbs
Great Fit, Not True Winter Bibs
Familiarity:

I've used it once or twice and have initial impressions

Fit:

True to size
The first thing that I will say about these bibs is that they fit great. I have trouble finding properly fitting bibs at my height/weight, but, these fit perfectly snug. I purchased these anticipating they would protect me in true Northeast winter temps. The first ride I used them on was about 30F, with a bit of a wind chill. I should've known by mile 2 that it was time to turn around and change. Unfortunately, I didn't and suffered. Although my lower legs were warm enough, it literally felt like there was non-existent fabric in the groin region. As you can imagine, this lead to a very unpleasant ride.

I kept the bibs because I bought them at a great price and the fit is amazing. Hopefully they will do much better as a shoulder season piece. I would imagine that they would be good between 45-55F.
joeholl
Can't beat these for price I paid at BC
Familiarity:

I've put it through the wringer
These are the nicest fall/early winter bibs I own. The lycra fabric has a light fleece backing that helps keep the legs warm. I have worn them on days ranging from 35-50ºF and found them to be quite comfortable. The construction seems to be solid with great attention to detail in terms of the ankle zippers and cuff fabric. The chamois is their top end and very comfortable. As with many European (especially, Italian) brands, these run a bit on the small side, so size up. I wear them in LARGE for my 68" 170# frame. They are still available on close-out with a fabulous price. so don't miss out on this terrific piece of kit at a steal for the quality you get.
Mark L. Stram MD
Great Set of Winter Gear
Familiarity:

I've used it several times

Fit:

Runs small
I ordered two more Bib Tights for my collection of winter gear. They will work in 30's degree weather. I have used them as low as mid-20's but with leg warmers for another layer of protection. Great pair Bib tights for the price. I am happy with the gear. No fraying of material at all in stitching or logos. XL fits for my height and weight. They do fit snug for the brand.
Randy Battaile
Racey fit
Familiarity:

I've used it several times

Fit:

Runs small

Size Bought:

Large
This is my second pair of Sorpasso (1). Since Castelli is liquidating this slightly older version couldn't help but buy a second pair. The fit is small, like you need to be a little careful putting them on. I am 6', 165lb. Usually wear medium tops and medium or large bottoms in most brands. But these tights are small, should have got XL for a little more length. Material is nice, def not waterproof, but versatile for going from "cool" to "pretty cold" outside.
Ben Guernsey
Height:
6'
Weight:
165lbs
Great except for faulty ankle zippers
Familiarity:

I've used it several times
I am 5' 10" and 180 lbs. XL fits very well.
Warmth it offers is nearly perfect for late fall and late winter/early spring cycling in Western Washington.
After using 4 times, one zipper blew out and the other is showing similar stress so I too expect it to fail.
Brian S.
CASTELLI SORPASSO BIB TIGHTS ROCK
Fit:

True to size

Size Bought:

Medium
The CSBT's rock, already multiple sub zero mornings and I've been nothing but comfortable. Not hot, not cold, perfect. They seem to regulate the cold/heat and keep wind off the important areas keeping legs / lower abs warm
Highly recommend them for anyone who rides in the cold, early mornings. Chamois is also perfect out of the box, no break in or over padding, just smart technical gear.
Well thought out, thanks
Peter L.
Height:
5'11"
Weight:
175lbs
Great Bibs
Familiarity:

I've used it several times

Fit:

True to size

Size Bought:

Large
I'm 5'10 & 170 pounds & I commute to the office ~ 30 miles round trip on a daily basis & I'm on track for 6k miles this year. I picked up two pairs of the large Sorpasso bib tights earlier this year (on sale) to supplement my winter riding gear in preparation for the cold weather. My comments below are based on eight rides.

1. The large fit me well. This is in line with other Castelli items I've purchased in the past.

2. I've worn these with both a Gabba2 & Transparente3 long sleeve jerseys in weather between 39 degrees and 45 degrees. I was comfortable for all of those rides and I think I'd be comfortable down to about ~30 degrees (maybe more with a warmer winter jacket).

3. The material is of good quality and I've found the pad to be properly placed. Just based on a few rides, I shouldn't have any issue getting at least two seasons out of these (remember, I ride 5 days a week). The zippers made the full ride without moving.

I'm very happy with on sale purchase and would buy another.

Nathan S.
Height:
5'10"
Weight:
170lbs
Fall is Here
Familiarity:

I've used it several times

Fit:

Runs small
Warm and comfortable in 35 degree temps with steady North winds. Typical Castelli sizing. Chamois is superb. Will hopefully be able to extend my season until the snow and ice covers the roads.
Scorpion Wis
Height:
6'3"
Weight:
210lbs
Love these bibs
Fit:

Runs small

Size Bought:

Large
Castelli makes my favorite bibs, both long and short leg. While the sizing is always off (get one size larger than you normally wear), the fit is superb, the materials and stitching are quality. The chamois is comfortable but not bulky. And they seem to last longer than my other brands.
I always stock up when I see a good price.
Kerry B.
Height:
5'6"
Weight:
147lbs
HI, I am 5'11", 32" waist, 36" chest, 32" inseam. The Castelli size chart says Medium - other reviewers have suggested sizing up - Any advice/suggestions? Thanks, Satya
SATYADEV M.
I'm 5'9' 32" waist, 155lbs and wear a MEDIUM. Fit is great and performance matches.
Daniel M.
You want an XL. Normally with Castelli you go a size up. I am size L with Pearl Izumi, anything Italian based, i go XL.
JR Cardenas
Castelli always runs small. I am 5'6", 32" waist and I wear a large in both short and long-leg bibs. Even my shirts are large.


Kerry B.
Great tights
Familiarity:

I've used it several times

Fit:

Runs small

Size Bought:

S
It's a tad snug, but in no way uncomfortable. Excellent for windy and cool rides. Will purchase another set soon.
Gerard Y.
Height:
5'5"
Weight:
150lbs
Castelli; when in doubt, size up!
Familiarity:

I've used it once or twice and have initial impressions

Fit:

Runs small

Size Bought:

Large
Fellas, unless your name is "Chris Froome," always size up when looking at Castelli tights.

I'm 5'9", 210 lbs, avid cyclist and weight lifter, and I love me some squats and deads. I originally ordered a size L, based on the waist measurements reported in the size chart. I tried them on, and got them up to just above the knee before they were like "nope, no further!" It's not the waist measurement you have to watch out for, it's the thigh (which of course they don't list). I exchanged them for an XL and they fit almost perfectly, save for being just a little long in the leg.

As others have noted, they are indeed a little light in the insulation department in the front upper thigh area. Also, the size and shape of the pad leads me to believe this is a tight designed more for cruising around town on the hoods rather than cranking hard in the drops. The rearmost portion of the pad (for your butt) is almost comically thick at 12mm, whereas the middle portion (for your gooch) is only like 6mm or something. If you're sat up, on the rear of the saddle, they're like riding on a pillow, if you're hunkered down, pedaling hard and riding on the front of the saddle they're a little less forgiving.

All things considered, you can't beat them for the price. Riding at a decent intensity, I'd say these tights can easily handle temps into the 30s.
Brandon M.
Height:
5'9"
Weight:
210lbs
Warm; weird fit
Familiarity:

I've used it several times

Fit:

True to size

Size Bought:

Large
Definitely does the trick re: keeping you warm. On a long ride in the mid-50s, they were almost overkill. So I'm sure they'd be fine down to 40° or below, assuming you're riding pretty hard. The flexibility, movement and compressibility of the fabric/panels is great. So is the chamois. Absolutely no hotspots; little or no need to shift around/fidget on the saddle. Unfortunately, due to odd tailoring, it ends up placing itself way too far forward when riding. Off the bike, it doesn't fit snugly and sags markedly. To be fair, I never understood why most pads run so far in the back where padding is never needed, unless you're leaning backward at a 45° angle, riding hands-free in order to nurse a cappuccino. But for a serious piece of racing kit, the strange placement is bothersome, creating extra bulk up front. I'm 5-11, 157 lbs. and ordered a large. I wondered if ordering up a size might have eliminated this problem, but then the rest of the tights would have been too large. They're already just snug/long enough everywhere else. A note on the zippers: once they are zipped-up, the pull-tab has to be locked in the 'up' position. This will prevent unintended unzipping. This is the case with every pair of Castellis I've ever owned.
Scoop
Height:
5'11"
Weight:
157lbs
Warm and tight!
Familiarity:

I've used it once or twice and have initial impressions

Fit:

Runs small

Size Bought:

3X
I wore these three times this year already on 48/55 degree morning rides. These bibs are awesome! Talk about comfortable and warm. Loved these ones so much I purchased another pair!
Alfino D.
Height:
6'5"
Weight:
250lbs
Wore it for the first time today. Blustery September day 15mph wind that felt like 51 F. Fits great in a large. I'm 6'2"@200#.
Dave Victor
Great mid-winter tights
Familiarity:

I've used it several times

Fit:

True to size

Size Bought:

Medium
Bought these tights for winter commuting and have used them a number of times already. They are great, nice and warm, and super comfortable. The only downsides are that I found that the shamois / crotch section was not warm enough below freezing, necessitating wearing my splash pants. Also, the little zippers at the ankles often catch the fabric and are tough to undo sometimes. And then sometimes they "slightly" undo themselves as they don't lock really.

Other than that, really like them!
Ian M.
Height:
5'10"
Weight:
170lbs