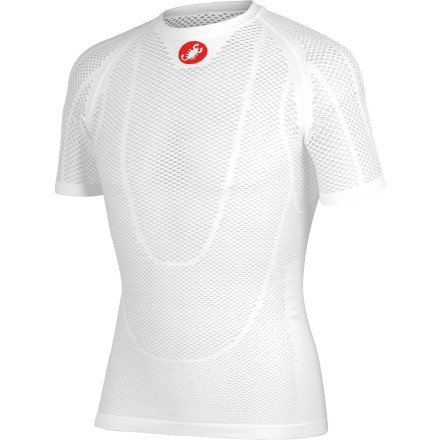 Colors
An essential.
Don't make the mistake of thinking a base layer is a luxurious extra you can take or leave. Sure, it's not as essential something like a helmet, but the right one can make a pretty significant difference in your ride comfort. Grab Castelli's Seamless Men's Base Layer to see what all the fuss is about and pair it with a regular jersey on warm days and your thermal jersey on colder ones. It'll keep moisture moving away from your skin quickly as you sweat, while acting as a breathable insulating layer during colder days. Castelli uses a blend of nylon and polypropylene fibers to achieve this, cut in a form-fitting silhouette that will mimic your body movements in the saddle. The closer it fits, the better it works. Castelli added a few strategic mesh panels throughout to usher in extra airflow, while knitting the fibers in an open weave to ensure you get consistent ventilation as you ride.
Synthetic base layer moderates temperature and wicks moisture
Insulates in cold weather, cools in the heat
Contoured, next-to-skin fit for efficiency
Mesh panels facilitate airflow
castelli seamless baselayer mens
Familiarity:

I returned this product before using it

Fit:

Runs small

Size Bought:

small
What a joke on size! when I took it out of the package it looked like a babies shirt! I am very disappointed as I now have to pay shipping on a product that is not anything close to a normal size. I will not order anymore clothes! As I am a petite woman it will not fit any man.
Susan S.
Height:
5'4"
Weight:
100lbs
Nice
Familiarity:

I've used it once or twice and have initial impressions

Fit:

True to size
Got a S/M (only size left) hoping it would fit. It did. Comes out of the box tiny but stretches a lot. It's tight but I liked that. Could feel it around the neck at first but then forgot all about it once riding. Giant red plastic Castelli badge front and center under collar is a bit annoying. Super meshy. Great for clubbing in Berlin. Not says 68-86 F range but I wore it riding a little hard under a light jersey in 70 F and I was getting too warm.
David
Look Funny - Works Great
Fit:

Runs small

Size Bought:

xxl
I was uncertain about this, but bought it based on prior reviews. They were spot on. I have only worn this once, but it seems an excellent addition to my cycling wardrobe. The "heft" of the mesh is impressive, and makes the shirt very comfortable. I think it will be useful in both warm and cold weather.

I bought the XXL- the fit feels right. I would normally buy an XL, but it is Castelli.
David J. O.
Height:
5'8"
Weight:
197lbs
Fishnet, really? Yes!
Familiarity:

I've used it several times

Fit:

True to size

Size Bought:

Small
My kids were really skeptical when they saw me in this at first, but the theory works, and no one has to see you when you have your jersey over it. I have mostly used it in cool/cold weather. It does actually trap air as an insulator in the mesh. The effect depends on the breathability of the layer above, so your layering approach is important. For cool/cold, I find it works really well under a wind blocking upper, multiplying the insulation while keeping a high degree of breathability and sweat removal. Under a highly porous summer jersey, it won't do much to keep you warm. As it is designed, it might have the opposite effect there. While I find Castelli uppers to run small, so I need a medium, this baselayer worked well for me as a small.
David S.
Height:
5'8"
Weight:
150lbs
Worth every penny
Familiarity:

I've put it through the wringer

Fit:

Runs small

Size Bought:

XXL
This thing is phenomenal. Wear it under a warm jersey (Gabba or Perfetto) into temps down into the low 40s and you will be comfortable. I liked my first one so much I bought another one.

Sizing is typical Castelli. I wear a 42 R coat, and a size XXL in all Castelli jerseys. Got this in XXL and it fits great.
Case
Height:
6'0"
Weight:
190lbs
Magic Castelli Mesh Base Layer!
Familiarity:

I've put it through the wringer

Fit:

True to size

Size Bought:

Large
You didn't know that you needed this base layer, but it could be the missing ingredient that helps your pricey jacket keep your warm and dry or your race aero jersey from turning into a heavy slick torso wrap that refuses to dry. The base layer is made from 3 pieces of stretchy ventilated polypropylene mesh welded together. I have used it and been pleased with its performance at temps ranging from high 20s (F) up to low 90s. The ventilated material interposes an air pocket that keeps the other layers from contacting your skin directly. That air pocket speeds drying for their outer layer or helps trap warmth around your skin while ensuring that any sweat is wicked away without a chill. At around $40 on sale, it's a good value for a base layer. I just add it beneath whatever else I wear and have been pleased with how well it works. Only quibble is that it does lose some shape through repeated wearings. Fit is "race fit": Large is comparable to large sizes in other competitive kit. If you need the boxy fit offered by some makers and ranges, this item won't be a good choice for you. It stretches from a tiny shirt to fit precisely under slim fit aero kit nicely. Highly recommended. Liked it so much I bought one then picked up another later.
James B.
Height:
6'3"
Weight:
185lbs
Five stars if it had a lower-cut neck
Familiarity:

I've used it several times

Fit:

Runs small

Size Bought:

XXL
I won't rewrite what's already been said in the positive reviews below, because I agree. This baselayer works in strange (good) ways. My only complaint is with the neckline. I wish it was cut a little lower or looser. I don't like any compression below my adam's apple.

Also, this thing fits small, but it's really stretchy, so you can probably get away with a range of sizes. I went up one from my normal Castelli size.
theMJF
Height:
6'5"
Weight:
170lbs
Really like this piece
Familiarity:

I've used it several times

Fit:

True to size

Size Bought:

2xl
Really like this piece. Feels good and fits well. I usually wear a 3x castelli jersey but this only comes up to 2x so I tried it. Very happy I did. I'm 6' 205 lbs with a long torso and this fits perfectly.
James S. L.
Height:
6'0"
Weight:
205lbs
Freakin AMAZING!
Familiarity:

I've used it once or twice and have initial impressions

Fit:

True to size
So I just moved from Southern California to Colorado and I'm having to gear up for true winter riding. This is my first true base layer and I bought it because the Castelli website listed the temp range between 50-69 degrees F. When I got them I was initially bummed when the temp range on the box stated 68-86 degrees! I was just about to return them when I decided to read the reviews once more and noticed that someone had already worn theirs down to 40 F with no problems so I decided to give it a try. My goal was to test the lower limits so I only wore the base layer and my normal summer jersey w/ arm warmers. I also brought along my wind jacket just in case. When I left the house it was 41 degrees and I was all but certain the jacket would be on before I left my driveway. I COULD NOT HAVE BEEN MORE WRONG. The temps never got above 46 and I never once even considered the jacket. Climbing out of the saddle or during hard efforts I never got overheated or clammy, 40mph descents I never got cold. Considering this thing bears an unnerving resemblance to swiss cheese, the fact that it was money the whole ride is a testament to the technology that went into it. I don't know why it works but I'm sure happy I bought two! Bring on the 30 degree temps!
Tjader H.
I don't ride without it
Familiarity:

I've put it through the wringer

Fit:

True to size

Size Bought:

L/LX
I'm 190cm (~6'3), 95kg (~210#). With Castelli I typically go with XXL tops which gives me a snug, just short of race, fit. But this thing stretches like crazy, I have the L/XL and it works great. I use this from sub-zero on the MTB up through summer heat. As the temperatures drop it puts air pockets next to your skin that keep you warmer and help with transporting moisture away from your skin so you don't get cold. When the temperatures go up it aids in moisture transfer as well and keeps your jersey from sticking to you. I sweat a lot so I really find this an essential piece of kit for every ride.
Larry H.
Height:
6'3"
Weight:
209lbs
6' and less than 150lbs probably medium.
Familiarity:

I've used it once or twice and have initial impressions
So far have been riding in the 43-60 degree range and it works. Even after the ride, I can hop in the car without changing and drive off without getting chilled in the next half hour. Was swayed to buy a L/XL by the other reviews. A Medium might have fit me more snuggly, not as long and might wick/retain heat even better though. Not enough of a negative to pay for shipping to return the second one I bought though.
William d H.
Base Layer
Familiarity:

I've used it several times

Fit:

Runs small

Size Bought:

XXL
Have worn in varying fall temps in the NE area. Very comfortable, stretchy material. I'm typically M/L in most brands. This runs very small and would recommend bumping up 1-2 sizes. The XXL fits perfectly on my frame.
Paul Grant
Height:
5'11"
Weight:
165lbs
My 1st mesh baselayer. LOVE IT!
Familiarity:

I've put it through the wringer

Fit:

Runs small

Size Bought:

L/XL & XXL (both work)
This is a great base layer. Usable in hot or cold although it is advertised as mostly as a hot weather base. This is a substantial material and feels durable even though the photos may suggest otherwise. I have experimented with this base on 30F or below days under my Castelli Puro Jersey and Senza Jacket and it works great. I never get cold or damp. I believe because it traps air between the holes and uses that air as an insulator. Really nice base layer and versatile because of how it works. It runs very small. I buy XL in Castelli tops and my first purchase on this product I got the L/XL which was fine because it stretches but on my second purchase I bought the XXL and I like the fit slightly more. Still very form fitting(as it should be to work properly) but a slightly easier to put on and nicer feel.
Evan W.
Height:
5'11"
Weight:
172lbs
Might be my favorite piece of kit
Familiarity:

I've used it several times

Fit:

True to size
I have both this and the other Castelli mesh baselayer, and while they cost about the same amount, this one is head and shoulders above its sibling. The material is much thicker, stretchier, and more substantial. I find this type of mesh baselayer keeps me cool on hot rides and warm under my kit on cold rides, so I wear one on essentially every ride. I also think it takes the brunt of the sweat, and as such I feel like I can wash my jerseys less often, which lets them live a bit longer. All-in-all, this is my concept of the perfect baselayer and I could not recommend it more highly. Other comments are accurate, when you take it out of the box it will look like it was made for a small child...trust me, it stretches.
Noel
Great baselayer for warm temps.
Familiarity:

I've used it several times

Fit:

True to size

Size Bought:

L/XL
A great base layer for warm to hot days. It is well made and comfortable -- and creates a bit higher layer than the similar mesh base from Castelli. I like how this piece prevents chafing and keeps me cool. It is well made too and holds up in the wash, though I usually use a garment bag to keep it safe.
Gregory R.
Height:
6'0"
Weight:
170lbs
Makes all the difference
Familiarity:

I've used it several times
I was skeptical that a baselayer could be used effectively under a jersey in both cold and dry temperatures, and I am so happy that this skepticism was wiped away. This undershirt keeps the jersey off of your skin and wicks away sweat so well that you never get that "wet jersey" feeling on those long hot rides. On the other side, when it's cold outside, it keeps that layer of warm air close to you thanks to the "unique" fishnet design. I will not be riding without this and may buy a second at this price point.
Ryan S
Castelli offers inarguably the largest lineup of performance cycling clothing made in the sport. The experience, detail, and 'know-how' that Castelli puts into their cycling kit is first rate. This is seen for example in Castelli's Lightness glove, Climber's or Aero jersey, Gabba "foul weather" jersey, Tras jacket and... here.

This "seamless" vest baselayer is made with a special polypro moisture transfer textile. It is also designed with "open mesh" construction to hold your jersey just slightly off your skin.

In hot weather... these features facilitate moisture transfer, sweat evaporation, and cooling. It really works.

In cold weather... (worn under a LS baselayer and a jacket), this vest promotes moisture transfer and sweat evaporation, and reduces claminess on your skin. Try it.

Sizing: As castelli vets know from experience size up +1 from your normal street size. I wear a street L... The L/XL here fit perfect. Snug as it should be.

Jonny Heinken
A micro-climate for your core!
Familiarity:

I've used it once or twice and have initial impressions
I'm a big believer in technical undershirts for low temperatures on up to about 80 degrees F. Beyond 80 in a low humidity environment I can't see much benefit over having a good quality jersey against my skin, but there are situations where it could still be helpful. This undershirt is perfect for the temps I've been riding in lately, 45 to 65 degrees. It creates a nice layer of trapped air while efficiently moving moisture away and keeping me dry with a stable core temp. It's very mesh like, and given it's stretch the sizing is very forgiving. It has a nice long torso and lays flat against your skin. It will look very small when you pull it out of the box. My wife laughed when she saw it and insisted I never let anyone see me in it! So of course I made it a point to walk around the house in it! My only complaint is that the material will snag easily. Use caution if you're wearing a watch when you put it on, and perhaps, be willing to accept that you'll get some snags that widen some of the mesh openings over time.
Eric
Totally Awesome Base Layer!
Familiarity:

I've put it through the wringer
Unbelievable fabric & mesh design. Wicks better than any other base I've used in the past. Ideal for hot days too! It keeps a dry (not clammy) layer against your skin thus keeping you comfortable on hot days. Wicks moisture to outer jersey where it evaporates. I love this base. I am 5'7" @ 165lbs. chest 40" and a lg/ex lg. size fits snug like it was designed to fit for maximum efficiency.
Gianni Versace
awesome base layer!
Familiarity:

I've put it through the wringer
The large seem small but stretches for a nice fit. it is very comfortable and warm but not hot. The mesh is like magic and keeps me dry.
Charles H.