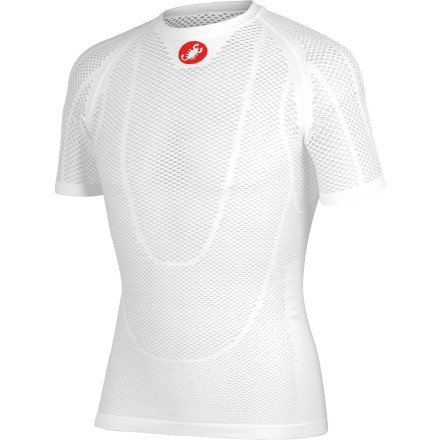 Colors
An essential.
Don't make the mistake of thinking a base layer is a luxurious extra you can take or leave. Sure, it's not as essential something like a helmet, but the right one can make a pretty significant difference in your ride comfort. Grab Castelli's Seamless Men's Base Layer to see what all the fuss is about and pair it with a regular jersey on warm days and your thermal jersey on colder ones. It'll keep moisture moving away from your skin quickly as you sweat, while acting as a breathable insulating layer during colder days. Castelli uses a blend of nylon and polypropylene fibers to achieve this, cut in a form-fitting silhouette that will mimic your body movements in the saddle. The closer it fits, the better it works. Castelli added a few strategic mesh panels throughout to usher in extra airflow, while knitting the fibers in an open weave to ensure you get consistent ventilation as you ride.
Synthetic base layer moderates temperature and wicks moisture
Insulates in cold weather, cools in the heat
Contoured, next-to-skin fit for efficiency
Mesh panels facilitate airflow
My 1st mesh baselayer. LOVE IT!
Familiarity:

I've put it through the wringer

Fit:

Runs small

Size Bought:

L/XL & XXL (both work)
This is a great base layer. Usable in hot or cold although it is advertised as mostly as a hot weather base. This is a substantial material and feels durable even though the photos may suggest otherwise. I have experimented with this base on 30F or below days under my Castelli Puro Jersey and Senza Jacket and it works great. I never get cold or damp. I believe because it traps air between the holes and uses that air as an insulator. Really nice base layer and versatile because of how it works. It runs very small. I buy XL in Castelli tops and my first purchase on this product I got the L/XL which was fine because it stretches but on my second purchase I bought the XXL and I like the fit slightly more. Still very form fitting(as it should be to work properly) but a slightly easier to put on and nicer feel.
Evan W.
Height:
5'11"
Weight:
172lbs
Might be my favorite piece of kit
Familiarity:

I've used it several times

Fit:

True to size
I have both this and the other Castelli mesh baselayer, and while they cost about the same amount, this one is head and shoulders above its sibling. The material is much thicker, stretchier, and more substantial. I find this type of mesh baselayer keeps me cool on hot rides and warm under my kit on cold rides, so I wear one on essentially every ride. I also think it takes the brunt of the sweat, and as such I feel like I can wash my jerseys less often, which lets them live a bit longer. All-in-all, this is my concept of the perfect baselayer and I could not recommend it more highly. Other comments are accurate, when you take it out of the box it will look like it was made for a small child...trust me, it stretches.
Noel
Great baselayer for warm temps.
Familiarity:

I've used it several times

Fit:

True to size

Size Bought:

L/XL
A great base layer for warm to hot days. It is well made and comfortable -- and creates a bit higher layer than the similar mesh base from Castelli. I like how this piece prevents chafing and keeps me cool. It is well made too and holds up in the wash, though I usually use a garment bag to keep it safe.
Gregory R.
Height:
6'0"
Weight:
170lbs
Makes all the difference
Familiarity:

I've used it several times
I was skeptical that a baselayer could be used effectively under a jersey in both cold and dry temperatures, and I am so happy that this skepticism was wiped away. This undershirt keeps the jersey off of your skin and wicks away sweat so well that you never get that "wet jersey" feeling on those long hot rides. On the other side, when it's cold outside, it keeps that layer of warm air close to you thanks to the "unique" fishnet design. I will not be riding without this and may buy a second at this price point.
Ryan S
Castelli offers inarguably the largest lineup of performance cycling clothing made in the sport. The experience, detail, and 'know-how' that Castelli puts into their cycling kit is first rate. This is seen for example in Castelli's Lightness glove, Climber's or Aero jersey, Gabba "foul weather" jersey, Tras jacket and... here.

This "seamless" vest baselayer is made with a special polypro moisture transfer textile. It is also designed with "open mesh" construction to hold your jersey just slightly off your skin.

In hot weather... these features facilitate moisture transfer, sweat evaporation, and cooling. It really works.

In cold weather... (worn under a LS baselayer and a jacket), this vest promotes moisture transfer and sweat evaporation, and reduces claminess on your skin. Try it.

Sizing: As castelli vets know from experience size up +1 from your normal street size. I wear a street L... The L/XL here fit perfect. Snug as it should be.

Jonny Heinken
A micro-climate for your core!
Familiarity:

I've used it once or twice and have initial impressions
I'm a big believer in technical undershirts for low temperatures on up to about 80 degrees F. Beyond 80 in a low humidity environment I can't see much benefit over having a good quality jersey against my skin, but there are situations where it could still be helpful. This undershirt is perfect for the temps I've been riding in lately, 45 to 65 degrees. It creates a nice layer of trapped air while efficiently moving moisture away and keeping me dry with a stable core temp. It's very mesh like, and given it's stretch the sizing is very forgiving. It has a nice long torso and lays flat against your skin. It will look very small when you pull it out of the box. My wife laughed when she saw it and insisted I never let anyone see me in it! So of course I made it a point to walk around the house in it! My only complaint is that the material will snag easily. Use caution if you're wearing a watch when you put it on, and perhaps, be willing to accept that you'll get some snags that widen some of the mesh openings over time.
Eric
Totally Awesome Base Layer!
Familiarity:

I've put it through the wringer
Unbelievable fabric & mesh design. Wicks better than any other base I've used in the past. Ideal for hot days too! It keeps a dry (not clammy) layer against your skin thus keeping you comfortable on hot days. Wicks moisture to outer jersey where it evaporates. I love this base. I am 5'7" @ 165lbs. chest 40" and a lg/ex lg. size fits snug like it was designed to fit for maximum efficiency.
Gianni Versace
awesome base layer!
Familiarity:

I've put it through the wringer
The large seem small but stretches for a nice fit. it is very comfortable and warm but not hot. The mesh is like magic and keeps me dry.
Charles H.
Awesome Base Layer
Familiarity:

I've used it once or twice and have initial impressions
This base layer did exactly what I was hoping it would do. It helps me maintain an even body temperature in various Fall climates and keeps my jersey from getting sweaty and cold against my skin. It works well for me in temps from mid 50 degrees to mid 80 degrees, but I have hopes that I can use this base layer year round. Very impressed with the quality as well. I can barely tell it's on when I wear it. One note, when you get first pull it out of the box it will be tiny like a child's shirt. I'm 5'10' 150lbs. and the S/M fits perfect.
Ghaus