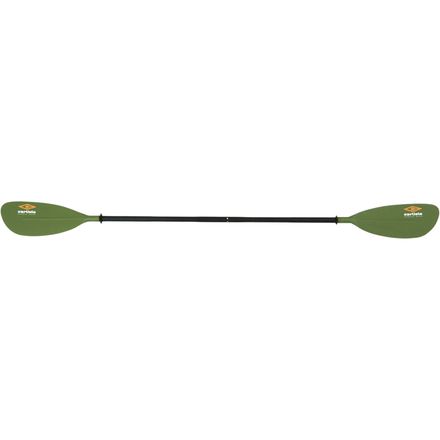 Colors
A lightweight and stiff paddle for easy moving on the water.
You need another paddle like a fish needs a bicycle, and yet you can't resist adding the Carlisle Straight Shaft Expedition Angler 2-Piece Paddle to your quiver. Your paddle purchase is perfectly logical, unlike an aquatic animal trying to pedal. This super-stiff stick is easy on your upper body and the drab olive green color won't give the fish fair warning of your imminent arrival. Feather the fins when fighting against a punishing headwind in your efforts to reach the holy grail of fishing holes; however, this paddle won't tattle if you leave the rod and reel in the car, and just spend the day cruising the lake in your ultra-comfy angling 'yak.
Fiberglass from tip to tip makes your paddle extremely stiff. Rigidity rocks for an efficient transfer of energy from your stroking arms to the paddle moving water, thereby moving your boat. Asymmetrical fiberglass blades bite the water the instant you dip a tip, and slip out of the water without so much as a flutter. With a push of a single button, you can adjust the paddle to feather a whopping 60 degrees. The winds may blow, but your paddle will slice through the air with the greatest of ease—when feathered.
Three different lengths give you fit options galore. Lengthen your reach if your boat is a bit big through the middle or your paddling leans towards a low-angled approach. Bring your hands together when you're taking your sleek and swift boat or need to take a high-angled attitude to generate some speed. The olive green color keeps your on-water progress relatively secret from prying fish eyes, though if you're smacking the water with unrestrained joy, paddle color doesn't matter since the fish might have some idea of your location.
Fiberglass shaft, 2-piece construction
Straight shaft
Fiberglass blades
Push-button ferrule
0 / 60 degree feather angle
220cm, 230cm, 240cm
2lb 2 oz @ 220cm