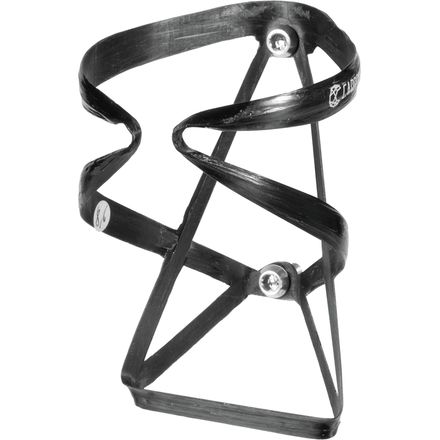 Colors

Detail Images
We know of none lighter.
There's lightweight and then there's ultra-lightweight. The carbon Bottle Cage from Carbone is the lightest we've come across at an astonishing 9 grams yet it achieves incredible strength. Carbone achieves this remarkable feat by implementing xFXin3D winding technology with a seamless carbon fiber strand in a unique form which creates this durable structure.
The design also allows for a flexible cage that holds the bottle firmly in place to prevent untimely jettisons, yet is flexible enough that the bottle can be easily inserted and removed in the normal vertical fashion, and can also be removed from the front of the cage which is great for frames with limited clearance. The cage consists of a 4-meter-long carbon fiber filament and resin, that's it. By only using two components, it saves weight while remaining durable and corrosion-free. And since the winding technique allows for the cage's shape without cutting into the fiber, there are no weak points in the structure. Included are 2 ultralight, 13mm aluminum bolts.
One of, if not the lightest, cages available
Constructed of only two part: 4m carbon strand and resin
Easy entry and release, without the accidental bottle eject
Super minimal weight at only 9-grams