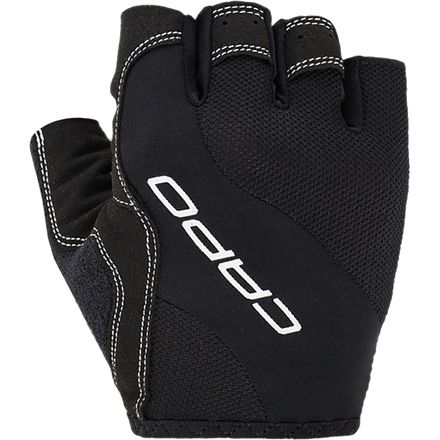 Colors
Feel the road.
There's a reason that many pros refuse to wear gloves, they're tired of compromising comfort for flexibility and feel. We understand this complaint, but then again, we don't make gloves. Luckily, though, Capo does. And with its new Pursuit SF Gloves, comfort no longer comes at the expense of flexibility.
Starting with the palm of the gloves, Capo used Clarino microfiber for the construction. This material was incorporated for its resistance to abrasion and moisture, while also remaining highly malleable. So, your grip and feel on the bars isn't sacrificed for that of protection. The padding remains sparing in its volume in order to provide the perfect balance of feel and vibration absorption.
At the back of the hand, we find that Capo included two materials, HG Lycra and V-Mesh 360. Starting at the former, HG Lycra is a 40-gauge, certified Power Lycra. Why a Power Lycra? Well, this fabric's muscle-holding support minimizes the fatigue-inducing effects of the muscle oscillation that results from road vibration. Additionally, this material effectively manages moisture, leaving your hands dry and comfortable over the long haul.
Aiding in this ideology is Capo's V-Mesh 360 fabric. This material was placed over the knuckles and fingers for extra ventilation. But, more importantly, V-Mesh's 360-degrees of stretch allow a complete freedom of movement for the fingers. As a result, your reach to the shift levers, whether on the hoods or in the drops, remains uninhibited.
The Capo Pursuit SF Gloves are available in five sizes from Small to XX-Large and in the colors Black and White.