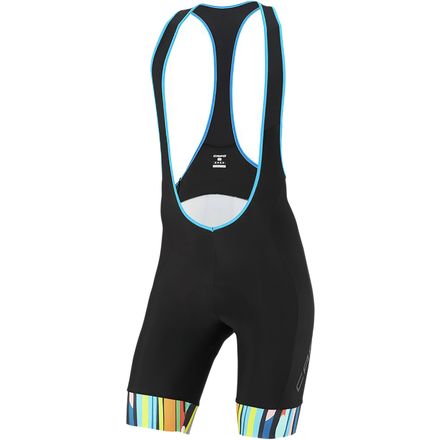 Colors
Sitting pretty sans motor.
While they're not part of the sport we're most obsessed with, endurance auto events like Le Mans do have a great deal in common with cycling. They involve wheels, the appropriation of public roadways, and they test an athlete, team, and support staff's abilities to maintain a winning pace to the finish line. And unless you have a bob out-the-saddle style like Contador, they also involve a lot of sitting. Capo's Le Mans Men's Bib Shorts pay homage to the king of endurance auto events while ensuring that, while you're emulating those racers by sitting in the saddle, you'll be sitting pretty.
Like the race they're named for, the Le Mans Bibs are a truly international affair. They're designed in California and made in Italy using a Swiss Lycra. That cosmopolitan pedigree isn't just a talking point, though—Capo went with Shoeller's Evo+ Lycra for two very good reasons: compression and UV protection.
First, the material holds confidently while still allowing for a cycling-appropriate amount of stretch and return. That means less fatigue from your muscles constantly self-stabilizing with a fit that conforms to your body and allows a full range of unimpeded pedaling motion. Second, UV protection. We think the benefits of the Le Mans' sun warding abilities are self-evident, especially since cyclists spend long periods of time on the same roads motorists use, but we're far more exposed to the sun when we do.
Sun protection is just one of the many needs cyclists have compared to motorists, and Capo addresses the most obvious of these with a D4 Evo chamois courtesy of EIT (Elastic Interface Technology). The chamois incorporates multiple densities of elastic foam wrapped in soft, anti-odor micro fiber. Its medium thickness strikes a functional balance between the minimalist strip of deer skin in the original cycling shorts and the plush throw pillows often employed in cheaper fare, keeping you in touch with road and saddle without sacrificing your sit bits to the gods of chatter and noise.
Cycling shorts for enthusiasts of auto and velo racing
Graphics pay homage to the premier endurance auto event
Swiss Lycra arrayed in an appropriately endurance-minded cut
Gently compressive hold reduces fatigue from long days
UV protection wards off some of the sun's harmful rays
Wide leg bands hold comfortably without pinching
Italian chamois with a medium form factor for long-mile comfort
Reflective details help keep you visible on low-light rides