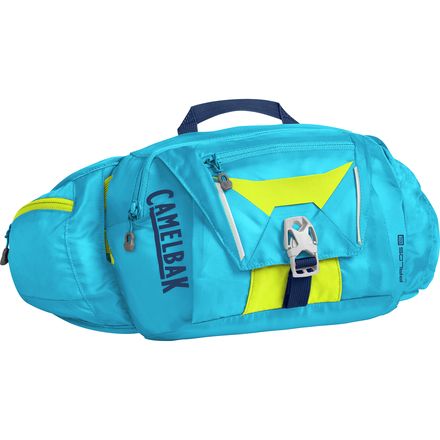 Colors
Minimize bulk, maximize speed.
The CamelBak Palos 4 LR Lumbar Pack specializes at crushing cross-country loops and shorter singletrack rides where a full-sized hydration pack is simply overkill. Considering its minimalist design, the Palos 4 LR Lumbar Pack fits a surprising amount of riding necessities, such as repair tools, spare tubes, energy snacks, and water. In fact, its 2.5-liter storage capacity and included 1.5-liter (50-ounce) hydration reservoir turn this lumbar pack into an essential item for trail riders looking to maximize speed and minimize overall bulk.
Better than a pack but could be improved
Familiarity:

I've put it through the wringer
I'll do just about anything to avoid wearing a full pack. This does the trick pretty well. Complaints would be that the suspension system and load adjustments could be better. It fits pretty awkward when the bladder is filled to capacity. Fill to about a liter or less though and it's pretty solid.
Shawn Craig
Enduro awesome
Familiarity:

I've used it several times
For years I have needed a pack for over 5 miles and when I do not want my heavier hydration backpack. It has been great so far. carries just enough.
Diana Jenson
Love It
Familiarity:

I've put it through the wringer
After years of using a traditional Camelbak, I thought it was time for a change and picked one of these up at the beginning of the summer. And boy am I glad I did! No matter how long I ride, I have yet to run out of water and have plenty of storage space for food and tools. And you can't beat not having a sweaty back.

At this point, I don't plan to use anything else.
Darick Nace
80's fashion on the way back!
Familiarity:

I've used it several times
Not sure anyone would complain about not having a hot sweaty back after a ride. With this fanny pack, my back gets that cool breeze all ride long!

Everything that I fit in this pack with room to spare:
- Extra derailleur hanger
- 27.5 plus tube
- 12 multi-tool
- Drive pump
- Emergency duct tape
- Keys and wallet
- Full 1.5 L camelbak
- Ultra packable windbreaker
Charles H
Fanny Pack Fan Boy
Familiarity:

I've put it through the wringer
Fanny packs can get some laughs, cause yeah they are a little goofy. But, c'mon, you're mountain biking. Its sorta goofy in general, might as well embrace it. Heres what I like and don't like about this pack.



Pros:

- Having nothing on your shoulders. At this point, I'm a pretty die hard fanny pack fan mostly because of this. They keep your back free to wick and dry faster.

- Having the pack down lower also brings your center of gravity lower.

- I can honestly fit my entire tool pack (levers, tube, c02 cartridge & head, tubeless repair, a patch kit, multi tool), a Patagonia Houdini jacket for chillier weather, a full 1.5L bladder, a headlamp, and multiple snacks. Surprisingly impressive how much can fit in it.

- The 1.5L bladder is plenty for me, though I have a buddy who replaced his with a 2L and it fit no problem. I previously rocked the Dakine Hot Laps pack which has a waterbottle holder, but no hydration hose. The hose is pretty rad to be able to drink it on the fly and the magnetic clip isn't hard to pull off or put back on while still riding.



Cons:

- With a full water load, it can bounce around a bit, especially if you don't fully cinch it down. The straps also somewhat like to loosen up a bit, might have to get a bit DIY to sew some velcro to keep the straps tight.

- This seems obvious, but you have to take off the hydration hose to take the pack off your hips. If they could figure out a retractable hose of some sort on one side or the other, it would be game over for other fanny packs.



If you're looking to compact your pack load and lose the shoulder straps, try this out, you won't have any regrets doing so. If you have any other questions on it, don't hesitate giving a shout to my email cojohnson@backcountry.com or direct line 801.204.4547 and I'd be happy to help!
Connor Johnson
Seriously Awesome
Familiarity:

I've put it through the wringer
I've got this in the black color for mtn biking and love the thing. Really happy to get this after a long search to find the right lumbar pack while riding.

Storage (Main Compartment):
This thing can hold a good amount of stuff for the size. I used this on a jortski day at Snowbird and had about 0.75 Liters of water in the bladder and 4 cans of Coors Light held nice and secured without any stress on the zipper.

But for biking.... I can fill the 1.5L bladder and then put in a hand pump, spare tube and other goodies for my rides.

Storage (Zippered attached to Main Compartment):
These are pretty nifty but my only complaint is that some of them are mega small. On the small ones that is where I put my tire levers and multi tool or some energy foods, or sunscreen.

Side Pockets (Zippered and Non Zippered on Belt):
I like this since they're not tiny but also not huge. I store my keys in the zippered belt pocket and some energy foot in the non-zippered pocket (that way if it were ever to fall out while riding I'd lose a $1 worth of stuff at most).

Hydration:
This might be the area where I'd say they need to improve this the most. The magnet on the end of the hose is a little weak and if it were about 50% stronger then it'd be great. But my major complaint is the lack of a fitting joining the hydration hose to the hydration bladder. So filling the hydration bladder is a little bit of a pain since you either need to pull the hose (and reroute it when you put the bladder back in the pack) or fill the water with the pack right next to the sink/water source.

Movement:
I cinch the waist belts down pretty tight and that keeps the pack in place while pedaling or riding down hill. There has been a little movement in the pack at times, but when that happens I just tighten the belt a little more the next time I come to a stop.



Jared Downs