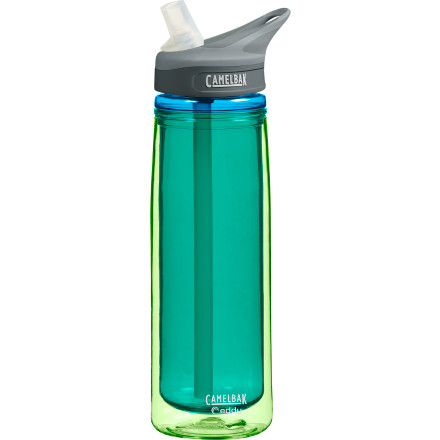 Colors
The Camelbak Eddy Insulated Water Bottle features double-walled construction to reduce condensation and keep your water chilled about twice as long. A self-sealing Big Bite valve prevents leaks, while the flip-and-sip design requires no fumbling or unscrewing.
Camelbak keeps me coming back
Familiarity:

I've put it through the wringer
I'm always losing my water bottles, and I've bought this particular one several times now because it's my favorite. Insulated well for being plastic. I love the camelbak design. I've fallen asleep holding these (ha!) and they never spill.
Carina Chavez
Daily Use
Familiarity:

I've put it through the wringer
Got this while it was on sale... Looking for a budget insulated bottle with a bite-valve. This one fit the bill. it doesn't keep things super cold for lenghts of time. Being a translucent bottle, I wasn't expecting it to. It's done its job as a daily-use water bottle, though! Can't complain!
Adam S.
Great water bottle
Familiarity:

I've put it through the wringer
I have the regular Eddy water bottle and loved it, but the ice melted way to fast, so I bought the insulated Eddy. It is great to not have the condensation on the outside of the bottle. It doesn't keep my drinks as cold as my Hydro Flask bottles, but the mouthpiece for drinking is more convenient on the Camelbak.
Mayla F.
Not my all-time fave, but still love it
Familiarity:

I've put it through the wringer
I do love CamelBak bottles, but this one is (of course) heavier. The extra insulation is great, but I would like it if could be a tad lighter in weight. It just makes it more difficult to take on a hike or ride when the bottle weighs more. Other than that, great product - keeps it cold!
Sam P.
I gave this as gift to my wife and she loves it. It keeps drinks cold for a long time and she gets lots of compliments on it at work.
Aaron Bender
Camelbak
Familiarity:

I've put it through the wringer
In love with the color and way its insulated to keep my drink cold or warm :)
Melissa M.
making life easier one sip at a time
Familiarity:

I've put it through the wringer
love this bottle! I have to stay hydrated constantly so I keep this bottle with me everywhere I go, it does have some insulation and will keep your drink cool for a while but not for hours at a time so plan accordingly. Doesn't leak and is super slim and easy to take with you, super light weight and handy .
Will break if you drop it
Rossana Moreno
Held up to abuse
Familiarity:

I've put it through the wringer
My son was required to bring water to school every day so we decided to send him with the Eddy. You would not believe the abuse this bottle has went through and we thought we even lost it a couple times. I would absolutely buy this again for outdoor sports and activities and love the fact that you can buy different color bit valves if different people will be using the bottle at different times. Two thumbs up.
Peter Eischeid
Durable and Great Value
Familiarity:

I've put it through the wringer
I use Camelbak water bottles daily instead of buying bottled water from the store. It's a great value and it helps to make sure I hit my 64oz of water daily.
Rebecca Salisbury
So amazing that someone stole it from me
By far my favorite water bottle. Sturdy, because in the clumsiest person. And accessible, because I'm lazy on top of that. I was more inclined to drink 6 of these a day. But I leave the classroom to make copies, didn't realize it was gone from the chair next to me (out of sight, out of mind), left after class, came back literally 3 minutes later, and it really wasn't there. Who would take a used water bottle! :-(
Cindy Tran
Bite Valve so much Better
Familiarity:

I've put it through the wringer
This water bottle is tough. It gets thrown around all over the place, on hikes, on campus, in my car, at work (I work in a ware house so it gets delt some blows from concrete floors.) It hasn't failed me yet. I personally like the new valve design so that the lever is built into the soft part of the valve instead of a separate plastic piece. My sister's broke with in a couple weeks of getting hers. This valve solves that problem. Note the liters though because since this is insulated you loose a lot of volume that other models have! Consider how much water you drink because with my active life I would have gone with a bigger volume and sacrificed the insulation.
Kat Wiltsee
Everyday, Every way.
Familiarity:

I've used it several times
I love these CamelBak. I take it to work and keep it close by, always. I love hanging on my purse with my keys on a carabiner. It's easy to clean and it keeps the cold stuff cold. Yeah, it would be nice to have it keep hot beverages but that's not why I bought it. A lot of people love the color combo and I have to say, I agree.
Sarah
Not Bad
Familiarity:

I've used it once or twice and have initial impressions
My friend gave me one of these the other day and I don't mind it but I will say I won't be using it that much. I would mostly use it for Tea but it is only for cold beverages:( The insulation works pretty well for water if you have ice with it! All around its not a bad bottle but its not my first... Or second choice out of all my bottles.
Shawn Cash
It's okay
Familiarity:

I've used it several times
It doesn't leak, It's clear so you can see how much water you have left. Doesn't keep water that cold for long. If it was like ice and water maybe, but just cold water not really.
Peter L.
I bought this bottle with the anticipation of it becoming my new (hot) tea bottle, only to find out that it is NOT for hot beverages. It is only useful for COLD beverages. The bottle is just okay. I prefer a Contigo that my wife bought at Target.
Jordan M.
I got this bottle to carry at work. It is the perfect size and easy to carry. I love it.
tori roscoe
I have carried this bottle with my everywhere I go since I got it! Doesn't leak!! Keeps water cool! Perfect size and easy to carry. Great colors too!
Tammy Meredith
great Camelbak water bottle
I've used this bottle practically everyday since it arrived. Love that it is insulated and with cool colors. Also, the straw is slightly bigger than the old design.
Aaron Finley
Keeps things cool and doesn't leak!
katie johnston