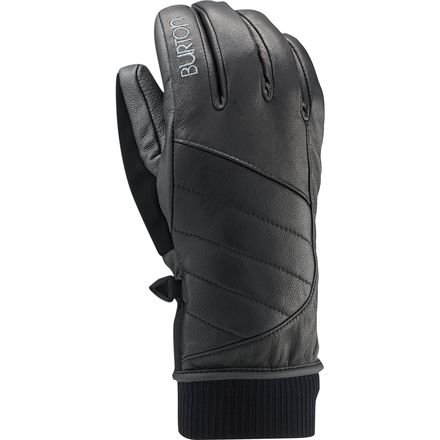 Soon to be your new favorites.
The Burton Women's Favorite Leather Glove incorporates buttery soft and ultra-supple Gnar Guard Leather for weatherproof functionality that retains full flexibility and premium grip. A DryRide Insane Membrane 2.0 supplies superior waterproof protection as well as wind resistance.

Burton's Thermacore insulation brings mid-level warmth to keep your digits warm 'n' toasty through a host of mid-winter conditions. A brushed microfiber lining makes these plush gloves even more comfortable by pulling heat-robbing moisture off your hands. The icing on the cake, an ergonomic pre-curved fit, brings superior dexterity for tweaking grabs or building backcountry kickers.

DryRide Insane Membrane 2.0
Gnarguard leather shell
Thermacore insulation
Screen Grab touchscreen compatible thumb and index finger
Brushed microfiber lining
Ergonomic fit
Old-school knit cuff
I have yet to use them, and I will update once I do. but so far my first impressions are so great. I got the brown and black ones and the brown color is a lot different than that the picture shows. It is more of a chocolate brown and I am sure once I put the water proof on it will darken up even more. I love the look of dark brown and black but more importantly the fit is awesome. It is a super comfortable fit that isn't to bulky. I initially was looking at these ones and Dakine's odyssy gor-tex glove. I tried on both and really compared them and found I like this one better. The screen grab is awesome and played around with that a little bit, it works great. Also doesn't show in the picture or description, it does have wrist holders and the Dakine gloves did not have those. You can tighten the wrist holders around the stretchy part on the bottom of the glove, to help snow not get into your glove and also you can take off your gloves and still have them attached to your wrist. That way you won't be the person losing that random glove in the middle of the slope you always see goin up a lift :). Just putting them on and wearing them for a few minutes my hands were getting hot so I know out in the cold they're gonna stay warm. Can't wait to try them out!


Charissa Olsen