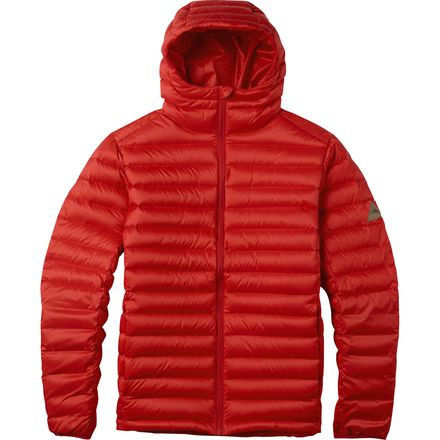 Colors
Meat and potatoes.
While the Burton Men's Evergreen Hooded Down Insulator Jacket certainly won't endow you with year-round foliage, it will provide you with seasonally appropriate style and steadfast warmth. With its classic, quilted baffling and regular fit, the Evergreen assures unimpeded versatility and features a lightweight yet tenacious ripstop exterior, while a DWR treatment provides light protection from snowfall. And to further speak to its versatility, the Evergreen boasts highly compressible down insulation that not only offers low-profile warmth, but also enables you wear it on its lonesome or underneath a shell when snowboarding or skiing. The fully adjustable hood and hem keep pesky drafts at bay, and the myriad of hidden pockets ensure you're able to store necessities securely and within easy access. So whether you're skinning up Tuckerman's Ravine or meandering through Telluride in search of delicious coffee, the Evergreen assures style and warmth.
A versatile, down-insulated jacket for cool days
Ripstop fabric boasts DWR treatment for protection
650-fill down insulation offers covert warmth
Adjustable hem and hood provide personalized coverage
Myriad of pockets keep necessities close at hand
This item is not worth the money
The only plus - it is quality sewn.
Minuses -
1. I use more than a month, fluff and feathers are constantly coming from the jacket. In the car, the back of the seat is covered with feathers. A sweater, a shirt is also in fluff and feathers. Appearance as it came out of the chicken coop. Friends constantly joke about this.
2. The fabric does not hold moisture, it immediately gets wet. Drops of water immediately absorbed into the fabric of the jacket.
3. The tissue is very thin, almost transparent. The filler has dark feathers that appear through the fabric. It seems that the jacket is dirty.
4. The jacket does not hold heat. Frozen already at a temperature of + 4C. This jacket is only for plus weather.
5. Logopit on the sleeve is sewn very poorly. He is very fat and constantly clinging to pulling his sleeve.
I bought it with a big discount for $ 138 and very much regretted it.
I do not know who bought it for $ 250. It is not worth it this money.
The first time I bought Burton, a very unfortunate experience. I do not advise anyone.
Georgi H.
Unanswered Question
Will this jacket be OK in Whitefish Montana where it may be 15-20degree farenheit?
Brandon R.