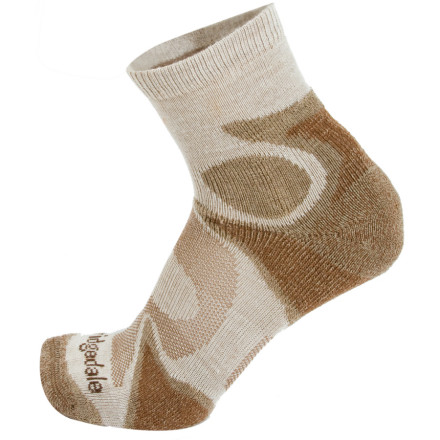 Colors

Detail Images
The Bridgedale Cool Fusion Sock helps your foot breathe easy.
Bridgedale designed their Cool Fusion Trailhead 3/4 Crew Sock for those who like to run trails, scramble scree fields, and everything in between. Light mesh surrounds the foot permitting air to circulate. During intense activity, impact pads under the heel, ball, and toes provide next-to-skin comfort while WoolFusion construction helps pull moisture away from the foot. The Cool Fusion Trail Sock gives you padding and cushion right where you need for all-day comfort, while the touch of Lycra ensures a foot-hugging fit despite hours on the trail.
good socks
Familiarity:

I've used it several times

Fit:

True to size
Good socks, comfortable, great fit, true to size
Rich A Harper
Height:
5'7"
Weight:
145lbs
Good all purpose sock
Familiarity:

I've used it several times

Fit:

True to size
Had two pairs of these for a year now.



Fit:5/5.Pleasantly surprised,they are very snug-fit,and they hold well without slipping down,even after many washes.



Comfort:3/5.I am afraid a bit lacking in cushion,i certainly dont enjoy them when i carry more than 15-20 kg.For light hiking only.Also the way the padding is designed in the heel,makes some areas in the foot take abuse when carrying heavy load.



Warmth:4/5.For the weight/cushion ok,its spring/summer sock after all.Its reasonable at indoors as well,you wont get cold feet from floor.



Wicking sweat/odor:4/5.Pretty good wick,you can certainly wear in summer heat,and high activity.

Odor managment is not so special despite merino,they will smell a bit after use.



Durability:5/5.Not problems so far,although i have to say i have not stress them too much.



Overall 4/5.

I would say very good all purpose/multisport sock for summer/spring.Cushion not enough for hard backpacking.
Fast Hiker
Great All Around Sock
Familiarity:

I've put it through the wringer

Fit:

True to size
Not too thick, not too thin, not too high, not too low... just right. The X-Hale sock works well for all sorts of activities, from casual wear to hiking and climbing. I love them for general wearing in the winter. Very well made.
Andrew McLean
not the greatest, but adequate. if you want heaven on earth for your feet get the trek expedition >X< sock - spendy but if on sale a great buy.
Craig N.
I love these socks. They stay where they are supposed to, the breath and keep your foot cool in the warm weather and they keep you foot dry. Best socks I have ever owned!
Theodore J.
They are great comfy dry socks. Only draw back is if you care that your friends think they look goofy... i dont
kevin
comfy, kept dry, feel great!
kevin
Survived the Appalachian Trail test...!!
Bridgedale makes a very comfortable long lasting light hiking sock. My socks will fuzz up a little when I wear them for multiple days, but this doesn't effect the comforte or wicking ability. Over the years I have tried many different kinds of socks, ranging from the absurdly expensive to the 50 cent dress socks from Goodwill. I am very rough on socks, but Bridgedale has created a sock that holds up to my rough standards. When I hiked the Appalachian Trail last year I used 3 pairs and they lasted the entire 2,178 miles. On previous thru-hikes other socks have lasted me as little as 100 miles. I no longer need to search for my perfect sock, I would highly reccomend these socks...!!
Willy Syndram
Excellent warm to hot weather hiking sock. I used 'em in conjunction with the Bridgedale sock liners doing a 15km hike through the Budawang Ranges in Sthn NSW. Hard slog through heavy scrub & scrambling up & down a few rocky inclines so a fair amount of slipping & sliding in the boots - no wear & tear & no friction on the feet. Good cushioning where it's needed but still with excellent breathability & sweat was wicked away nicely.

Have also done a couple of local runs up Mt Tennant & Mt Majura in the A.C.T without the liners & held up really well by themselves.

Would need heavier socks in cold weather though once you've stopped for the day.
Peter C.
Another great merino wool sock
Bought these (and the multisport) for my man. He wears out socks! Uses them for workouts and for ten-hour days in the office. Only had these for a few washes so far, but I would recommend them. The only thing is they seem to fuzz more than some, but so far that has not affected the functionality.
I love the color - we got these in the silver/navy/orange.
We bought the XL for size 14 feet, and they fit perfectly. I have noted that some Smartwool tend to run small, which was why I turned to different brands this year, although I would still buy SW for myself (I wear medium for ladies size 9 feet).
100% recommend any merino wool blend over cotton, and this brand has my stamp of approval.
Elaine L.
As it says, these are great lightweight trail running/hiking socks that come just above your ankle. Wise use of synthetics on the top of the sock allows them to breathe very well and the lycra gives the sock a "hugging" feel. I've only had them a short time, so we will see how well they hold up over time.
Stephen Schalk
I wear these when wearing my merrill snowmotion 6's. Can not express how good they feel on my feet. ive worn them in temps down to about 5 and my feet stayed warm. love them, love them, love them. Im looking forward to buying Bridgedale socks for working in a professional kitchen to keep my feet happy there as well.
Matthew Safranek
These are awesome. I've had a pair for well over a year and they're as good as ever. If you haven't tried Bridgedale, do it now!
bitterroot bandit
Hiked 14.5 rugged miles in the Grand Canyon and they performed like champions.
i_pro2402073
Male size 12 shoe would I be a medium or...
Male size 12 shoe would I be a medium or a large? Also will the extra padding on these interfere with the custom orthodics I have in my shoes? Thanks for the help
faith_no_m2316198
Best Answer
Go for size large - fits from shoe size 10-12.5. The padding won't interfere with your custom footbeds, the sock is designed with zonal padding in key areas, but is an overall low volume sock.
Tim Coats
Real light, padded in all the right spots and very soft. We'll see how they last, but new they are terrific..
Eric H.
Best runnings sock's i ever bought !
I have been gett'n back into runnning lately & have some older Salomons that are falling apart , these socks are amazing as they're thicker in the areas you need ( Heel ,etc ) , they wick moisture away , not too hot & but keep your feet warm even in 5c temps or less here in sth island , New Zealand . They make my old runners feel like new again & now i have my new Salomon XT Wings WP's , they feel amazing, feet are so comfy & warm , its like they're on holiday down they're when i am running (-:. I plan to roder a few pairs thru back countty soon as they're way to expensive down here !
Richard J W.