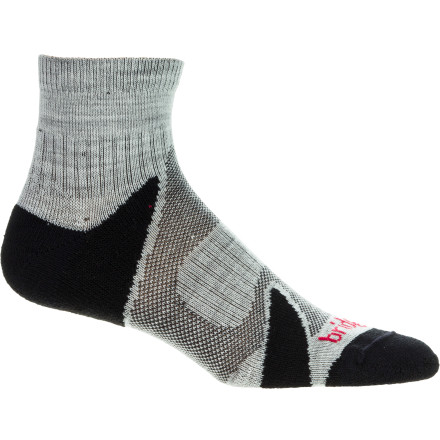 Colors
Finally, a sock that excels at as many sports as you do.
Bridgedale designed their Cool Fusion Multi-Sport Performance Sock for the demanding athlete. Light mesh surrounds the foot permitting air to circulate. During intense activity, impact pads under the heel, ball, and toes provide next-to-skin comfort while WoolFusion construction helps pull moisture away from the foot. Though ideal for a multitude of indoor and outdoor sports, they're great for triathletes who don't want to waste seconds changing socks between cycling and running.
Great socks
Familiarity:

I've put it through the wringer
These a great socks for hiking, biking and running. Get yourself a pair.
Amanda Roper
Great quality socks. Just took them on along backpacking trip and had no complaints.
Nate w
More like Coolest Fusion
Familiarity:

I've put it through the wringer

Fit:

True to size
These are my go to socks for hiking and trail-running. Just enough impact in the key areas to keep you comfortable while the rest of the sock is breathable to keep you going. Super durable too, haven't had to retire these after several seasons.


Wayne Christoffersen
Height:
5'9"
Weight:
144lbs
Best ever.
Familiarity:

I've put it through the wringer

Fit:

True to size
For hiking and trail running, these are the best I've used. Crazy comfortable, breathable, wicking, fast-drying, long-lasting.



I've worn these with my Montrail trail running shoes on various mountain death marches, and have never had any foot discomfort. The times I've had to clomp through streams, these socks have stayed comfortable when soaked and have dried quickly.



I sometimes switch to sealskinz waterproof/breathable socks when there will be a lot of snow or water, but I'm not sure if it's an improvement. They keep the water out, but over the long haul make for a clammier experience.



These outlast Smartwool and others that I've used by a lot.
Paul R.
Excellent value,good for their job
Familiarity:

I've put it through the wringer

Fit:

True to size
Use for quite some time,mainly multisport.



Fit:5/5.Just like the X-hale review,these are snug-fit,and keep their fit after many washes.



Comfort:2/5.Almost no cushion,its a sport sock.Racing and such,not backpacking.



Warmth:2/5.Obviously not important in light summer sock.Its ok for indoors.



Wicking sweat/Odor:4/5.Yeah,you wont sweat with these.Only super light coolmax type socks surpass it.

There would be odor though.Merino content is small after all.



Durability:5/5.No problem detected.



Overall:4/5.For their job,they are great.Obviously not a hiking sock,its a light multisport sock.Good price too.Take these instead of cheap synth sport socks.
Fast Hiker
I have owned a number of Bridgedale socks over the years and have always found them to be of high quality. These continue that trend. The socks are warm and well cushioned but not overly so.
Aaron Bender
How do these socks compare to a Smartwool...
How do these socks compare to a Smartwool sock?
Adam
From what I used, the Smartwool have a sorter live then the bridgedale. the bridgedale live with me 4 years now and still working like new
Guy Geva
Great ability to b dry
Familiarity:

I've put it through the wringer

Fit:

True to size
Great ability to b dry when you run (road and trail) or on the bike...but not that good cushion. grip & stay on the foot very well. and sort to live on hard MTB
Guy Geva
I love these socks! I've had a pair for what seems like forever. Great for just about anything involving lots of activity. I unfortunately just got a hole under the heel (after lots of use) so am going to have to get another pair. RIP old X-Hale sock. Would definitely recommend to a friend or anyone looking for a great athletic sock. Go get em'!
Kipp Proctor
do these have the elastic band that wraps...
do these have the elastic band that wraps around the arch/middle of the foot. I hate socks that have this and most athletic socks seem to. The picture makes it look like they might not have this band.
James Molnar
Yes they do have a "wraps around the arch/middle of the foot"
I love it for it keep the sock in place
Guy Geva
Another great merino wool sock
Bought these for my man. He wears out socks! Uses them for workouts and for ten-hour days in the office. Only had these for a few washes so far, but I would recommend them. The only thing is they seem to fuzz more than some, but so far that has not affected the functionality.
We bought the XL for size 14 feet, and they fit perfectly. I have noted that some Smartwool tend to run small, which was why I turned to different brands this year, although I would still buy SW for myself (I wear medium for ladies size 9 feet).
100% recommend any merino wool blend over cotton, and this brand has my stamp of approval.
Elaine L.
I work in the TV & Movie industry and I'm always looking for socks I can wear in the summer that give me lots of support and cushion for my feet since I'm standing or walking most of the day.

These socks are great for this. I'm not running with them, but working long hours on my feet and these socks help.
Patrick R.
David H.
Having used a couple of generations of Bridgedale multi-sport socks, I still think they are the most comfortable socks you can get. Whether walking kids to school, or 23 hours into an adventure race, the Bridgedale's are brilliant. They are so comfortable in any conditions that I forget they are even there.
craig_hump1508333
Great for all types of running
These socks are really comfortable and keep you feet cool.
They have padding exactly where your feet needs it and light mesh in between.
Highly recommended!!
Richie Olivier
These are my first Bridgedale socks, and I really like them! They are very supportive around my arch and wick moisture well.
Porscha D.
I ran the HURT 100 miler. Conditions were terrible...rain, mud, roots, rocks, and several stream crossings. After 35 hours of my feet in theses socks, I finished the run 100 miler with no blisters. Amazingly, my feet looked exactly the same as when I started the run. I would recommend these socks to anyone.
Ultra-Runner Jim
OK but Ultra Trail and Impact more comfortable
I have always liked Bridgedale socks. Excellent quality and fit, etc. I tried the X-Hale and found it not to be as comfortable as the Ultra Trail and Impact socks. Still good quality and fit, but not my favorite. Bridgedale is still the best.
Jack K. Dagg
Probably the best pair of socks I've ever owned! Perfect for my early morning workouts.
C. Macey
Best Light sock I ever worn
I have pretty warm feet, and traditionally wear thin Coolmax (defeet) socks. Being a cyclist, I have a few defeet socks. They are not real comfortable if you wear them all day. X-hale has thin pads for comfort, and mesh everywhere else.

X-hale not only has a radical look (without crazy artwork) but truly is much more comfortable than my defeets. I was dubious about all the hype 360 degree venting (under and over foot, and UNDER toes). The reality is they really kept my feet cooler than any sock I've worn.
Biker with sore feet