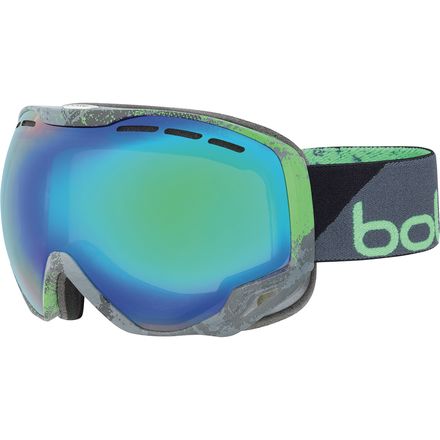 Colors
For cloudy-sunny days.
When you are on the mountain at high altitude, clouds come and pass quickly varying the visibility conditions. Having the Bolle Emperor Photochromic Goggles is essential on days when exposure is constantly changing. The photochromic lens is made with Bolle's Modulator 2.0 technology that changes lens tint based on UV light exposed to the lens, so the sunnier it is the darker the lenses become and vise versa. This reduces time fidgeting with multiple lenses and keeps you in the clear all day.
The goggle also uses advanced technology to prevent fogging. Flow-Tech venting is designed to promote air flow which helps reduce moisture while the anti-fog coating manages unwanted moisture on the surface of the lens. Because the last thing you want next to low visibility is a foggy lens. All reinforced with a strongly sealed double lens that serves as a thermal barrier and Carbo-Glas protective barrier to enhance durability against scratches and wear, you'll never need to switch goggles again.
Proposition 65 Warning for California Consumers: This product contains chemicals known to the State of California to cause cancer and/or birth defects or other reproductive harm.
High-performing goggle keeps visibility high
Modulator 2.0 NXT photochromic lenses reacts to light
Carbo-Glas serves as protective armor against scratches
Anti-fog coating manages unwanted moisture on surface
Flow-Tech venting promotes airflow to prevent fogging
Double lens design serves as thermal barrier and a strong seal
Over the Glasses compatibility