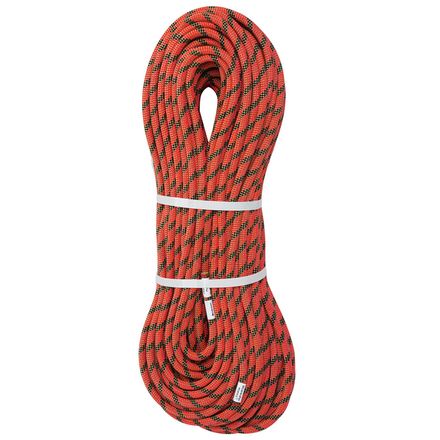 Colors

Detail Images
The in-between rope that combines gym-worthy toughness with altitude-ready sleekness.
Blue Water's new and improved Pulse DD 9.9mm Climbing Rope bridges the gap between rugged gym ropes and sleek alpine snakes.
DoubleDry dry treatment prevents the Pulse from absorbing unwanted water weight on mixed and alpine routes
An impact force under 8 kN means that even a rough factor 2 fall won't overstress you or your gear
Weighs in at just over 62 grams per meter, reflecting Blue Water's commitment to lightweight equipment
Not durable
Familiarity:

I've put it through the wringer
I've had this rope for about a year now, and I am far from impressed. I've used it for mostly trad and sport climbing and it is already showing major fraying after 9 months. It also twists really badly when you put a clove hitch in it. I do not recommend this rope.
Austin McCrimmon
hoped for better
Familiarity:

I've used it several times
I've found this rope to be sticky through both a grigri and ATC. It also gets twisted far easier than other ropes I've used. Its OK for toprope, but a major bummer for lead climbing. The other reviews are good, so maybe I got a bad one? I've used it six times or so and it's gotten a little better, so hopefully its condition improves, but I want it to be good out of the bag. This rope was highly rated, so I expected better. Should've bought a Mammut.
David S.
Love this rope!
Familiarity:

I've put it through the wringer
This rope holds it's shape. It gives super soft catches, and is a bit more dynamic than most other ropes, so keep that in mind if ground or ledge fall is possible. This is possibly the most durable rope that I've had. It's held up just as well if not better than my 10.2s. I've used it projecting sport, and multi pitch trad. Can't say enough good things about this rope or this company.
Jacob J.
Blue Water Pulse DD 9.9mm Climbing Rope
Backcountry Video
This is a great lead rope that works just as good for top roping. I have used this rope for about 200 pitches and it is still in great shape with very minor fraying. I really like the feel of the rope. It's not too soft and my figure 8s and clove hitches stay nice and tight.
Matixsnow
im look for a rope that i can lead climb...
im look for a rope that i can lead climb a rout then set it up for top rope climbing. will this be a good size or should i go thicker?


Jordan M.
Best Answer
I might go a little thicker if people are going to be toproping and hanging on it, a thin rope will stretch quite a lot. If the leading isn't on the edge of your abilities and the topropers will be hanging much, I'd say something more like a 10.5.
Angus Bohanon
Very striking, handsome color
i have been climbing for more than 17yrs and finally invest in my first rope. After shopping hard against various brands, this is the winner. There's not many options for 70m rope that is at this price range and at this weight range. quite a mess uncoiling when first received. the blue/flavine more is like a loud lime green color- very striking and handsome, not what i had expected as it did not looked like the picture on website. as it turned out, the color is the envy of every climber- guys and gals. brought it outdoors in sandstone rocks, it is the only rope that showed in the pictures, compared to other ropes that blended into the sandstone. see video - its the rope hanging on extreme right. even though i baby it and tried to get everyone to make sure they feed into the rope bag as much as possible, it did picked up the dirt and sand very quickly so there went its brand new 'look'. i love the lightweight and it handle very nicely. Backcountry.com also gave me a break - i paid $230.30, i think was a price match, cant recall exactly...now, i got to figure how to keep it clean to retain some of the vibrant colors!

An update to my previous comment...

My happiness was very short lived-

I hate to say this but only a few months into using his rope, the sheath is already fraying. By 5th month ( climbed only a few times outdoors, no falls, a few people TR on it several times; in other words pretty light use), the sheath has frayed so much the core is showing. Many parts of the rope is also showing fuzziness, like a very used old rope. I am devastated. I hope my previous excellent comment didn't mislead anyone. on the other hand, i also hope this is perhaps one of those lemon - and I am bad luck in getting the bad one. However, I don't think I could bring myself to buy another blue water rope again, not n the near future anyways.
JJ
Your next multipitch rope.
Familiarity:

I've put it through the wringer
I have been using this rope all summer for multipitch climbing in Squamish and it has yet to show any signs of wear and tear. With the new stronger sheath it really stands up to the harsh crystals found in Squamish granite and doesn't get all furry on ya!



Its an ideal rope for just about anything too! I took it sport climbing a couple weeks back and its light enough and smooth enough you feel like you are pulling up a much thinner rope.



Bottom line is if you are looking for a work horse rope but with out the punishing weight or thickness, I would recommend the Pulse.


Brock Fisher
Use this rope for sport climbing in and around the Pinedale and Jackson Hole areas of Wyoming. Has a great feel to it, soft catches and durable.
Jared Lustig
Solid rope. Not too heavy and pretty smooth on the drop.
Seth
I love this rope! I have had it for a few months now and it is holding up great. I love how soft and supple it is. I bought the 70M Blue/Flavine and the color is almost hypnotic. It is super bright and really easy to spot. This is a great rope for leading sport and has held up really well on multi-pitch trad routes.
Chase Skidmore
great catch, flex, and colour!!!! I'm a lightweight 6'tall guy who does regular sport routes and this rope is the bomb!!
Browny
Blue Water Pulse Rope Review
Mark Parrett