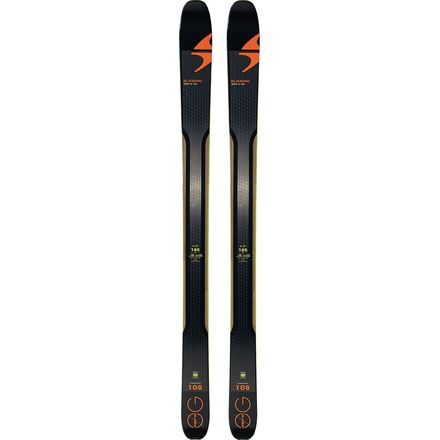 Colors
Lightweight boards that crush the descent.
The Blizzard Zero G 108 Ski gets you to the top of your line with fresh legs, so you actually have some juice left for the descent. One of the lightest skis in its class, the Zero G utilizes a carbon frame that saves weight and ensures a predictable flex and torsional rigidity throughout the ski. The lightweight paulownia wood core also keeps weight down while maintaining a solid, yet playful feel for the descent, so you don't get that noodley feel that's all too common among lightweight touring skis.
With a versatile 108mm waist, this ski is the largest in Blizzard's Zero G line, making these skis your go-to boards on backcountry powder days, but that's not to say they won't handle chalky chutes, melt-freeze crusts, or whatever fun surface conditions the backcountry can throw at you throughout the season. A rockered tip and tail keep them afloat when you're making pow laps on really deep days, and a sandwich construction with compound sidewalls make for a stable feel when you're arcing big turns down open faces, aprons, or groomers in the resort. Flipcore technology matches the internal components of the ski to the ski's mold shape, providing a more natural flex, better float, and increased skiability.
Blizzard's ultralight sticks for backcountry touring
108mm waist width is the fattest Zero G for powder hounds
Tip and tail rocker navigate soft snow
Camber underfoot grips icy hardpack
Light paulownia core with 3D carbon frame for power transmission
Sandwich compound sidewalls increase torsional rigidity
Flipcore maintains a natural flex, stability, and grip
TOURING
Familiarity:

I've used it several times
Fantastic ski for touring. Lightweight, stiff, solid construction. 108 underfoot is about the perfect width for 95% of snow conditions. Performs well at high speeds for how light it is. 10/10.
Sunn Kim
Oh. My. God.
Familiarity:

I've used it once or twice and have initial impressions
Blizzard won me and my boyfriend over years ago as our go-to ski but the ZeroG takes things to a whole new level. I got them for my boyfriend and he doesn't stop smiling when he is on them. Incredibly light and responsive but can also rip a variety of conditions and perform at the highest level. They can crush the resort but I definitely wouldn't recommend as your everyday resort ski (get the Cochise for that). If you like to ski up to ski down, you NEED this ski in your life.
Larissa Bortz
Great ski with a traditional mount point
Familiarity:

I've put it through the wringer
I've skied the Zero 108 as my primary touring ski the past few seasons in a variety of locations, but more so in the lighter snow of the interior US/Canada and French Alps (Chamonix) than in deep, heavy maritime snowpack (US Pacific Northwest, British Columbia , etc). I am 5'11", 165#, skiing the 185 Zero G 108 with the Dynafit Vulcan and Marker Kingpin, originally mounted on the line, currently re-mounted +1.5 from the line.

The Zero G 108 is really an awesome ski, especially for the traditional skier. I love the stiffness and longer turn radius. The construction is great: very damp for the weight and the edge hold is amazing. Reasonably priced, too, considering similar carbon skis all cost well over $1k (DPS, Volkl V-werks, etc). For me, it's a very intuitive ski with lots of pop and rebound. Everyone talks about the torsional stiffness and sharp factory tune so I brought a gummy stone along the first few days, but I never took it out of my pocket. Since then, it's just been an intuitive ski for me in all conditions. Sure, there are better skis on hard snow; there are better skis in pow. But I've yet to find a touring ski I like as much for everything.
No review would be complete without a criticisms:

1. For my stance and style of skiing, I wish the mount point was more forward. I remounted +1.5 from the line, but it's still a very rearward mount. I don't notice it when skiing fast in the backcountry, especially in pow, but I prefer a more even swing weight when doing jump turns and they feel weird inbounds. I personally would prefer if the ski was designed with the sidecut/rocker centered for a mount point like -8 from center, instead of -12 or -14 whatever it is currently. (And yes, I realize that kick-turns are easier with less tail.)

2. I wish it had a little less taper. This makes it perform a little weird in jump turns on very firm snow. I also sometimes wish it had a bit less camber and a little more tip rocker. It wouldn't be as good in firm snow, but then again we're talking about a ski 108 underfoot.

All in all, this an amazing choice, especially for a more traditional skier who likes a forward, driving stance.
Zak
Jarrett Reckseidler
True Love
Familiarity:

I've put it through the wringer
I love these skis. They float in powder but are still burly enough for rough exits and wind slab. I've skied them on variable days in-bounds and they're great. Their best quality is that they're really light so perfect for long, repeat days touring. My favorite ski ever.
Betsy Haws
Light yet Robust enough to Rip it ALL
Familiarity:

I've put it through the wringer
If you have questions about this ski, don't hesitate to contact me.



When I first started looking for a new touring ski the Zero G was at the top of my list. At first I was a little hesitant of their tag line "the days of sacrificing downhill performance for light weight are over." They further claim that the Zero G is the "lightest weight alpine ski construction on the market." Usually super lightweight means sacrificing downhill performance. That is not the case with the Zero G. This ski absolutely rips on the downhill. The Zero G 108 and Cochise share the same dimensions and essentially the same rocker profiles, but the Cochise has a "double Ti construction' with a poplar-beach core, while the Zero G 108 has no metal, and a lighter, paulownia core. So you are getting the profile of an awesome all mountain ski without the weight. The Blizzard Zero G 108 is light enough for daily ski touring, but robust enough for full days of skiing inbounds, even in steep, challenging, tracked-up terrain. Moreover, when combined with a boot like the Salomon MTN Lab and a binding like the Marker Kingpin 13 there really isn't a situation or destination, inbounds or out where (for me, at least) this set-up would feel terribly out of place.


I am 5/11 and ski the 185 cm. The flex in my opinion would be medium to stiff. The 108 version of the Zero G has a noticeably stiffer tail then the 95. There were no changes made to the ski except color.



Feel free to hit me up with any questions regarding skis:



Length: What works for your weight/ability/ and where you tend to ride.



Bindings: If your curious about what binding may compliment this ski, how much retention you need, or even which brake to size to choose.



Full Package: What would be the best boot and binding to go on this ski in regards to your weight/ability, and where you ride.



Skins: Mohair-Mix/Nylon/ Mohair? Whats the best option for you? What size should you get?



Comparison: How do other skis feel in this weight class? What are the pros and cons of going with another option?


Patrick Law
plaw@backcountry.com
801-204-4661

Patrick Law
The Blizzard Zero G 108's are a phenomenal and versatile ski. They are easily light enough for all-day touring (although probably not light enough for ski-mo racing) and maintain exceptional performance at the same time. They are fairly stiff making them responsive and snappy in firmer snow. At 108 underfoot with a bit of rocker, they are a blast in deep snow too.

Makes for fun backcountry or resort skiing in any conditions you'll encounter in the Western US.
Will S.