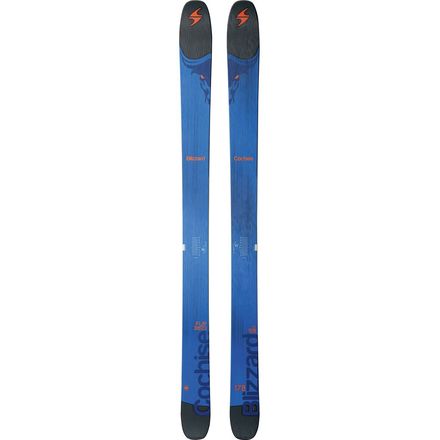 Colors

Community Images
The best just got better.
When tonight's dump has you dreaming about tomorrow's face shots, you'd better make sure you have the Blizzard Cochise Ski ready to go. With a 108mm waist, rockered profile, and carbon fiber in the tip and tail, the Cochise lets you float over pow and crud with power and initiate turns with ease. Blizzard's new Carbon Flip Core technology cuts the resulting chatter of the rockered tip and tail for a more stable feel when you're arcing turns down open faces and rallying groomers back to the base. And with less weight in the tip and tail, this version of the Cochise has an even lighter swing weight for when you need to quickly scrub some speed through the trees.

The versatile 108mm waist combines with Blizzard's modernized Carbon Flip Core design in which Blizzard inserted the ski's core into the mold upside-down, giving it a natural tip and tail rocker rather than pressing it unnaturally into shape like most rockered skis on the market. What does this mean for you? It means snappy, intuitive edge control on groomers and fluid flex and turn initiation anywhere. It also means excellent stability and even pressure distribution. The Cochise's multi-wood core provides smooth flex for all kinds of playful feel out of this kick-ass ski.
Rockered tip and tail, camber underfoot
Carbon Flip Core technology
Sandwich construction
Compound sidewalls
Poplar-beech wood core
108mm underfoot
Traditional sidecut
Double Ti binding interface
Great Ski
Familiarity:

I've put it through the wringer
Used these for a month in japan, with conditions ranging from slush, to ice to pow and they handled everything that could be thrown at them. I have been riding for about 20 years and these are by far some of the most versatile skis I've ever ridden. Slightly heavy for days touring but would recommend as a great all mountain ski.
Michael Enright
Shred it all
Familiarity:

I've put it through the wringer
These are my go to everyday ski, wide enough for powder days yet lightweight and snappy on hard pack terrain. The rocker profile makes the ski fun and responsive even in variable conditions. Very durable and super fun to ski!
Fritz Hanseler
Great ski
Familiarity:

I've used it several times
These skis rock the house from pow to groomers and everything in between. Solid underfoot and steady at speed. 108 at the waist is, IMHO, the giant killer dimension making this my everyday ski (unless it's 2 feet of blower then I choose a different ski but "that's just like my opinion, man").
Mike Newberry
Got them about 3 weeks ago, and have skied them 5-6 times. Everything from 2 feet of powder to some very firm conditions here in the Lake Tahoe area. They performed awesome, only had some issues in some very heavy, heavy 2+ feet of sierra cement breakable wind slab. I don't think any of my other 2 pairs of powder skis would have been any better, or I was just having a off day. They are able to carve a nice GS turn at speed, and also easy to do some quick turns. Very smooth, fun in crud, spring snow, very easy to turn. My biggest issue before getting them was on the size I should get 192cm or 185cm? Glad I went with the 192cm. Emailed several websites for skis info. and ended up going with the 192cm.. You do have to be a bit of a hard charger to get the most of the ski, no lazy technique with this one, I am 245lbs, 6'2" and do some race skiing, GS and SL. Got the Atomic/Solomon binding and they work great and look great on the ski. Same or close blue with orange. Can't wait for next season.
Mike
Updated Cochise
Familiarity:

I've used it several times
I've been a huge fan of the Cochise since it burst on to the scene about 5 years ago. I've owned the original, and the 3rd gen (both same construction and shape). I absolutely loved both of these skis - best skis I've ever had.
I was a little skeptical of the changes they made for the latest version. It turns out my skepticism was mostly unfounded.
It's still an incredible ski. The carbon in the tip and tail makes the ski feel lighter and more nimble on your feet. However, its actual weight is the same (or very close) to the originals that I skied. And that's great, because one of the ski's virtues is its power/heft/crud bustingness. And with the move towards lighter skis these days, those qualities of beefier skis are harder to come by. But rest assured, the '16 Cochise still have it.
Another update to the ski is they added camber underfoot. The camber is good, it definitely helps on groomers, but one of my favorite things about the original cochise was the fact that it was perfectly flat underfoot. You were able to very easily pivot the ski because of that shape. That is lost on the latest version - so the camber comes with some give and take.
Lastly, the tip shape is different (a more tapered tip on this latest). For some reason, I'm attributing it to tip shape, the predictability on groomers is a little different. Not bad, just different.

So, pros are that the skis feel and ski lighter, they're quicker, they still charge, they have more snap on groomers, and the graphics are way better.
Cons would be they don't have that pivot/spinability as the old versions did, and they seem slightly less predictable on groomers.

All in all I'd still highly recommend the Cochise or any other Blizzard ski, for that matter. If you ski hard and like to go fast, check 'em out!
Ned Chanatry
dethrone of the Legend Pro XXL
Familiarity:

I've put it through the wringer
I could never find a ski that would match the performance of the Dynastar Legend Pro XXL's for all types of snow conditions until I skied these. Blizzard has surpassed that with better floatation and lighterweight construction.
Matt A
Amazing skis
Familiarity:

I've used it several times
If words like "stable at speed", "damp", "handles all conditions" intrigue you then buy and ski this ski.
Mike Newberry
These skis hold up better than anything I've ever skied, conditions are never an issue

Randy Evans
Christy, Reverse Christy, or Freeride
Familiarity:

I've put it through the wringer
Weather your highly seasoned powder farmer or a hard charging Freeriding young buck this ski will do it for you. The new shape of the tip coupled with the carbon makes it great for low angle powder farming "dad turns" because it floats and snaps short radius turns. But if you want to charge big lines at high speeds it can handle it, they stomp big airs and have a great swing weight for lofty spins and flips. Its been a great all around ski for me from Japan to the Montana rockies
Matt Evans
Really happy with these skis
Familiarity:

I've put it through the wringer
If you are looking for a great all mountain, hard charging ski the Cochise is the call. They work great in a variety of conditions and are in my opinion a really fun ski! When I know I'll have powder on some parts of the mountain and hard packed on other parts I choose these skis for the day.
Jackie Paaso
Big fan
Familiarity:

I've used it once or twice and have initial impressions
Got the 185 for me at 210lbs, 5'11" strong high speed skier. If you go old school outside foot they are great on groomers. In pow from 6" to 12" they really do the trick. I am fortunate to have a fatter ski for 12"+ but I am sure these would do the trick for a younger (I'm nearly 60) dude...Stiff...these boards rock at high speed, and if you slow down in the bumps they still have some give. ....
Bode Mitchell
How significant has the ski changed from '14, to '15, to '16 models?
KC N
Best Answer
From '14-'15 a slight amount of camber was added to the skis (1.5mm per ski)



From '15 - '16 Carbon Fiber was added to the rocker profile in the tip and tail. The widest point was brought back slightly in the tip and tail shortening the radius by 1 meter and the tip profile was changed so that it turns up faster providing better planing in softer snow. Very similar ski just a few slight tweaks to make it better in both firm conditions and softer snow. Still full wood core with two sheets of metal.
c.brown
I am 6' .5" and i am trying to decide whether to go with the 178 or the 185. Any suggestions?
Briton
Hi Briton,

At your height I'd most likely go with a 185. Contact me directly at the phone/email above if you have any more questions.

Ben
Ben Rabinowitz
c.brown
I'm looking at either the Blizzard Cochise, or Volkl Mantra for a good all mountain ski with more emphasis in powder and glades. Both seem like great skis. Which one would you recommend?
Thomas K.
Hey Thomas,

It's really going to be up to you! The Cochise is going to like to go faster and have wider turns, while the Mantra is going to be more "buttery" and playful. What are you looking to get out of your ski?

Ben
Ben Rabinowitz
Best Answer
Hey Thomas, I use the 185 Cochise for exactly that, powder and glades. The new tip shape makes them ski incredible in pow, particularly in boot top to knee deep snow. With the new Carbon fiber in the tip it can still handle high speed big open turns but it can turn on a dime in the trees as well. Its pretty snappy when you need it
Matt Evans
Great for hard charging the resort slopes, really holds an edge well. Good side cut, the tip & tail rocker is nice too.
ROBERT BETHKE
Hello guys,

Im 5'-11", advanced skier and i want to buy this ski. I choose 178cm or 185cm?
math
Hey Math,

Both sizes will work for you. 178cm will be easier to turn and more agile, while 185cm will allow you to ski faster (but harder to turn).



Ben
Ben Rabinowitz
How much of a difference is this year's ski in comparison to 2013-14 and 2014-15? I might buy last years or the year before if not a drastic difference.
Thanks!
Thomas K.
Hey Thomas,



This year Blizzard introduced carbon in the tips and tails of the skis. They are now easier to turn and more stable at higher speeds. Big improvement.

Ben
Ben Rabinowitz
Daniel C.
I'm 6'2 and 200+ so I'm looking at the 185's. What bindings would you recommend?
Advanced to expert skier.
Brian B.
That depends on what type of boots you have. If you have normal alpine style boots you could look at the



Rossignol FKS 180



Marker Jester



Atomic STH2 16 WTR



I would recommend the FKS for a because it has a very burly construction. These bindings put your boots as close to the ski as possible giving you better feel and flex on your ski. That being said all of these binding are a good option for a burly ski binding that can stand up to expert level skiing, plus they all have a DIN above 14.
Nicholas Dey
I'm 6ft but only 155lbs - can't decide between the 178 or 185. Spend lots of time skiing bumps and trees but love big open bowls. and chutes as well. Spend more time in side country than proper backcountry. I'm just not sure if the 185 will be as much fun in the short turns but don't want to loose too much float if I go for the 178, Im so light I feel like it won't make much of a difference going shorter but some advice would be awesome!

Oscar W
Im 5'8 160 and just ordered the 178. I would go with the 185 . I went with last years model too.
Jon R.