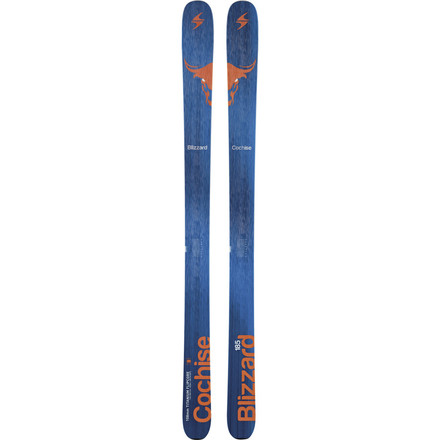 Colors
Fun and playful for your powder playground.
When tonight's storm has you dreaming about tomorrow's faceshots, you better make sure you have the Blizzard Cochise Ski packed and ready to go. With a 108mm waist and a rockered tip and tail, the Cochise lets you float over pow and crud with vigor and initiate turns like a champ. When the storm lets up and your dreams of bottomless pow don't pan out, the Cochise still has you covered, as slight camber underfoot lets you make solid, powerful turns on hardpack.

The versatile waist combines with innovative Flipcore design in which Blizzard inserted the ski's core into the mold upside-down, giving it a natural tip and tail rocker rather than pressing it unnaturally into shape like most of the skis on the market. What does this mean for you? It means snappy, intuitive edge control on groomers and fluid flex and turn initiation anywhere. It also means excellent stability and even pressure distribution. The Cochise's multi-wood core provides smooth flex for all kinds of playful feel out of this kickass ski.
Tip and tail rocker
Camber underfoot
Sandwich compound sidewall construction
Poplar, bamboo, and paulownia ISO woodcore
Flipcore technology
108mm underfoot width
Exudes confidence, bombproof and sexy
This is the second pair of blizzard coshise I have bought and I didn't think they could get any better but they could and did. I skied this for two solid months at Mach 3 nuking powder, ice, bumps, groomers, and even hit a bowling ball sized chunk of hard snow and this ski held on stronger than King Kong on the Empire State Building. The slight camber they added was a needed improvement that takes a good 60 pounds of rebound off of every hop jump and landing giving the ski a smoother finish to turns. the early rise tip makes it still smear and surf like the previous models. Definitely get this ski and get it in a 193 you are a real man and this ski will make you feel like one.
ski105847325-0
I just broke my B-Squad 189cm (http://www.evo.com/outlet/skis/rossignol-bandit-b-squad.aspx) and am looking for a new ski, perhaps something slightly more playful and easier to carve on hard snow/ice, but still a charger. I am 180cm and weighs ~80kg. Does anyone have input regarding if this might be a good choise at maybe 177 or 185cm? Or if there are some other skis I ought to look at? Thanks!
esa105821553-0
c.brown
I'm 5ft 11inches 160lbs advanced/expert skier. I want something playful for skiing trees and bumps but also want something to charge around the mountain with and to take into the side and backcountry. I recently tried out a pair of 188 rossignol soul 7s after reading so many great reviews and found them really easy to ski but not all that exciting. I'm just wondering firstly if this is a good ski for what i mentioned, and whether or not i should be looking at the 177 or 185. Normally i would go longer, but haven't read much on how short these ski, and what they're like in tight situations, are they forgiving at all? Thanks!
Oscar W
Best Answer
The Cochise does not ski nearly as short as the Soul 7 does. It has a much lower rocker profile and a longer sidecut. At your height I think you'd be psyched with the 185. When the Cochise is base down it's really easy to pivot so they can be maneuvered in tight spaces. The longer radius on the ski also makes it easy to shut down and scrub speed without the ski wanting to always hook up on you.
c.brown
What's the difference between this years and last years Cochise? ( if any)
ros105309018-0
The 14/15 Cochise is about 15% softer and it now has a small amount of camber where previous versions were flat under foot.




c.brown
I am trying to decide between the 170 and 177 cm Blizzard Cochise. I am about 5' 8" 155 pounds and ski all over the mountain. I rented the 170s last year and loved them, but I am wondering if the slightly longer size would be a better choice. I will only use one set of skis for the season.
Raymond P.
Best Answer
I am 5' 10" 175 and loved the 185 length in last year's supposedly stiffer version. Seems like you should go at least 177.
tim105283800-0
Yeah I'm 5'10" 160lbs and the 185s are awesome. I think the 170s would be too short for you.
Matt L.
Cochise vs. nordica helldorado
Familiarity:

I've used it several times
Loved last year's cochise in the crud and chop. Amazingly stable and no speed limit. Good, not great, on groomers and bumps. I also have heard great things about the nordica helldorado. Can anyone provide a direct comparison btwn the two? I ski mostly colorado resorts - some hike-ti in bounds terrain. Chase powder but end up in a lot of chop and crud. Any thoughts would be appreciated
tim105283800-0
This sounds like the ski I have been looking for to fill my one-ski quiver need. I have Super 7s (180), which are just for the deep stuff, but think this ski can fill in everything else, replacing some Nunatuq's (178) that are just too light for a one quiver ski and which I am going to repurpose for an AT set-up. But I'm looking for a recommendation on sizing. I'm an advanced to expert skier (Japan once a year every year, usually one heli-trip per year, and then Jackson-Utah-Tahoe type skiing the rest of the time); 5'11', 175. I usually see myself ideally around 182, which would put me right in between on these skis. Thinking I should upsize to 185 just from what I am reading, but I'm a little concerned about having boards too long to handle well in the trees, etc. I don't do a lot of bumps, but do like to be able to make tight turns in trees, if needed. Any one have a recommendation?



Many thanks in advance.
yourDisplayName
185 is your size. You can mount them 1.5cm in front of the line to make them ski a little shorter.
c.brown
Love these skis! Love these skis!
Familiarity:

I've put it through the wringer
When I first got on a pair of the Cochise I wasn't sure how it was going to be. I had been skiing on Kastle previously and I was using Dal Bellos as well. The Cochise I tried with a pair of R9.3 Tecnicas. Having a mogul skiing background it was my first time on race boots. The first run I made with the Cochise I knew I was on a great ski! By the end of the day I was sold on the Blizzard Cochise. It's a great all mountain ski that can charge!
Jackie Paaso
Hey everyone,

Well, I recently bought a pair of the Scouts, by Blizzard, which have the same dimensions, etc, as the Cochise, but are absent the metal of the Cochise, making the Scout a softer ski.

My dilemma: First, I have an older pair of the Atomic Nomads, approx. 87 or so in the waist, very good for groomers, etc, and I have a pair of newer(thanks to my son convincing me!), Atomic Bent Chetlers for the deeper days. I'm basically looking to fill the middle ground between the two skis, something on the order of a 100+cm. waist, all-mountain ski, to give me a little more stability/floatation for crud busting, etc, than the Nomads. So, I demoed a pair of the Cochise last spring, (one run only, unfortunately), but let them rip on a high, wide open slope up at Meadows on Hood. Loved the feel of them, that cross between the soft and surfy feel of the Bents, and the metal, stiffer ski of the Nomads.

So, my dilemma, I bought the Scouts, a softer version of the Cochise, at a ski swap, as I took the advice of a friend that the Cochise was "meant for younger, harder chargers," and that the Scout would be more lively, friendlier for someone with my legs.

I am 53, just over 6ft, weigh about 185 on a good day, and ski fairly aggressively/fast, at least on the groomers. Can I keep up with my 19 yr. old son? Maybe not, but I'm not far behind. Anyway, got home, began reading the reviews, and while the Scout does appear softer/bit livelier, it sounds like it might not hold up as well at speed, or power through the crud like the Cochise, etc. I got the 185's, btw. Sounds like it's a good, soft ski for soft snow conditions, but maybe not as stable at speed. .

So, sorry to write a small novel here, but, I honestly don't know what to do, ie, whether to turn around and sell these and go for the Cochise, or another similar ski, or just keep these Scouts.

Advice/insights would be most appreciated!

Thanks in advance!


Donald K.
Hey,

So the Scout is designed more for touring - you're right, it does not have the titanium laminate like the Cochise. Footprint is the same, but it is softer, lighter weight and has notches in the tails for skin attachment.

Basically, I agree with everything you're saying here! I would rather have the Cochise than the Scout as my all mountain ski, especially on hard pack and crud. Another option I'd recommend would be the Volkl Mantra!
LF
Thanks Laura! Yeah, at this point, I might not have much choice, so, just going to ski it a bit and see how I like it. I will take a look at the Mantra. Gracias!


Donald K.
Best Answer
Hey,

I have both the Scouts and the Cochise. Laura is right the Scout is a designed more for touring. That is what I use mine for. The Cochise I use as my all mountain ski. They can charge through it all. Since you already have the other ends of the spectrum I think the Cochise would be a great addition to your quiver. With your height and weight I think you will be happier with the Cochise. That being said the Scout is also a great ski but it is designed more for ski touring or lighter people.
Jackie Paaso
Hey Jackie, Thanks for the answer!


Donald K.
I ski the Scout for tele and AT-Quiver killer inserts.

There in fact is a metal topsheet on the Scout and I have skied both skis and I find the Scout marginally softer. I am a bigger guy 6'4-210#

I like the edge control I get from the Scout in area and it can pretty much edge anything I put it on and I have been in nail biting ice chutes.
Joe Schaaf
Donald K.
The One Ski Quiver
Familiarity:

I've put it through the wringer
My favortie ski in the world, I own the 185 and 193. The 185 one can relax a bit and make turns at slower speeds, I usually ski this ski when I am either tired sore or skiing with frineds ffrom out of town. The 193 has no speed limit, ment for ripping high speed turns in every condition, from 6 % density powder to early spring morings when you need ear plugs from such loud hard refrozen snow. I patrol on this ski and is a great work horse, tough enough to absorb the rocks in the early season and strong engough for keep its spring after 200 plus days. Hands down the best ski in the world.
Seth Orton
Blizzard's Freeride Ski Collection Video
Than Volk
Give it to me
Familiarity:

I've put it through the wringer
A big mountain one ski quiver. On the groomers it carves without any flop thanks to flipcore and camber underfoot. In chop its a a freight train thats going to bust through everything. In Powder its 108mm waist + perfect amount of tip /tail rise is going keep you up without the obnoxious unbalanced feeling of other rockered skis...unless you want in the powder. Then just ask it and they will take you deeeeeep
Marcus Caston
I ski the 2014 Bonafide in 187 but looking for more of a powder ski. I demoed last years cochise in a 186 I think? SUPER fun, carved nice and blew through a lot of stuff BUT never got real powder over 6".



I am 50yo, 6' 195lbs, advanced/expert. Smooth and precise skier. Charge but not crazy. Should I go for the 185 or the 193? I am weary of a ski that will become too boaty thats why I am a little concerned over the bigger stick.



ps: I know this is opinion.
Kenneth D.
Hey Ken,



I think it depends on how much you liked the 187 Bonafide. Was it quick enough in tight spots? Did it feel heavy after skiing it all day, etc??



I know several guys that are smaller than you ski the long lengths but dont spend any time in soft mogul fields and really tight trees like I do. I'm 6'1" 178lbs, 43 years old and would NEVER consider going anything over the 185cm for the way I ski. I prefer a lighter, quicker, more manueverable ski for most days and will give up some super deep float to have the ski be more overall fun. I think you will be surprised at how much float the 185 will give you because of the rocker profile of the Cochise. I always find my 180 Kabookie provides very good float and its not even close to the width and length of the 185 Cochise.



Absolute charger in big resorts, wanting a true deep powder specific ski, and strong enough to handle it all day long - 193cm



Quicker turning, more mogul friendly, lighter, easier to toss around, more forgiving, but willing to give up some high speed charging in deep snow - 185cm



Just my opinion and good luck, don't hesitate to ask anything else.



SF
Skifreak
Hey SF,



Thanks a bunch. I came from a background of VERY fast skiing and carving super hard on race skis an alpine snowboards. That being said I think I am going to take the gamble on the 185s considering I tried them last year. I ski fairly conservative in powder (oddly enough) and like you said ,would like to be able to throw the ski around more. Seems like the float "should" be OK in the deep stuff too. I don't charge steeps when its chopped like I used to. Thanks again.
Kenneth D.
Definitely a good choice I think. I tried the 193's last year and got absolutely crushed for half the day at Alta. It was dust on crust and finishing the turn with such a hefty tail was killing me. Then I tried the 185's and found out what everyone was raving about with this ski.
William P.
They seem to get away from from time to time and don't turn as quick as I would like, can I have the bindings remounted to a more forward position. Would that help?
michael getter
I would first have to ask if they are sized appropriately for you and your ability level. Cochise is a big, heavy, powerful ski in my opinion and quick isn't how I would describe it no matter where the binding is mounted.



Every Blizzard ski I own or have tried always feel long in the shovels to me and I mount them on factory recommended line. I've wanted to push the binding forward 1-2cm to experiment with but never have(marker griffons on mine). All their research and development sets factory recommended lines for a reason but I always questioned Blizzards for some reason.



Forward mounting positions make the ski iniate turns quicker and if you are a lighter person on long skis this helps you get more enjoyment out of the ski. Always remember if moving the binding forward on your powder specific skis this could give you an over the tips feeling on deep days. Again I think it's all relevant to your size vs the ski length.



Not a black and white answer for you but trying to help with the limited information provided.



SF






















Skifreak
anybody ski the 193 cochise AND a 190 Salomon Q-Lab? Comparisons?
Chris C.
Here's a few differences between those -

The Q Lab has a bit more sidecut, which helps tighten up its turn radius. The softer shovel on the Q lab helps with flotation in deeper snow, but the dampness of the Cochise is going to help smooth out chop.

I've had a LOT of fun on the Cochise over the years - definitely one of my go-to skis in any condition. Super stable at high speeds, tips stay afloat in deeper snow...

Check out Blister Gear Review's write-ups on both of these skis! Awesome details that really cater to every skier style.

http://blistergearreview.com/gear-reviews/2014-2015-salomon-q-lab

http://blistergearreview.com/gear-reviews/2014-2015-blizzard-cochise
LF
Looking to switch up to the Cochise. Tried some for a week Kabookies last year and liked them a lot. Nice stable feel on all kids of conditions (in the Alps). Normally ski at Mad River Glen in the East so need a quickish ski that does well in moguls and "natural" east coast snow. Advanced intermediate to expert, 190lbs 6' 55 years old but at the gym everyday so not totally done and ready for nothing but groomers. Been mostly on a park ski (Salomon 2012) for the last couple of seasons. Nice and quick with tons of bounce but not stable enough for me anymore, plus no edge grip. Anyway Cochise gets such good reviews and I like the construction technique used, but will they be too demanding. How do they compare to the Kabookie for example?
Andrew B.
abowen,

The Cochise is a very stable ski , it is stiffer and heavier than the Kabookie as it has metal in it. It will ski like the Kabookie but will charge through anything and hold a solid edge at high speeds . It is a great ski , I am sure you will love it.
Soren McCarty
Abowen,



Sorry for the late response but the season is early so wanting to offer my two bits in case you were still on the fence.



I bought a Kabookie last year and have only spent limited time on a Cochise. Kabookie will be a lot lighter, quicker, and more energetic by far. Cochise will be smoother, heavier, quite a bit more damp, and feel lethargic in direct comparison to the Kabookie.



BUT if you are looking for a more powder oriented, surfier, smoother and just more of a bulldozer approach to the hill then Cochise will do that.



Demanding isn't how I would describe the Cochise but I feel it will make you more tired during the day because of the added surface area and 2.5 sheets of titanium in it. Kabookie is a pretty light ski that can still kick you in the backseat when loaded. Cochise doesn't have that energy level. Keep thinking smooth, stable, damp, and powerful fun.



Hope that helps a little,

SF
Skifreak
what type of skins would you recommend for 177 length Cochise skis?
John Lucas
William P.