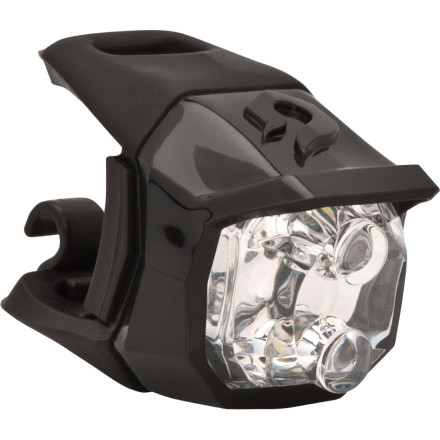 Colors
Press bulb, get home safe.
There are many an unfortunate occurrence which can ruin a lovely evening of cycling shenanigans—none more than that with a rogue vehicular encounter. Improve your visibility and get home safe with the clever, bulb-push illumination of the Blackburn Click Head Light.
Simple, silicone strap easily mounts to any handlebar without requiring tools or sobriety
Nice little light
Familiarity:

I've put it through the wringer
I purchased this light to help with visibility when biking around town. So far the light has been a great purchase. I would highly recommend this to anyone looking for a simple and inexpensive visibility solution.
Rachael Van Dolah
These lights are a must have if commuting or riding at night. Small profile doesn't get in your way and they light up nice.
Spencer Marr
I don't aspire to bike at night, but sometimes you reach the base of the summit at dusk and hit it. Change into something warm, then go. This light actually worked as a headlight, though two would have been better. - But, with two, you're half way there for a real light. This is great for safety!
Casey Gdowski
I bought my girl and I a couple of these for our late night rides. I mostly bought them for cars to see us, but they provide just enough light to avoid obstructions in the road. First click on, second click flash, third click off. Cool features and plenty of light for the money.
Josh Chapman