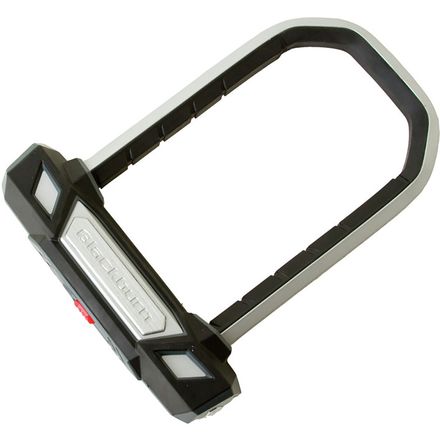 Colors

Detail Images
Drats, foiled again
Rely on the Blackburn San Quentin U-Lock to protect your investment when you can't be around. The 14mm alloy steel shackle lock with anti-scratch liner tells thieves to back off, and it won't damage your paint job. The bump-proof, pick-proof dual-bolt lock mechanism confounds the most savvy criminal, and a $2500 theft replacement guarantee ensures that you're taken care of if you run into a criminal mastermind.
Its a great lock for the price, and the best way to not have your bike stolen, wouldn't recommend putting it on anything to expensive but great for commuter bikes that is for sure.
Zack Stevens
Lock Down.
Familiarity:

I've used it once or twice and have initial impressions
This is a great lock for the price. It is a good size and feels really secure. I can walk away from my bike in public with peace of mind.
Eric White
Good secure lock
Familiarity:

I've used it several times
If we have time, we'll skip the car and take the bike to nearby functions. This lock is heavy duty yet lightweight. The attachment seems too bulky on my bike so I carry this one in my backpack.
Trish Nichols
this is a great lock. easy to use and feels very secure. my only complaint is that it is a little wide to fit snugly in my back pocket as i dont like the attachment to the frame deal, but you can still make it work.
Andy Rice
Good lock, but forget the guarantee
The blackburn locks are good quality and make it more likely your precious bike will still be there when you get back, but they're not perfect. The bracket is flimsy and the lock's outside edges are raw metal, perfect for removing paint.

The theft replacement guarantee is the real killer though. It only applies if you live in certain states within the US and Canada. You have to register the lock within 15 days of purchase, providing a wide array of paperwork and also payment. That's right; the guarantee isn't included in the price of the lock and is instead an optional extra.

Since the lock registration form isn't enclosed with the lock and no mention of it is made on the packaging or website, odds are you'll have had it more than 15 days before you know you need to fill out the form, let along get hold of one and send it back.
M. Nicko
Awesome bike lock. Comes with a mount for your bike so you dont need to carry it in your bag. Three keys so you can loose a few and still be in the clear. Great lock, get it.
Tim Akers