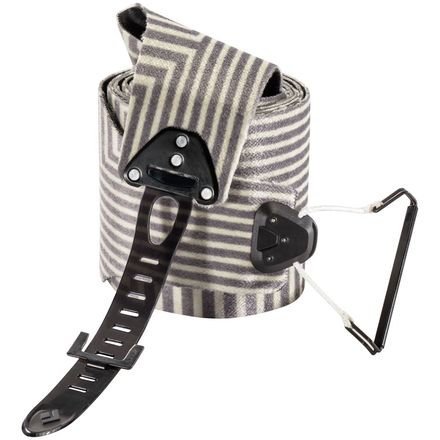 Colors
Lightest is mightiest.
Black Diamond's UltraLite Mix STS Climbing Skin is an excellent addition to the minimalist ski mountaineer's setup. Now 20% lighter, this skin's combination of mohair and nylon offers balanced performance between glide and grip, and the Dynex and aluminum tip is easily replaceable, even when you're in the backcountry.
Lightweight climbing skins for backcountry skiing
Mixed mohair and nylon construction balances glide and grip
Replaceable Dynex and aluminum tip
Patented STS tail provides 10cm of length adjustment
Garbage
Familiarity:

I've put it through the wringer
...is where these wound up. Similar to Kate, I was initially encouraged by the outstanding glide, light weight, and packability. After the FIRST USE, however, the glue began pilling up. By the second or third tour, regardless of the ambient air temps, snow & skintrack condition, the glue was failing completely, mostly via a complete lack of adhesion to the base of the skin. If I was lucky enough to get better adhesion down the middle of the skin, the edges would start to curl downward and the skin would fail from the edges. Snow built up under the tip due to the narrow attachment point.
I wanted desperately to love this skin, so I researched if others were having this problem (they were). I learned to always dry the glue on my skins out after each tour (but not for too long); I learned that you should go loose on this skin, as the narrowed tip attachment causes the edges of the skin to curl downward if the tail attachment is loaded too tight; I learned I needed to ALWAYS scrape the snow from the glue side, EVERY LAP. All things I 've never had to think of prior to owning this skin (well, maybe the last one, but only on a skin 5+ years old!).
After skiing the prior season on the NON ultralight mohair blend (which was fantastic), I was disappointed at best, infuriated at worst. Black Diamond seriously blew it with this one. I stuck it out for as long as possible before picking up a pair of the Pomoca Climb Pro S-Glides (50+ days on them this season in a variety of conditions) and loving the living daylights out of them.
Nick Stayner
They're light...
Familiarity:

I've put it through the wringer
I've always had at least one pair of Black Diamond skins, starting with my first purple pair I inherited from my dad. I've never left a review on a pair of skins because they always performed as expected - they stuck to my skis when I needed them to and stuck to the skin track. These skins are the exception. I bought them this season, have probably toured on them approximately 10-11 days. Initially I was super impressed, light weight, super great glide, they pack down small, but within two days on them, the glue lost its tackiness. For every subsequent tour I had to be hyper vigilant in how I put them on my skis. Eventually I resorted to praying that my skins would work so I could ski another lap and packing voile straps for the eventuality that they would fail completely. I am beyond disappointed with this product.

The only positive thing is they're lightweight so when you have to boot pack out they don't weigh to much.
Kate McDevitt
Unanswered Question
Is this priced for 1 skin or is this for a set of skins or 2pcs. ? Thanks
sab4237241
Unanswered Question
I just bought k2 Remedies that are 131-102-125. Would these skins work with those skis?

Thanks!
Elizabeth R.
Getting them sized and trimmed was trickier than expected. I could have done a better job but I couldn't tell while skinning up hill. They worked much better than the G3 skins they replaced. Taking them off was easy too.
Will B.
Light
Familiarity:

I've put it through the wringer
These skins are great. Extremely lightweight and pack down very small. The only problem I have had with them is the toe clip teetering from side to side if I hit with my other ski. Not a problem with a hardpack skin track, but when you are breaking trail in deep snow this becomes a bit of a hassle. Overall great product, but might look to the BD glidelight mix if you want to avoid the toe clip problem.
Seth Barnes
Light & stretchy
Familiarity:

I've used it several times
They are really light, they weigh 1.5 lbs compared to 1.7 for standard skins for my shorter, narrower skis. I haven't experienced any compromise in grip on the skin track. The thin material makes them light, but also makes for a different experience applying and stripping the skins. The fabric stretches in ways my heavier, orange skins don't. That makes them prone to taco-folding onto themselves glue side together. Thinness also causes the center no-stick strip to create bumps in the skins that have to be ironed out (by palm of hand) to get the maximum benefit of mohair's glide. The glue is aggressive and after about 15 days of backcountry use they are still too sticky to strip yoga-style without removing the ski from my foot. (After a couple of runs they get easier to strip.)
DD_Seattle
Good but could be better
Familiarity:

I've put it through the wringer
My first impressions were that the skins were light and compacted to take up minimal space in my backpack which is great. After about 2.5 weeks of use the glue became globby and not even, as of right now they still stick well but time will tell how the glue holds up.
William Krempa II
Glue failure after decent performance
Familiarity:

I've put it through the wringer
Background: I own and use nylon skins, pure mohair skins and mixed skins. I ski in coastal areas and the Wasatch.

The good: These skins perform admirably in terms of grip and glide. They grip a bit more than mohair and glide a bit better than nylon. In this realm, I really think you get pretty much what you bought 65% mohair and 35% nylon - they behave as their specifications suggest. Some loss of material underfoot (which is somewhat expected with mohair).

The bad: After around 30 days the glue on these completely failed into the stickiest gloppiest mess I have seen. This shouldn't happen.

The ugly: After removing the rotten glue. I bought BD transfer rolls to reglue them. The transfer rolls stuck to the backing and didn't roll out correctly (yes, I have done this before and BD transfers have worked). In the process they left piles of glue and basically ruined what was still a very good plush. Honestly, BD is kind of retreating from the skiing segment, and I think smart buyers should take this into consideration and seek out other suppliers for their skiing needs.
j.cp1071478
how wide are the 125mm skins
DEEDRA E WILLIAMS
Hi Deedra, Those skins are going to be 125mm wide. They come super long and then you trim them to fit lengthwise as well. If you have any other questions, please feel free to reach out to me directly and I'll help you out. - Matthew Pizza - Expert Gearhead
Matthew Pizza
So Far So Good
Familiarity:

I've used it once or twice and have initial impressions
I cut the skins to my skis yesterday and the whole process went very smoothly (I did use a G3 edge tool through). These skins fold up to less than half the size of my 5-year-old BD Ascension skins and felt much lighter. The dyneema tip loop shows just how far these skins go to shave down the grams. The backing material and the thread length contributed to the reduced weight and packability. I will update this review on performance once it actually snows!!!! But, for now they seem like a real win.
Ember Manfred