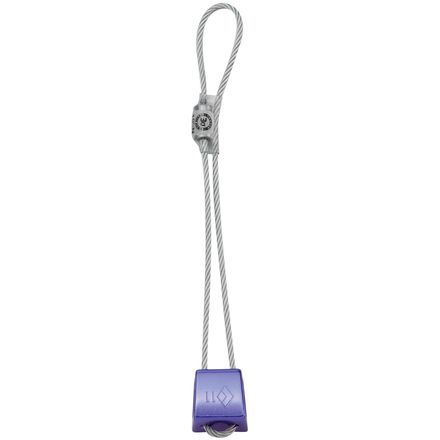 Colors
Black Diamond Stoppers are the tried-and-true original.
Black Diamond Anodized Stoppers are light, simple, durable pieces of protection that form the cornerstone of any trad rack. This simple and effective shape fits securely around irregularities in cracks and is easily cleanable. Color coded for easy identification, you'll be sure to grab the right nut when the pump-clock is ticking fast. *Sizes 1 and 2 are meant for aid climbing only.
The Perfect Nut
Familiarity:

I've put it through the wringer
There's nothing to be said about these that hasn't already been said; they're pretty much perfect. Who needs cams if you have a set of these??

The only issue I've ever had is that I once broke the plastic part of a #7 after a pretty big whipper. The nut would probably still work fine bit I decided to retire it after that.
Robinson Vought
Strong, Durable, Reliable
Familiarity:

I've used it several times
I've been caring a small rack of these with me over the last couple weeks in France. They're reasonably light, so having 5 or 6 on a biner in your pack or on your harness is no effort. With a few various sizes, you're all set to rig up your improvised belay or protect yourself when needed. These, plus some tatt and a few pitons in your pack are a must for ski mountaineers traveling around in mixed terrain. I find these guys can take a serious beating and I have even rapped off a #3 + #1 equalized. The wires are a bit thin, but strong and durable.



-@tj_skis
TJ David
Amazing Stopper
Familiarity:

I've used it several times
These stoppers are so great! I had to get a new one because my other one was stuck too good in a crack up in Little Cottonwood Canyon (its free game if anyone wants/finds it. ;) ) I spent quite a bit of time trying to dig it out until I took a moment to realize that since it was so stuck, it would have protected me no matter what if I whipped! Great piece of gear.
Elliot
Great nut
Familiarity:

I've used it several times
These are my first set of nuts. I got the whole set 1-13. I've used a every single nut in the set and have even had to bail off a couple number 1 nuts. They are strong and will hold. I recommend using a number 3 as a last nut to fall on. The number 2 and 1 are meant only for body weight as the wire is so thin.
The nuts fit really well in the rock but seem to take a beating. A couple have some deep scars from just placing the nut itself.
Austin H.
I really recommend this stoppers , very useful and very light .
Katrina H.
love deez nuts
Familiarity:

I've put it through the wringer
BD stoppers are a must have in your collection of gear if you have any intentions of climbing trad. They are colorful which helps keep them organized on your rack. The simplicity of a piece of pro such as a nut is what makes them so cool. Double up on these bad boys and you wont regret it because it's easy to place a lot of them.
Greyson G
Must Have.
Familiarity:

I've put it through the wringer
These are a must have for setting top anchors in New England, and they (a full set) have been just right in the situations that call for them. I'm glad I have them!
TenfoldDean
Saving lives!
Familiarity:

I've put it through the wringer
These stoppers are legit! I had to buy a new #8 after I blew a piece, fell past my belayer, and welding this bad boy in there. No better mid size stoppers out there.
Jon F
Quality product and the last size to complete my full nut set!
Dapper Denver
Just got some.
Familiarity:

I've used it once or twice and have initial impressions
Just got #6 and 8 for christmas and already know im going to love them. Already on my rack. Very solid feeling, wire is heavier too.
Dan Lexie
double em up
Familiarity:

I've put it through the wringer
glad bd lets you buy individuals, as sometimes they stick in cracks too well or you value life too much to rappel off a chockstone. Not much different from other options though I like the HBs a bit better, but haven't had recalls like Wild Country either.


Ben C
These are just classic. Every rack should have a set of stoppers and I would argue that every rack should have these. These were my first pieces of trad pro. Go with these!!
Meng