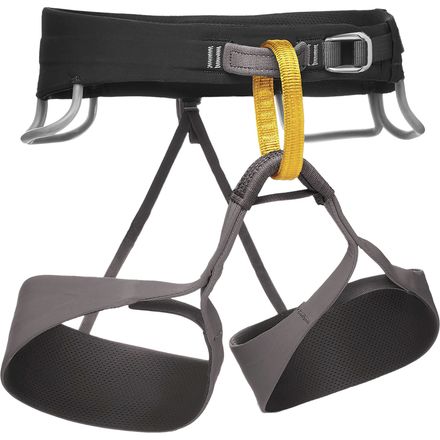 Colors

Detail Images
BD's solution for sport senders.
Sport climbers asked for a harness that provides uninhibited mobility, superior comfort, and long-lasting durability; Black Diamond responded with the Men's Solution Harness. Fusion Comfort Technology fuses three separate strands to four-way stretch nylon and 3D air mesh to ensure the best performance on the wall as well as a comfortable catch when you're off the wall. The Solution also comes with four gear loops for a lot of quickdraws, an auto-locking waist belt for a precise fit, elastic leg loops, and releasable risers in case you nearly poop yourself on a run-out.
Fusion Comfort Technology
Contoured fit for comfort and range of motion
Four pressure-molded gear loops
Auto-locking waist buckle
Elastic leg loops
Adjustable, releasable elastic risers
Gear loops
Familiarity:

I've used it once or twice and have initial impressions
The gear loops are really tiny on this harness. 90 percent of the routes I'm climbing in my area are 50-ish ft. sport climbs, so it will work well for that, but any 100+ ft. sport, and especially trad., routes would be a huge stretch in this harness.
Jason Mills
Great Sport Harness
Familiarity:

I've put it through the wringer
I picked up this harness last spring when my momentum needed replacing and I love it! Streamlined and lightweight, doesn't feel bulky at all. Works out great in the gym and performs very well at the crag too. Carries all the gear I need when sport climbing. Wide leg loops and waist belt spread out the force and make this harness very comfortable to fall in.

I wouldn't suggest if for long trad lines or big walls as it is not too padded and may be uncomfortable to hang in all day. But for shorter trad routes, sport or gym climbing it's phenomenal!
Jacob Stenberg
I use this harness for all my climbing in the gym and outside (sport&trad). Comfortable waist belt and leg loops if you find yourself hanging. Only minor things I've found are that the gear loops are kinda small. Other than that, awesome harness.
ERic S.
Best Harness Ever Made
Familiarity:

I've put it through the wringer
I use this for both sport and Trad climbing (unless in off-width). This is the most comfortable harness, and at the price, it is a no brainer.
Tommy Sutter
Awesome product
Familiarity:

I gave it as a gift but have feedback to share
Great intro harness, fits well. Even though the legs don't adjust they still feel great and safe.
Anthony Webster
Great Harness
Familiarity:

I've used it several times
This is the first harness I purchased as I am new to the sport and I must say I am not disappointed. I am about 6'2 190lbs and went with a size Large and the fit and comfort is great.
Jerry A
Great Harness
Familiarity:

I gave it as a gift but have feedback to share
Great harness for everyday use at the gym. It's comfortable, especially with the elastic leg loops. I wish it had a gear loop in the center rear for my chalk bag, but that is a minor complaint overall.


Brad
Can't go wrong
Familiarity:

I've used it several times
This harness is great! It is comfortable and has what you need for sport climbing at the gym and outside. It is light weight and durable.
MacKenzie C
Great, basic harness
Familiarity:

I gave it as a gift but have feedback to share
For $50-$60 this harness is great. It's not super fancy, but it gets the job done, and it's comfortable. I use this primarily for sport climbing in a gym, and I don't really need much else. Bought a few of these as gifts for friends and family and they love them too.
Peter Tew
Love it so far
Familiarity:

I've used it once or twice and have initial impressions
Have only used once for an indoor climbing session, and it worked flawlessly and was extremely comfortable. Also, I should note that I initially ordered the wrong size, and had zero problems getting it replaced with the correct size. Customer service was EXCELLENT, even though I was the one at fault. I have become a solid Backcountry.com customer due to their product choices and quality, fair prices, fast processing and shipping, and excellent personalized customer service.
Kelly C.
Beautiful Simplicity
Familiarity:

I've put it through the wringer
Holy cow this thing is comfortable! The wide straps really distribute weight evenly. Not having buckles for your leg loops is not a problem. The elastic straps hug your legs perfectly. Nice thick hard points with larger opening make it easy when you are organizing your rap/lower. Black Diamond nailed it with the perfect solution!
Charles S.
almost perfect
Familiarity:

I've put it through the wringer
I really do love this harness. It's light, low profile, never restricts my movement, and it's (reasonably) comfortable to hang in. For the gym, there's nothing better, at any price.

I have to deduct a star for the gear loops though...

I wear an XL cinched all the way down. This puts the right front gear loop way out in front, in a position where any gear you clip to it will hang between your legs at exactly the wrong moment. The odd thing is that I've tried on the size L (which doesn't fit comfortably due to the leg loop size), and even though the waist is open much wider, it has the same problem. The issue seems to be that the right front gear loop is sewn too close to the upper tie-in point, so that if you center your belay loop on your body, that gear loop will always be in the wrong position. If you center the back instead, it puts the gear loop in a usable position but leaves the belay loop (and upper tie-in) so off-center that you would never actually wear it this way.

The small and medium sizes may not have this problem, I haven't checked.

If BD fixed this issue it would be more than the perfect gym harness... it would just be perfect.
Noah Y.
Really light weight
Familiarity:

I've put it through the wringer
Bought this for sport climbing and was really impressed its super light and really comfortable. The loops being angled out makes it easier to grab your draws because they are hanging out a bit. By far favorite harness I have had.
Ethan Hale
Great Value
Familiarity:

I've used it several times
Awesome harness for the price. Light weight and comfortable. Comparable to more expensive harnesses on the market.
Dani
Awesome Gym Harness
Familiarity:

I've used it several times
This is a great light weight harness for the gym when all you need is an atc/grigri and a chalk bag. When climbing outside I opt for something a little more heavy duty to handle the quick draws or gear.
Austin T.
Simple Comfortable Harness
Familiarity:

I've used it several times
I was looking for a straight forward harness that I could use outdoors. This one fit the bill. Sizing and functionality was as expected. Great quality from BD.
Rich Wheeler
Great for all styles
Familiarity:

I've used it several times
I really enjoy this harness. I got it just before a big climbing trip to the Yosemite valley. I really like the lightweight design, and how comfortable it is. I was in this for almost an entire day and was comfortable the entire time. The only improvements that I would make to this is to make the gear loops a little larger or add another on either side (there's space) and adjustable leg loops. Other than that this is my favorite harness that I've owned thus far and I've been climbing for over a decade. I'd recommend this to any climber, with the exclusion of a serious big wall climber or aid climber, due to the amount of gear that they carry it's not logical due to the limited storage and lack of padding.
Samuel Nichols
Great Stuff
Familiarity:

I've used it several times
I recently decided to replace my 6 year old BD Momentum and while I wanted to keep it in the family, I also wanted to try something new. I'm a fan - plenty comfortable taking whips on and I like the gear loops.

I'm 5'8"/32" waist and got a medium, it's almost too tight but not quite. I probably wouldn't use it for winter stuff in heavy clothes though.
Jarrod N.
First Harness in Years!
Familiarity:

I've used it several times
Just recently getting back into climbing and decided to get a new harness. And I am glad I choose this one. Insanely comfortable.

I am 6'1", 185 lbs, and wear 32/33 waist in pants and ended up ordering a Large. Could go with a medium but the large suits me just fine. I've always felt secure and if i am wearing thicker pants I will probably be glad I have a Large.
Josh P.
I've just recently received my new Solution harness, and I couldn't be happier with my purchase. After about a week of climbing (mostly in the gym) I must say that the harness fits me perfectly and has a truly exceptional fit... much better than my previous two harnesses... one was a Black Diamond (about 8 years old) and the other my original Arcteryx (15 years old) harness with which I began climbing. What's surprising is that despite having what appears at first to be minimal padding (rather slim and light design) it's perfectly comfortable even when hanging around (mid-climb). The materials appear to be solid and robust... especially the lower of the two loops, where you thread through your figure eight... they've reinforced this section, which typically tends to break down over time due to friction with the rope. I can't speak of it's longevity (since it's a rather recent purchase), though I feel rather confident that it shouldn't be an issue. The padding, like I said early, is rather slim, but it's wide, which seems to really support your weight evenly.

Size-wise... I'm just under 6 feet tall, around 170 lbs with a 33 inch waist (rather slim fit overall), and I ordered the size Large. The legs and waist seem to be a perfect fit. I probably could have gone down in size to a Medium, but I think the large will be better in the long-run, especially when I'll have to wear more layers or thicker pants in colder conditions.

This harness has everything one would want for gym and sport climbing... plenty of gear loops (4 in total), which are easily accessible. It's noticeably (or actually... unnoticeably) light. There's also a rather discrete loop in the back to clip a chalk bag, which I believe the higher end Chaos harness doesn't have.

The little pouch which comes with the harness is rather small... I suppose that's great for packing away your harness into a small bundle, but a bit cramped if you were hoping to cram in your belay device and the chalk bag (which I tend to do... for reasons of convenience).

Overall, I highly recommend the Solution harness... I couldn't honestly be more thrilled with this purchase!
Nicolas C.