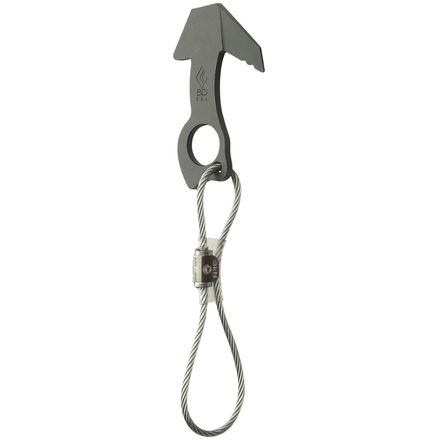 Colors
Sometimes only a Pecker will do.
The Black Diamond Pecker climbing tool has evolved from a lineage that began with the Crack'n-up and went through the Beak. The Peckers #1, #2 and #3 are the latest additions of thin-aid tools. Ideal for clean aid when speedy intermediary moves are necessary between sinker placements, any of the Peckers can be hand-set and cleaned quickly. When micro nailing, their double-tapered, thin, serrated blades hold solid—especially in softer rock. A new, swaged cable lifts out of the way when pounding the eyes during removal. Three sizes increase its varied usage and big wall magicians now have more tricks in their bag for dicey or intermediary placements. The largest size also works well in the mixed medium, offering additional options on mixed lines when small cracks or frozen turf are nature's only offerings. –Vendor
For thin sketcky nailing these rock. I dont know about using the largest size on mixed routes, but I love the small ones for thin seems. The angle on the hammer strike area really helps to maximize your swing and reduces the number of swings to tap em' in.
Matthew Cox
Clean aid monsters, bomber! Better than Beaks due to the opption to clip in direct or through the cable. I have used the biggest size to protect thin free routes.
Patrick Goodman
What can you say about peckers?
If you're looking at a shallow seam, get out the beaks and start having fun. They're also crucial for hooking on dead heads and other fixed junk. The #3 seems to be of limited usefulness, I think 2-3 of the #1 and about 2 of the #2 should do for most racks. Oh yeah, don't look at them when you test the placement, unless you want a chipped tooth.
YeahBro.