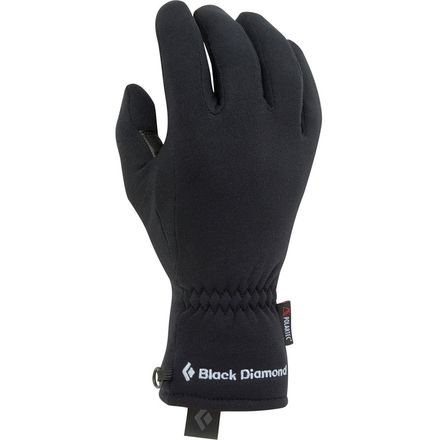 As tough as a heavyweight but with the build of a middleweight.
As a show of superiority over other glove liners, the Black Diamond Midweight Glove Liners rock a goat-leather palm for extra durability. Wear these midweight liners alone when you head out for a chilly fun in the fall, or use them as stretchy insulator gloves for extra warmth under shell gloves during the winter.
Not impressed
Familiarity:

I've used it several times

Fit:

True to size
I used these running once on a 30 degree morning, fingers were freezing. Used them around the city in the 40's they worked pretty well. Used them skinning once and fingers were good til we got on a windy ridge, then they froze. I don't think they hold out any sort of wind. On second lap, the stitching down the side of the finger completely blew out from holding a ski pole.
Jetlag
Black Diamond Midweight Glove Liner
Familiarity:

I've put it through the wringer

Fit:

True to size
I've used this liner for years, underneath a 150 gram Thinsulate insulated glove, while skiing in Vermont. Last year Stowe hit a -37 degrees on Spruce, and my hands remained "toasty."



I also use the liners as a driving glove, shopping, or just going for a long walk in the Michigan winters.



My last pair lasted at least 4 years, with some wear finally showing on the fingers. My wife was gracious enough to put in a few stiches, and they are good to go for another year; however, I did order another pair for my ski bag. I would say for the price, get a pair.


Lawrence Ross
Decent, But Could Be Better
Familiarity:

I've used it several times

Fit:

True to size
These are average at best. They were definitely not as warm as I expected, and my hands underneath my ski gloves . Being made of Polartec fleece, I expected them to be pretty darn warm, as my Polartec fleece jacket is just that. Unfortunately, these did not live up to my expectations and my hands still felt cold. Really cold. Not uncomfortable biting pain cold, but nearly there I feel. Now my ski gloves could also very well be culprit to contributing to my cold hands, but I also tried them with some very thin Hestra merino wool liners my friend had, and those worked better. I only bought these thinking these would work even better and my hands would be really warm. But that was not the case. I would also prefer the fingers also be reinforced with a full leather palm as the Woolweight ones to add to the durability of it being able to be used as a solo glove. I will also say as a disclaimer that my digits seem to get cold easier than alot of other people's. Overall, I think I would go with something else and am quite disappointed in these.
Allan
I used these as a middleweight, with a liner underneath and an expedition mitten over on a trip to Alaska. They were doin their job until boom, I whip em out on a hot glacier day to probe out a campsite and they got shredded. As most know, probing is not a fun task, but I would expect a BD product to last more than one hard day of use. My thumbs punched holes through the glove the rest of the trip!! Bottom line; my digits were displeased with my brain for that decision.
Paul Larson
Gotta have at least two pair..
Familiarity:

I've put it through the wringer

Fit:

True to size
This is a glove I use a lot. May be the glove I use the most 9 months of th year! Always want to have two pair on hand just in case. BC skiing, ski track, cold rock (not that durable). I use them every where.
Dane
Good glove but split seam
I bought these because I wanted a tight fitting glove in the fall and winter. These did the job but wore out quickly. I did 3 winter backpacking trips and after the third I noticed the seams started to pull. I patched them up with some thread and now they're back to working condition.
Alexander S
i had these gloves over 2 years now and they are still in great conditions always take them to any cold weather adventure and they really do their job.
Federico Garcia
great gloves
Familiarity:

I've used it several times
I have been using these for a while now for running and just casual wear around the city. Im in Chicago and its pretty windy but these gloves seem to do the job and the best thing about them is that I can make snowballs with out the gloves getting wet, that was surprising. But you do have to remember they are liners not full blown gloves its good for casual things. They are not big and bulky either they definitely do the job of keeping my hands warm or not freezing.Only thing is I wish they had the thing for your touch screen phone for the fingers, only complaint.
t_kp20179
Sleek liner glove
Familiarity:

I've put it through the wringer
These things are great for handling gear in the winter. Although the seam split on the wrist on one of them after about 3 uses.
Matt A
Great with Outer gloves or without!
Familiarity:

I've used it several times
The wear well. The cost is better here than I have found it anywhere. I use the glove liners for days when it's not too cold and they slip inside my outer gloves when it's really cold and snowy. I highly recommend these gloves.
Carmen K.
Excellent Liners or Stand Alone Gloves
Familiarity:

I've put it through the wringer
I wear these during winter , using them with trekking poles in the lower Cascades. I use a shell mitt over them during the rain, but these gloves are unbelievably comfortable and warm. A little pricey but worth it. They absorb water and are not water resistant but these are real nice stuff! Temps in the low 30s are no problem.
Test
Great liners!
Familiarity:

I've used it several times
These are awesome liners, they're comfortable, and warm for high output activities. I use these for winter hiking, the leather palm is awesome, and gives you a good grip on an ice axe. They dry very quickly! Be careful, I have had to fix the seam on the side of the leather palm, the stitching seems a bit thin, for such a high wear area.
Ryan Roeber
what is the liner material? Wool?...
what is the liner material? Wool? synthetics?
John W.
Polyester, which is synthetic.
Steven Jones
I have worn these since October of 2010 as my cold weather running gloves and also as my hiking gloves. I get sweaty hands pretty easily so I needed something that was going to be warm enough to keep my hands from freezing on a long run, but also not over heat them. These do an excellent job of doing both. They conform to my hand great so there is no baggyness flopping around, they also fit well under a shell but will stay put on your hand if you go to take your outer glove off (which could be a good thing, I like it.) I have worn them hiking in the snow a few times and they kept my hands pretty warm even when I had an ice axe in my hand or was using trekking poles. When they got wet, all I did was wring them out and put them in my pocket to dry out or at least warm up a bit. When I pulled them out I was surprised that they were almost dry. The gloves wash well which is nice especially after wiping snot off of my face after running or hiking all day! I haven't dried them yet though, usually just set them on top of the dryer. I will be buying two more pairs as back ups!
Ryen O.