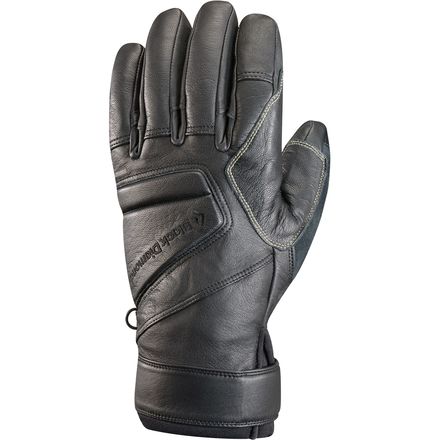 Colors

Detail Images
Tough and warm for repeated winter abuse.
The combination of the waterproof breathable Gore-Tex XCR insert and a full goat leather shell make the Black Diamond Legend Glove tough enough to handle winter's nastiest mid-winter mood swings. 170g PrimaLoft One insulation on the back of the hand boosts warmth while lighter 133g PrimaLoft insulation at the palm retains dexterity. Reinforced leather palms and fingers provide durability for mountain professionals. The Legend Glove also includes molded EVA foam knuckles for extra protection when the tree run turns out to be a bit tighter than you expected.
Goat leather shell
Goat leather palm and palm patch With Kevlar® stitching
Gore-Tex XCR insert
170g PrimaLoft One insulation on back of hand
133g PrimaLoft One insulation on palm
Compression-molded EVA foam padding on knuckles
Initial Impressions
Familiarity:

I've used it once or twice and have initial impressions
I bought these in XL and I also bought the Black Diamond Guide gloves in XL. These Legends fit perfectly, but the Guide gloves were a bit too small, maybe there's more of a break-in period with the Guides, but I'm looking forward to getting these Legends broken in and even more comfortable than they already are.

They also aren't quite as beefy, or maybe robust is a better word, as the Guide gloves, but I like that. The Guide gloves felt more like I had those Incredible Hulk boxing gloves on that have sound FX when you punch things. These seems much more realistic for my purposes, which include skiing, winter hiking, and maybe some occasional rope and ice axe work.

Really like the cuff on these, too, seem like they're do a good job keep ice and water out. So far so good!
Ryan Conklin
Black diamond
Familiarity:

I've used it once or twice and have initial impressions
These gloves are tremendous. I've only worn them twice, both times they were more than warm . Our winter was very mild this year
John S.
Very warm glove
Familiarity:

I've put it through the wringer
I have used this a bunch of times and found that its good down to about 5 degrees even on the east coast. I used it for a trip to J-peak in February where the temperature was between 10 degrees at the highest and -15/10 at the lowest. When it dipped to the negatives it was not warm enough, but honestly nothing was warm enough at that temperature. If you have cold hands or you tend to take your gloves on and off constantly you'll find these to be colder since insulation only works if its trapping heat. So the gloves will be as warm as the hands you put in them. I found that as long as I put the gloves on in the lodge then walked outside that I would be fine for the vast majority of the day at 5 degrees. If it dropped colder then I would have to take more breaks. The sizing is a bit odd though I usually have a fair amount of space in Large gloves from Black Diamond but these fit a little on the small side. I had a large in the team gloves and they fit fine with space to spare.
Pete Heckert
Unfortunately after only 3 days use the stitching on my right glove is failing at a seam. It is the seam in the palm right below the thumb - so it isn't a high wear or stress area. What a disappointment...



The gloves appear to have all the warmth and waterproof capabilities they advertise. They have reasonable dexterity and are very comfortable. I was thrilled with them initially and hopefully for everyone else I just got a lemon.



5 stars in all categories except build quality/durability
Andy
Poor Fit and Warmth Rating
Familiarity:

I've used it several times
First off, about me:

6'3, 190lbs, usually an XL glove (fairly long fingers, think of palming a bball)



Originally ordered the L because I went by the size chart. They were too small in the palms and all fingers besides the thumb. Backcountry gracefully exchanged for an XL. Trying them on again, I noticed that the finger length was the same, and the only thing that increased was the thumb and the palm had more spacing. A couple things wrong with this:

1. Fingers still too short. Pressing between a finger shows that they needed another good half an inch.

2. The Thumb inseam to the palm was the same way. You don't fix this by making the thumb longer.



I don't have unique hands. Just a bad design. I kept them because hey I thought the leather would stretch.



Working them in is tough

- Not much spacing between the fingers and top part of the palm.



Putting them to the Cold test (a couple times)

- Out in Jackson hole, the weather was in the range of 10-15 degrees, not so bad. I was cold in these gloves. They started off inside, but quickly lost heat. Maybe because of the disproportions in the glove?



Overall, I would not recommend these gloves for snowboarding or any weather below 20 degrees. Mitts are the way to go. Looks like I'm just stuck with these for the warmer weather.
Ben Jammin Sewards
Protective Gloves, Weak Durability
Familiarity:

I've put it through the wringer
After one season of use, the stitching around a few of the fingers started to come undone. The gloves worked great for me until this defect occurred. My hands are generally warm so insulation was not an issue. I expected better durability for the price, especially from Black Diamond.
Aaron Careaga
Freezing hands
Familiarity:

I've used it several times
If you want to freeze your hand on cold days go ahead. They are excellent for warm days (30 F) but anything below that you will suffer. I was expecting so much from Black diamond that I will never buy gloves from this brand again.

Fit is perfect and very comfortable, but they fail on the most important thing!
Felipe Silva
Warm leather glove
Familiarity:

I've used it several times
These are some of the warmest leather gloves I've found, the materials are pretty good, I had tried the virago before those in medium, they were cold and tight, so I got the legend in large [according to BD size chart I'm a medium],got the last pair I could find both in store & online. The 2 glove are different sizes, the right glove palm is wider than the left by 1/4 inche, the 2 center fingers are wider than the left by 3/16", so I'm blaming it on the fact that I got the last pair "on the market". Would have gladly given it 5 stars without that glitch. The gloves have been used to work outside [in wisconsin] in minus temps during cold spell,in high winds for over 3 hours at the time, did add liners with the gloves during that time, when I would normally wear expedition mittens, they performed very well, I wasn't hot ,but wasn't cold either, cant wait to use those skiing.
ralph D.
I'm on pair Three
Familiarity:

I've put it through the wringer
I bought the original BD Legend Glove years ago (like 7 or 8 years ago). They were the warmest and most waterproof glove that I've ever worn. They also lasted me a good 4 years and while they packed out and got a little colder, they were still my Goto Glove. I now have two seasons on the 2nd generation, which I feel just as strongly about. While I've watched friends blow through a couple of hestras and "Patroller" gloves from other major manufacturers, my legends have held up much better. Now I've gotten these for Christmas. They are beautiful gloves. The only challenge; I'll wear my last ones for another year or two before i need these. I'll wax them to keep them soft and break them out when they're finally needed.
Patrick Mulligan
Just what I was looking for
Familiarity:

I've put it through the wringer
I wore these skiing in 10-28 degree F weather. They work as advertised. Nice under the cuff fit that works most excellent with my OR Axcess jacket. Easy on and off. Nice flexibility with minimal to no break in. Some moisture accumulates on the inside but my hands were always warm and comfortable. Construction seems to be excellent with lots of double stitching. Only gripe is the leash is too short. I swapped it out for the one on my outgoing glove. Much cheaper than comparable Hestra glove.



Update: I used these gloves all last winter from -30 to 30F. Not one complaint after I switched leash out. Still look new. They are warm. Use something lighter for warm days. Stay at 4 stars for leash being too short for my preferences.
Eric Stenglein
Very warm, good dexterity
Familiarity:

I've used it once or twice and have initial impressions
Havent been able to use them a lot yet, but was at Killington and it was wicked cold, but my hands stayed warm the whole day. I have Raynauds in my hands (poor circulation so my hands are always cold), and these gloves were able to keep the cold out. This is the first pair of ski gloves Ive owned that were able to do that.



These gloves are very comfy and had above average dexterity (could zip up my coat, unbuckle helmet, boots, etc with gloves on, no problem). They also look awesome.



My one dislike is that I accidentally pulled the cuff strap (which I read *not* to do in a review here but forgot), and it tore the seam a tiny bit. It wont damage the function of the gloves at all, and it was 100% user error as I knew I shouldnt do that, so no fault o f the gloves. Just make sure you dont pull that strap while pulling the gloves on.
Adam
Initial Impressions - LEGENDary
Familiarity:

I've used it once or twice and have initial impressions
I'm going to start with my minor gripes. When I make a fist with these gloves on, there are a couple points on my pointer and middle finger that feel some pressure and it's a little uncomfortable. I'm sure breaking these in more will help. Also, these are really stiff out of the box. However, they get better. They aren't the most dexterous things in the world (7/10 IMO), but I can still open zippers, buckle boots, and stuff like that, but I can't use my point-and-shoot camera.

Now, the good stuff. These gloves are impressively warm. I was fine at 15 degrees, just hanging out (not active). I've never really had too much trouble with sweaty hands so I can't really attest to any sort of breathability, but they do get a little wet from sweat. They also seem really durable. I'm sure an average user could get at least 3 seasons out of these. A huge plus for me was how waterproof these are. I often find myself in slushy/wet conditions and knowing that my hands aren't getting wet is awesome. I held these in a bucket of water for a couple minutes and didn't feel a bit wet.



Cool Features:

I really like the undercuff look/feel and how the undercuff can cinch up with the velcro. The neoprene cuff feels nice on the skin.

The thumb has some softer material on it; I use my left glove as a goggle wipe and my right glove as my nose wipe.

They look cool.

Overall, this is a great glove for me!
Meng
quality
Familiarity:

I've used it once or twice and have initial impressions

Fit:

True to size
Great gloves, some of the best i've ever own. Quality is everywhere, i got it for half the price, definitely a very good purchase.
Dan Stanculescu
That I still have my fingers is a...
a.) Fluke?

b.) Miracle?

c.) End result of a frigid game of chance?

d.) Testament to the practical efficacy of the BD Legend?

e.) A combo of all the above?



Gonna go with "d.)" and add the caveat; " with good weather". (sort of).



The glove in this photo is not the most recent rev of the model, but it really hasn't changed all that much in the big scheme of things.

That big scheme can be defined as "you can wear this glove on the summit of Denali, depending on what the Weather Gods decide to do. (and other factors)"

Not that I recommend that, of course. (every one of my 7 finger-tips peeled for a month...)

I wore them on the top of Aconcagua, too.

(Just kidding, I actually have all 9 fingers.)



Morbid jokes aside, I love these gloves.

I've worn them in some pretty extreme conditions, probably a bit more extreme than they were intended for, and for the most part, they have kept me comfortable (in a relative way, of course.)

I've worn them on Whitney in the winter, Rainier in the Summer and Fall, in the Andes, AK Range, Wasatch...

I've found them to be as waterproof as one would expect a waterproof glove would be. That is, you can dig around in the snow for extended periods of time and the only moisture you feel is what you're manufacturing on the inside...

They don't breath well, but that would be like expecting a double plastic mountaineering boot to breath well.

Mine are 4 years old and are showing no signs of wear, but I'm tempted to try out these new ones. Mine don't have leather shell tops, only the palms.



Unless you're planning on spending weeks on-end above 15K feet, you'll probably love these things. And even if you are planning to, you'll probably love them, just also plan on doing lots of arm swings.

I believe their intended purpose is for FC/BC powder-planking, but I can still make a fully-intact shadow-puppet eagle, so they work for other stuff too.



(Also..."goat-skin shell and palm" = disturbing cannibalistic irony...)
Brandon Riza
A good cold weather glove. They were a little more beefy than I thought they would be, as in they definitely took some time to break in. But keeps me warm.
Ben M.
Good cold weather glove
Familiarity:

I've put it through the wringer

Fit:

True to size
I would not pay $100 for gloves I got these gloves as a gift from my mom on Steep & Cheap for 2/3 off. Normally when I buy ski golve I pretty much go with the Flylow (Kinco) gloves, I have two pairs of them they are good most days.



These Black Diamond Legend gloves are awesome for colder storm days, they really keep moisture out. On bluebird medium to warmer days they are not so great, since they are made a strictly cold weather glove, those day I use the Flylow Tough Guy & Ridge gloves.



You just need different gear for different days, especially in Wyoming.
todddkehoe
Bought them and never looked back.
Familiarity:

I've put it through the wringer

Fit:

True to size
These are hands-down the best gloves that I have ever owned. Not only do are they very warm, but the goat leather provides tons of dexterity, so that I never feel at loss with my poles. Besides that, I've gotten countless compliments on their looks while on the slopes!
John F
Great Gloves!
Familiarity:

I've put it through the wringer

Fit:

True to size
These gloves are super warm and fit great underneath the sleeves of my jacket. They also have enough room inside to fit a pair of glove liners on extremely cold days. I've used them primarily for skiing and they have held up very well during normal use. My dog did recently eat them, so they will not hold up well during heavy chewing!



I love them though so I'm currently purchasing another pair for my trip to Chile in August.
Ryan Christopher
I bought this in spectrum blue. They look quite a bit like dirt bike gloves... but bigger. Quality on this gloves is really good, though their fit is kinda narrow around the wrist.

Definitely waterproof. The inside will never get wet, gut they do tend to slowly get wet on the outside and they take a bit of time to dry.



Overall good gloves.
Martin J