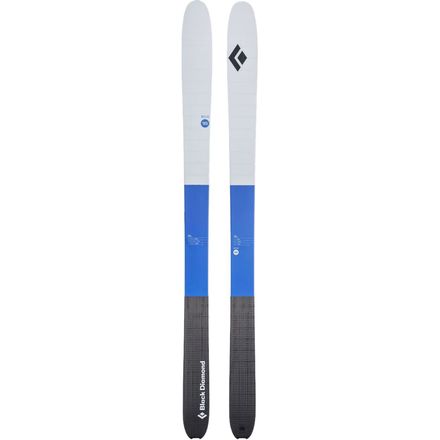 For big days in the backcountry.
Lugging a heavy set of skis up the mountain might not be so miserable when conditions are prime and you start climbing right from the road, but when finding soft turns requires long approaches and killer climbs, a superlight ski like the Black Diamond Helio 105 is a near necessity. Designed for all-day tours and big ski mountaineering missions, the Helio weighs a feathery six-and-a-bit pounds in a 175cm length, and has a versatile 105mm waist width that will make the most out of whatever pow you can sniff out, without being too unwieldy when you need to ski a bit of wind-jacked snow, neve, or low-elevation refreeze.

The Helio gets its lightweight nature from its engineered ultralight balsa and flax core and light-but-stiff carbon fiber laminate. You might expect a ski of this weight class to have a flimsy cap construction, but Black Diamond went with a torsionally stiff sandwich build with beveled ABS sidewalls to keep things stable when you're able to open up the throttle down wide-open bowls and smooth aprons. The Helio isn't all high-speed business, though; the early-rise tip and tail keep the ski playful and maneuverable in tight chutes and trees, while plenty of traditional camber underfoot delivers solid edge hold when surface conditions turn firm. Black Diamond also added thin sheets of metal in the mounting area for better binding retention, and ABS tail protectors with a skin clip tab to protect your boards from abrasive metal skin clips.
Early-rise tip and tail with camber underfoot
Sandwich construction
ABS sidewalls
Pre-preg carbon fiber layup
Engineered balsa and flax core
Titanal mounting plate
ABS tail protector with skin clip tab
I'm 5'7", about 155-160 lbs and I bought these skis in 165cm. I plan on using them in lift-accessed powder, or in bounds "backcountry" thats just ungroomed. Want to stick to as much powder as I can, but also some resort days. Not yet knowledgable on the whole skinning or totally backcountry scene, but would like to get there. That being said, should I have gone with the 175cm instead? Or even the 116 in a 166? Will I see a bigger step in float and speed from a longer ski or a wider ski?
Caleb N.
Hey Caleb! With your experience, height, weight and for what you are wanting to use the skis in, the 165s are perfect for ya my man. Once you're a bit more experienced with the backcountry and ready to take the plunge, then picking up some 175s with a full touring set up meant for the backcountry, will be the way to go. I'll shoot you an email to follow up on this as well!
William O
This is an awesome ski that has awesome touring performance. It can ski any condition and feels like there is nothing on your feel while you touring up! I got the 185cm length which is perfect for this even though I ski a longer ski in bounds.
Joe
Great for long tours and soft snow
Familiarity:

I've put it through the wringer
The Black Diamond Helio 105 is a pure joy to ride on soft powder here in the Wasatch. It handles variable conditions well, and the ski is easy to control when transitioning between soft and hard snow. It's insanely light for the ascent. The Helio stands out in big, open, powder filled bowls where you have plenty of room to make swooping turns. A great ski to cruise on the soft snow. The ski is plenty stiff to be a daily driver for some skiers. I've only had a few instances where the ski has gotten "chattery" on me. Don't get me wrong it can handle days at the resort, but this is a touring ski.
Chasen Fairfield
light
Familiarity:

I gave it as a gift but have feedback to share
IF YOUR LOOKING FOR THE ULTIMATE MOUNTAINEERING SKI THAT PRODUCES ON THE DOWN AND FLIES ON THE UP, THEN THESE ARE YOUR SKIS. THEY ARE SOOOO LIGHT, IT IS A TOTAL GAME CHANGER ON THE LONG DAYS. YOULL GET TO THE TOP WITH FRESH LEGS READY TO SHRED TO DOWN. IF YOUR LOOKING FOR AN ALL AROUND SKI FOR THE RESORT THESE ARE NOT YOUR SKI. BUT IF YOUR LOOKING AT TACKLING MAJOR OBJECTIVES IN THE BACKCOUNTRY WHERE WEIGHT IS ESSENTIIAL AND PERFORMANCE IS CRUCIAL, THEN LOOK NO FURTHER.
Ben Christensen
Unanswered Question
Following up on Jamin, looks like these are not recommended with tele bindings. Is there a specific reason? I'd be throwing on 22 Designs Axls with quiver killer inserts. If not, what about tele mounted BD Route 105?
Jeff N.
Magic Carpet Up, Full Performance Down
I just upgraded my touring setup with this ski, and I cannot put into words how big of a game changer it was. This is my first carbon ski and it is light. So light that when I was touring up on my first day with them, I felt like I was on a magic carpet rather than a ski track.
But its weight doesn't sacrifice any performance. It is stiff. It floats. It carves. It responds quickly. It plows through crud without getting tossed.

I'm 5'5" and went with the 165 as a touring specific ski (I normally ski a 178 inbounds). I have the Dynafit TLT Radical ST 2.0 Binding on it with a Scarpa Gea RS boot. It is an incredible setup.
Emery Gaylord
Unanswered Question
I read elsewhere these skis are not compatible with telemark bindings. Why? I was hoping to pair these with ntn outlaws or TTS.
Jamin D.
Float UP.
Familiarity:

I've put it through the wringer
The Black Diamond Helio is top tier for touring skis this season. After demo'ing and testing out skis from across many brands the Helio always rose to the top (pun intended)



The true function of this ski lies with its weight to stiffness. Extremely light carbon construction also lends itself to stiffness and easy engagement of the turn.



While this ski can essentially be skied with any boot - it would be most complemented by a lightweight touring boot - Backland, TLT6/7, F1 Scarpa, Fischer Travers Carbon, Arc'teryx Procline.



With the correct kit, the amount of weight that can be shed, but the right amount of skiable attained is excellent with the BD helio.



One of my favorite options of touring and easily the best skiing of its weight class.



First Class!
Alex Quitiquit
Connor Johnson
You guys realize the MSRP on these is $849.95... right? Even REI has 'em cheaper.
Oregon Pete
Hey Oregon Pete - We will always price match any US-based authorized retailers, including REI. Feel free to contact me directly if you are interested in ordering these skis or have any further questions. - Kyle L. - Expert Gearhead - klivingston@backcountry.com - 801-736-4337
Kyle Livingston
2017 Black Diamond Helio First Turns
Black Diamond introduces their new backcountry carbon ski lineup, the Helio. Available in 88, 95, 105, and 116, the Helio features a full carbon wrap over a balsa/flax core. Mostly available for the 16/17 season, but you can buy the 105 in a 175 or 185mm length right now here at Backcountry.com
Dave Marcus
One Quiver Touring Rig
Familiarity:

I've used it once or twice and have initial impressions
This particular model is very similar to the older black diamond carbon convert. However, Black Diamond added an extra layer of fiberglass and a higher grade of abs with a bit flatter of a tip. This means the ski has much more of a responsive ride and makes transitions between conditions much easier than the carbon convert. The tail is flattened out and gives the ski better edge hold especially in chutes and icy conditions. The overall flex is very balanced which helps with the responsiveness of the ski (much better than convert). Black Diamond has improved upon all the downfalls seen in the awesome carbon convert with the Helio. Austrian made and very solid I highly recommend them for a solid do it all touring ski that is great on the ascent and descent. Please feel free to reach out to me directly if you have additional questions.


Ethan Scherer
Can anyone compare the flex of the Helio 105 vs the Carbon Convert? Comparing the Helio 175 and the CC 180.

Thanks for the help!
John M.
Hi John,



This particular model is very similar to the older black diamond carbon convert. However, Black Diamond added an extra layer of fiberglass and a higher grade of abs with a bit flatter of a tip. This means the ski has much more of a responsive ride and makes transitions between conditions much easier than the carbon convert. The tail is flattened out and gives the ski better edge hold especially in chutes and icy conditions. The overall flex is very balanced which helps with the responsiveness of the ski (much better than convert). Black Diamond has improved upon all the downfalls seen in the awesome carbon convert with the Helio. Austrian made and very solid I highly recommend them for a solid do it all touring ski that is great on the ascent and descent. Please feel free to reach out to me directly if you have additional questions.



best regards,

Ethan
Ethan Scherer