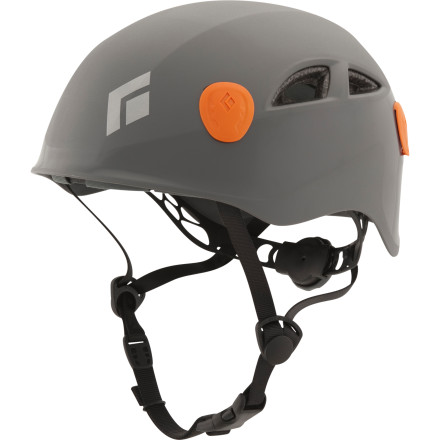 Colors
Fully protect your dome.
Keep your noggin from getting rocked at the crag when you don the Black Diamond Half Dome Helmet. Redesigned to maintain safety and boost efficiency, the Half Dome shaves 40 grams off the original design for celery-eating vert addicts.
Wheel adjuster accommodates a variety of hairstyles and head sizes while maintaining a specific fit
Headlamp clips open up the world of low-light climbing
Intuitive ventilated design offers natural airflow without compromising integrity
Tuck-away suspension allows for easier storage
awesome
Familiarity:

I've put it through the wringer
Great helmet that will last. hard plastic. great for beginner and advanced climbers alike. Very breathable.
Matt Myers
Comfort is Key!
Familiarity:

I've used it once or twice and have initial impressions
Love this helmet. Perfect fit and good breathability for those hot afternoon beat downs from the sun! The adjustment makes ease of loosening or tightening depending on what you are doing and preference of fit in the moment!
MB
Great fit!
Familiarity:

I've used it several times
Fits and feels great. I have longer hair and wear it in a bun 99% of the time, still fits great and makes me feel safe. Feeling safe is key to better climbing!
Joseph R
Great First Helmet
Familiarity:

I've used it once or twice and have initial impressions
Just picked this up as my first climbing helmet. Saw a lot of them out there at Smith Rock! Overall, it is comfortable, light weight, and easily adjustable. The dial in the back allows for quick and simple adjustment of the size.

I got this on the recommendation of a seasoned climber and I have no complaints. It's a classic from Black Diamond and is nice and affordable. Definitely stoked with this purchase!
Justin Rychlicki
Is there a reason I couldn't use this helmet on kayaking adventures? What is the difference, if any, between a kayak helmet and a general purpose climbing helmet?
John H.
It can't be recommended. Helmets for different sports are designed for the impact risks of those sports. Climbing helmets are designed to protect your head from falling rocks or gear and from you hitting your head on the rock face, from little bump to whipper: usually a single major impact. Kayaking helmets are designed to protect your head from smashing it on rocks while rolled upside down or swimming (and also from your boat), but you're more likely to hit your head multiple times: multiple big impacts. That's one reason why climbing helmets are often lower profile, more like bicycle helmets, than kayaking helmets; they're designed to take one major impact, then the styrofoam inside gets deformed and they're likely toast (also, kayaking often has a colder environment, water). Also, kayaking helmets are designed to take abuse from any angle, climbing helmets less so, they're really designed for those rocks or that gear falling and landing square on your noggin. If you're still tempted, call or email Black Diamond and ask for a tech specialist's input.
ap.109947464
Does the Trick
Familiarity:

I've put it through the wringer
The Black Diamond Half Dome is a really great basic helmet. It has an easy to use wheel adjuster similar to a Boa to adjust the tightness depending on if you wear a beanie or hat under it. I've used it for about a year now for sport and trad climbing and it performed as much as any helmet is expected to. It's served as solid protection for climbs with surprise roofs that I've definitely knocked my noggin' on a few times and has saved me some brain cells.



I only had a few issues with it, and this could be my own individual problem/my head not being right for this helmet. I noticed after wearing it for extended periods of time such as on multi pitch climbs or long belays, I start to get tension headaches from the pressure that is applied by the bands on the inside of the helmet. I tried to mitigate this by loosening the fit, but I found that this only makes the helmet move around too much and didn't make my headaches go away. I also attribute the headaches to possible allergies, so take all of that with a grain of salt -- my partner uses the same one and has never had an issue with headaches!



I also wish the helmet covered the front and back of my head a little more, and though this could be a size thing I'm worried that if I went up another size the helmet would just be too big. Otherwise this helmet does the job and won't break the bank!



This is a photo of me wearing it trad climbing in Big Cottonwood Canyon, Utah last summer.
Ana Stamenkovic
Good helmet
Familiarity:

I gave it as a gift but have feedback to share
Comfortable, with perfect adjustment and the design allows great breathing
Ale
A Classic First Helmet
Familiarity:

I've put it through the wringer
I got this helmet when I first started climbing and canyoneering in Utah. For almost a year, it has got the job done protecting my noggin, from canyons to crags. It feels super solid and can be adjusted a good amount, making it a great helmet for lower price ranges. The only reason I marked it down a little is because of the ventilation, which isn't quite enough for the hotter days in the desert.
Logan Hastings
Versatile Helmet - Tried and True
Familiarity:

I gave it as a gift but have feedback to share
I gave this as a Christmas gift to my friend who wanted a helmet that could do multiple activities, but mostly for use climbing and canyoneering. Having a hard shell style helmet like this is pretty important for the abuse helmets take when canyoneering, but this is lighter than some of the clunky, bulkier canyoneering helmets I've seen so it is better for climbing at the crags. She definitely loves it (especially since BD released some more girly colors) and says it's the best helmet she's owned and she would definitely recommend to everyone! This is BD's classic helmet that has been put to the test by adventurer's everywhere and you can't ask for a more simple, sturdy helmet.
Katy Seeberger
Comfortable and lightweight
Familiarity:

I've used it several times
Its comfortable because it is light weight so you won't feel the headstrap dig in much at all. Fits well over winter beanies and low profile enough that hoods fit over it without too much pull. I would recommend to anyone that doesn't have a huge head. If you do have a huge head, try it on in a store first before ordering. In fact I would recommend that no matter what.
Sam Houg
Good First Helmet
Familiarity:

I've put it through the wringer
This made for an excellent first beater helmet. Its lite and adjust well. I found it did fit small on my head for the M/L I ordered. Maybe my dome is just bigger than I thought. Great price for quality though. I definitely recommend this for a first helmet.
Blake Martin
Great for the price!
Familiarity:

I've put it through the wringer
This is a great buy for the price! It's easily adjustable and comfortable as far as helmets go. I have it in small medium and it fits great. Another bonus to this helmet is all the cool colors!
Ariana Sprauer
Great All Around
Familiarity:

I've used it several times
I think this is a good helmet for the price. I sized up so I can wear it in winter with a hat under it so it is a bit loose on me during the summer even after tightening the back. But I expected that to happen. The only downside I've experienced is that it doesn't vent that well and my head gets super sweaty.
Renee Corbin
Nothin' Can Knock My Noggin
Familiarity:

I've put it through the wringer
I picked up this bad boy in a sleek Ultra Blue, and he hasnt let me down since. Personally, I haven't had anything larger than a pebble glancing off my dome at my local crag, but this helmet feels very very study! I would recommend it to any climber looking for a solid helmet.
Alex Blackmer
was long lived and never had any problems, but gifted it to my brother after having it the first year still protecting his head when he is out and about on the rock.
Ryan
Brain Bucket
Familiarity:

I've used it several times
Solid helmet at a reasonable weight. Used for both glacier and rock climbs. Wheel adjuster is key for dialing in fit to accommodate ball cap or thin fleece cap.
Tyler Braun
Great first helmet.
Familiarity:

I've put it through the wringer
I have owned this helmet forever and I think that it has done well for what I've put it through. The plastic is sturdy and the adjustment system works really well. The only complaint I have is that it tips back while I belay or when I am looking up to climb. If I make the adjustment tighter, it gives me a pretty bad headache and then also imprints on my forehead. This is a really good beginner helmet for avoiding falling choss and not hitting your head, but if you are looking for protection for hard, scary climbing, maybe look into a foamy vector or viper.
Sarah Schlaefke
Rad helmet
Familiarity:

I've put it through the wringer
I have used this on multi pitches and belaying on sport climbs, and I have to say, this helmet is amazing. It is comfortable and fits my head well. I haven't taken an impact yet, but I am confident it will do its job well.
Sam Broome
no impacts yet....
Familiarity:

I've used it several times
solid fit, not heavy or intrusive... i got the grey, which is nice and discreet. It has NOT taken an impact yet and, hopefully, never will (fingers crossed) so i can't vouch for it's durability yet. haha! For the price, it's a fine helmet.
Elliot Layda