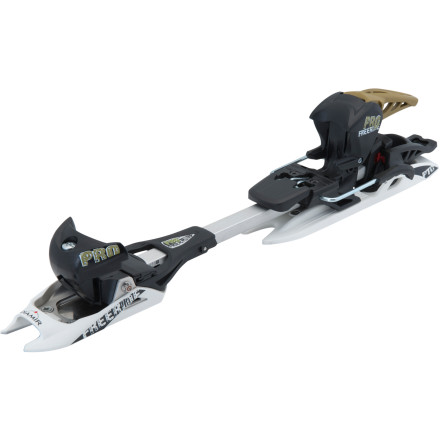 Colors

Detail Images
Make my Freeride a pro.
Fritschi set a collision course between alpine touring and freeriding when it released the powerful Diamir Freeride Pro Binding upon the ski industry. This touring binding accommodates a ski with a waist up to 120mm wide, and it flexes the lateral stiffness and robust build needed to keep up with such as ski. As fast up the hill as it is competent during burly, technical descents, the Freeride Pro will soon be the choice of seasoned vets and burgeoning powder addicts on a mission to explore far beyond the resort.

Toe piece allows a wide 20mm of lateral movement before releasing the boot from the binding, which drastically reduces the opportunity for non-crash-related premature ejection
Swivel anti-friction plate allows for consistent and friction-free sliding of the toe of the boot in the binding (important for touring and freeride boots with rubber soles)
Heel piece allows for 13mm of vertical movement before releasing the boot from the binding, which also drastically reduces the opportunity for premature ejection
Both toe and heel feature a mechanism with a high restoring force so the toe and heel of the boot are returned to alignment quickly in the event of lateral or vertical movement shy of the maximum release point
Sliding binding-bar linkage allows the ski to flex naturally underneath the boot and between the mounting points of the binding
PTC (power transmission control) offers superior power transmission to the ski by using wide and torsion-resistant front and rear binding plates, a lateral stabilizer beneath the heel, and a stabilizing bridge shape between the heel and toe
Change from walk to ski mode without leaving your bindings by simply flipping a switch with the end of your ski pole
Heel elevator is easy to flip up with your ski pole and offers four angles of inclination from three degrees to thirteen degrees
Once mounted, binding has a position height of 39mm from the top edge of the ski
Binding accommodates skis with waist measurement of 80mm+ and DIN ISO compatible touring and alpine ski boots
Love the binding but
Familiarity:

I've put it through the wringer
I really like this binding. The downhill performance is great and I feel secure both in my touring and my DH boots. But yes the issue is that the front plate does fail at the screw holes. I have had two bindings fail at this same point. Now to be fair both failures have occurred on 2009 BD verdicts. I have a pair of 2011 Movement Goliaths with no issue with the front plate. It might be the camber and flex of the verdicts. I have a pair of Vipec 12's that I am using on BD megawatts and have switched to dukes for the Verdics. I still think this binding is a great compromise for both lift access and full bd access. The extra weight as compared to a tech binding, especially compared to the Dukes is easy to live with.

Love to hear if it is the flex in the ski that is causing the failure of the front plate. BTW Fritschi did provide me with a new set at no charge so no complaints here.


Peter R.
Bomb proof hard charging backcountry
Familiarity:

I've put it through the wringer
The Fritschi Freeride keeps me coming back. These are my third set for a quiver of skis and I've been charging the backcountry hard without failure.

I'm 175 lbs, 6 foot expert resort and backcountry and been around a few years. They far surpass my first AT gear consisting of old leather alpine boots and cable bindings.

Easy to unlock and adjust for incline when skinning up. Yea, weight weenies, they're heavier than tech bindings, yet I can still pass you up all day. It's not about the weight and all about the heart and soul.

My only complaint is that you may need to take your pole and clean out the snow at the heel in order to lock them down.

Scott Scooter Sowle
So far so good
Familiarity:

I've put it through the wringer
I'm into my second season (~40 days) on these and so far so good. I probably do 2/3 days inbounds and for that, they are every bit as good as any alpine binding I've ridden. I'm a big guy, so I really appreciate having the higher settings and a more alpine-like release.



On the touring side, the mechanics are awesome. My only complaint is the weight, but that's no surprise given the design (vs tech).



If you're looking to do mostly backcountry, you probably should look to the tech bindings to make the uphill easier with less weight. If you're looking to do mostly inbounds with occasional backcountry, though, this is a great option.
wfscot
Beware the limited warranty
Familiarity:

I've put it through the wringer
Just cruising the fresh corduroy before the crowds turned up at the start of the day and Bam! Suddenly no edge control. Down I go. Luckily I escaped with just a bruised knee and sore thumb.



The moral of the story, unless they have improved that particular metal plate in this latest model, these are a weak binding (I know another skier where exactly the same fracture occurred). And no, I am not racer or big mountain skier (I keep my DIN down at 6) and I am not a big guy (<80kg). Oh, and no I was not skiing while in free-heel mode; that was what one of the retail guys at thought must have happened.



Anyway, I have had them since 2008, but I don't chase the winters and have probably done fewer than 130 days on them. Apparently though the warranty is a strict 2 years. Said otherwise, my experience was 'normal wear and tear' and, in the words of the Australian distributor, I should be happy with the life I got from them.



Here is that warranty policy for those who are curious:



http://www.diamir.com/en/warranty/



Cheers all

Andrew
Andrew Frain
Unanswered Question
I am an intermediate skier looking to start...
I am an intermediate skier looking to start Alpine Touring. I just bought Dynastar Cham 87 skis. I plan to AT maybe once or twice a week. (this year I did 30 inbound resort days)I am looking at a few bindings and need some advice!! I think I would still ski at least 30 in bound days next season plus touring so I need something good.

This is what Ive been looking at:

Fritschi Freeride Pros

Fritcschi Eagle 12

Marker Baron

Any and all advice would be super helpful!
Brenna H.
Do these bindings work with La Sportiva...
Do these bindings work with La Sportiva Sparkle boots? Also, is the heel adjutable so your friend with a smaller boot could adjust them and borrow them for a day? Do the brakes accomodate a 114m waist?
Amy B.
I have fit these to the men's version (Spectres), so you should be fine. They have full Alpine-style adjustability.



As for the brake, the spec says 120mm. 114mm shouldn't be a problem.
wfscot
Unanswered Question
What is the exact ride hight on these?
What is the exact ride hight on these?


Stephanie I.
Looking at these or a marker baron for a...
Looking at these or a marker baron for a sidecountry/ backcounry binding that I also ride inbounds. Opinions?
Kailyn N.
Dukes are heavier and your have to take you boot out of the binding to change modes.
Craig Piefer
I would go with something lower to the ski like the guardians. If you find yourself riding inbounds more than the backcountry or sidecountry then defiantly find a binding closer to the ski so it doesn't change the way you ski too much. Otherwise I would go with this.
Stephanie I.
Seems the picture is of the wrong model -...
Seems the picture is of the wrong model - Scout. Or is it the wrong text?
Sigurd Erik Homstvedt L.
These are the right picture with model if you read the side it says freeride pro also the Scouts are blue and white.
Jeff
Unanswered Question
Anyone ride these new bindings? How do...
Anyone ride these new bindings? How do they compare to the new Solomon and Duke bindings?
Adam Watts