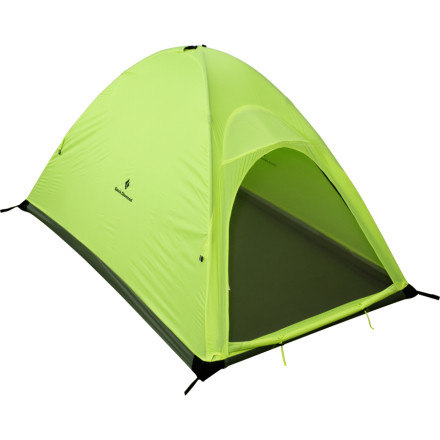 Colors

Detail Images
One seriously efficient design for a gear-slim alpine vacation.
At under three pounds, the Black Diamond Firstlight 2-Person Tent soothes your minimalist pangs so you can resume your ledge-camping, alpine adventures without dreading a soggy bivouac. Designed for maximum weight savings and minimum hassle, this single-wall shelter uses lightweight, breathable NanoShield fabric to protect you and a friend from the elements.
Freestanding, single-wall design saves weight by eliminating the need for a fly separate from the canopy; ideal for trekking and climbing applications
Breathable, abrasion-resistant, and highly packable NanoShield fabric features a Silicone NanoCell coating to protect against rain, snow, and wind
Covered vents help prevent condensation from building up in your shelter; just position a vent in the direction of the prevailing winds for more circulation
Three internal DAC Featherlite poles provide freestanding structure without a back-breaking weight penalty
Four internal mesh pockets help keep your kit organized at night
Optional footprint and vestibule sold separately
Great tent except...
Familiarity:

I've used it several times
I got this tent as a lightweight mountaineering tent, like most of the people here, I am not expecting to use this in the rain. They state everywhere that it isn't waterproof, if you are going anywhere that is going to have rain this tent is not your tent.
THE GOOD:
I got this tent for its ability to be lightweight. I got the carbon fiber poles for this tent and carbon fiber stakes, so my tent comes in at 2.2 pounds. That is less than most Bivys! Big check there!
This tent performs well in alpine conditions. I camped above treeline with this tent multiple times in varying conditions, ranging from hail storm to 60 mph winds and it held up to it all! It even handled some short rainstorms with ease! Another check!
This tent is great for when it is cold outside, (alpine conditions) as it doesn't have the best ventilation, so if you are going to use this tent in the desert, good luck to you. Yes, I understand how ventilation works and I set up the tent with the rear vent in the wind, getting decent cross flow. Its not enough, that doesn't work. This tent is perfect when its so cold outside that you would rather not lose any heat from inside the tent.
THE BAD:
This is a great tent in all categories IF you are under 5'10". I am 6' tall, and I have a water resistant Patagonia sleeping bag and every time I used this tent I woke up with the bag soaked because I am touching the walls. Head and feet. Laying diagonally does little to help this situation, I am simply too tall for this tent, so I will have to get a new one and I wouldn't recommend it for anyone over 5'10".

Mike S.
This is an incredibly light tent for its size but operates very well. You are bound to go some pretty cool places in this thing!
Eric Schulthess
Love this tent
Familiarity:

I've used it several times
"Love this tent! I bought it with the goal of backpacking with it since it's so lightweight. I used it first car camping however, and despite the fact I didn't really experience weather, it was fantastic! I did notice some condensation on the inside when I woke up in the morning though. I love that it packs tight in the stuff sack without me seriously forcing it all to fit. Same with the poles, which are set up internal to the tent." -Carley Gross
Connor Gross
Snowy tent experiences!
Familiarity:

I've used it once or twice and have initial impressions
First time winter camping, first time in a single layer. Tested a few nights on a ski mission out on the Palisades Glacier (Big Pine, CA). Cold outside but snug in the tent. Happened to be no wind so not sure the venting was working 100%, eventually had the condensation by early morning but no big deal really- it was expected given the conditions in the tent.



This is definitely a serious tent. You will be sealing your own seems, taking extra care not to tear it, patching her up with time and storing it properly. Don't buy this if you don't need it.



Great for winter conditions, big mountain experiences, high wind, long treks.
Will Africano
Alpine Apartment
Familiarity:

I've put it through the wringer
The Firstlight Tent is the alpine standard (if you couldn't already tell by the other reviewers). What sets this tent apart is it's ease of setup, and how light/small it is. I prefer to simply pack it in the base of my pack without using the stuff sack. This way there is no dead space in my pack, and it provides a nice squishy zone on the bottom portion of my alpine pack making it more comfy.

Always seam seal it immediately after you receive it.
Guy line it tightly
Wash it with Nikwax techwash
Crush it!
Greg Gavin
The perfect bivy tent
Familiarity:

I've used it several times
My boyfriend used this tent on a recent alpine climbing trip to Alaska and I am just spreading the word. He said the Firstlight packs down super light and isn't too bulky to carry up on a climb. They used it on a bivy ledge and said it fit perfectly and kept them warm against the elements outside. Width-wise he said it was very comfortable with two people. Length-wise, however, it's a bit short. He's 6'4" and said he felt a little scrunched, anybody 6'2" and up will likely have to bend their knees to fit. The internal pole system is fast and easy to set up.

The Firstlight hanging out on a bivy ledge on the Dragon's Spine!
Mallory
The tent or the view from the tent?



Well...both, actually. But here's a view FROM the tent, as seen when pitched up on a hill away from the Albert 1r hut and overlooking Glacier du Tour towards Aiguille du Chardonett near Chamonix, France. I tell myself I don't like crowds, and I don't, but the real reason is I was too lazy to reserve a spot in the hut. I'm convinced this way is cooler...



As far as the tent goes, the thing is so light and packable that it literally falls into the "bivy" category, but allows you the luxury of sitting up, cooking inside, and storing all your gear if you're solo or your partner if your you're not. It's meant to be pitched up high, where most of the water you encounter will be in its solid phase and where things dry fast. I would imagine if you pitched it in a jungle, you'd be pretty miserable as i'm not confident it'd withstand constant and regular downpours. But that's not what it's for.

Some people complain about the internal poles, but I like them. I find it very fast and easy to set up. I can do it in under 5 minutes, even alone and in insane wind. Just do NOT miss the little pole-pockets. The ends of the poles seat in the four corners in little rivet hole things, surrounded by tougher canvas, and if you miss the rivets, and then the wind picks up enough to force the poles out of the canvas pockets, you might end up with a ripped tent. Not that big of deal though if you're aware of it.

The poles then sort of move by tension into the correct location, where you can velcro strap them down for security and stability.

I've had it withstand wind gusts I estimated to be around 50-60 mph. (Later confirmed by NOAA). It's amazingly solid for its weight.

Don't forget to unzip the top vent, especially if there's two of you. We forgot once at 13k and woke up to a winter wonderland INSIDE our tent. Looked awesome. Wasn't as awesome when it started snowing on our sleeping bags.



Great tent. Worth the coin, imho.
Brandon Riza
I'm trying to decide between the BD...
I'm trying to decide between the BD Firstlight and the MH Direkt 2. It's just me so size isn't a problem but weight is....the lighter the better. I'm not sure the 5 oz saved by going with the Direkt 2 justifies that decision so I was wondering if anyone had any thoughts on the two compared. The BD is less expensive and just a bit heavier. It's strictly for winter use...short solo backcountry ski tours (so the rain issue isn't a factor). Any thoughts on one versus the other? This will be replacing my Chouinard Pyramid. Thanks!
Robert B.
Best Answer
My recommendation would be the Direkt 2. The weight difference isn't much, but it is made out of better materials that make it waterproof, more durable under a snow load, and generally stronger. The fabric is also not as stretchy, so you will be able to get a tighter pitch in high wind situations. Overall, they are very similar tents, but the Direkt 2 is basically a newer, improved version of the Firstlight.
Laura
I've spent a lot of time in both tents. The Direkt 2 condensates more during the winter. Both are durable, easy to set up a, light, and packable.

The Direkt does feel slightly longer, I'm 6'2" and have to sleep diagonal in the BD.

The mesh door in the BD is nice to keep ventilation going and reduce the water vapor.

So if you're smaller than 6' go with the BD. Both tents do need to be seam sealed! The best Biebler style tent I've used is the Black diamond Eldorado, Better materials and longer. Basically all the same tents until you look at Dollars to onces
Reid Pitman
Even though I like Black Diamond gear I ended up going with the Direkt 2 (I like MH gear, too). Haven't tried it out yet...will report on it when I try it out. Thanks for your help!
Robert B.
You'll be stoked with it!
Reid Pitman
Great Alpine tent.
Familiarity:

I've put it through the wringer
I have spend many nights in a Firstlight and consistently been impressed by its durability. This is a great tent for lighter alpine style climbing as it is light, minimalist and simplistic in design, and very easy to set up in high winds and storm. Designed to be set up from inside is a great feature when you need it. Spent a lot of time in this tent in the Andes and it has always held up against strongest winds I've ever felt.



I would recommend this tent for use in dryer environments or on snow as it is not the best in the rain. Even when new it will get pretty damp in the rain. In addition, as with almost all single wall tents the Firstlight will build up a pretty good amount of condensation on the inside when conditions are right. That being said, this tent will dry out as fast as any in good sun.



I would recommend the ground cloth if planning on using on anything else other than snow. Vestibule is great for cooking when you don't want to leave your bags, and also a great place to store boots/shoes, ect. Another great item I use with all my tents are the Mountain Hardwear Snow & Sand Tent Anchor (Item # MHW0178). I just leave them on the tent lines and they fit right in the stuff sack when I pack it up. The anchors work great if camping on snow.



All in all a great tent, but definitely minimalist. I have taken this tent on quick overnights in the desert, as well as expeditions in the high Andes, and Canadian Rockies. I've had great success with this tent and it will continue to serve as my go to tent for when weight matters.
William Haas
Abrasion resistance
Familiarity:

I've put it through the wringer
I used and love this tent ...just don't get it to close to any sharp or abrasive rocks
Gary S.
Not Waterproof
Familiarity:

I've put it through the wringer
I've loved this light tent for 6 seasons of backpacking (spring, summer, fall) in the Rockies up until this past weekend. Sadly, "soggy bivouac," as used in the product description above, is what I endured through a long night of thunderstorm heavy downpours with hail and ~5 hours of rain. Either it's never rained this hard since I've been using the tent, and/or the fabric or waterproofing has degraded over time because up until this past trip, it's never leaked more than a few droplets. Beware! If it rains hard or for long, you and your gear WILL get wet--not just damp but WET-- like a cheapo dept. store tent. This one is now relegated to the junk pile, as I cannot justify the weight of even this light tent that does not protect me from rain. I suppose it still provides overpriced, overweight bug protection.
Jean F. L.
How does this tent hold up in the wind....
How does this tent hold up in the wind. Like 40 mph? How many stakes are needed?
J.D
Hi...Used all the pegs and guy line and it can take wind of 60 mph like a rock
Guy Geva
Awesome, looks like a sick tent. Definitely saving up for it
J.D
Great for what it is!
Familiarity:

I've put it through the wringer
For trips in the mountains where weight is the primary concern and I know that it isn't going to rain this tent is the bees knees.



Like most other reviews point out- you will get wet in a downpour. But for alpine use it is solid, handles wind pretty well, is light and packs well.



For any trip where I anticipate some rain, or having to spend a lot of time sitting in the tent waiting out bad weather I generally use the Ahwahnee.
Kaj
I really like this tent, it is roomy for one person, cozy for two people and light weight. I am 5'11, by myself I sleep diagonal and am fine with room. With two people my head touches one side and my feet touch the other. My buddy is 6'4 and his feet hang out the door, which is fine because I have the vestibule. Condensation is a pretty big issue, so I will open up the vent, leave the door open and just zip up the vestibule, no problems after that. I have only used the tent above treeline, and never in rain so I can't comment on how it would do in rain, though I would say that I wouldn't want to. On snow, the bottom will wet out a little bit at pressure points where you lay down. It seems to hold up pretty well in the wind, I dead man the tent tie outs and the vestibule tie outs and have never had any worries. The only thing I do not like about this tent is that it just feels flimsy to me as far as the fabric. I am very cautious with it setting it up and breaking it down and where and what I place it on or around. I guess that is the price you pay for the incredible lightness of this tent though. After all was said and done, I would most definitely buy this tent again and would also recommend it to others who are looking for a seriously light tent.
Ryen O.
what is better this or the hilight?think...
what is better this or the hilight?think bivy ledges, big storms, and rain storms etc...
marcello sbrocca
The firstlight would be my choice. Slightly smaller foot print and cheaper too.
knanier
It is a very strong tent. it is a great tent for winds and snow. for the rain...you need to know it is not totally rain proof
Guy Geva
I spent one night in this tent by myself and I thought is was just right, but I would hate to have to try and fit 2 people plus gear in this thing. I love how lightweight and simple it is, but because it's so lightweight it is kinda flimsy, tearing and leaking are real issues. I would like to have this as my second tent when I go out by myself and space and weight are primary issues, but I wouldn't recommend this tent for normal situations for 2 people.
Byron A.
Has always kept me very comfortable in super cold weather in the snow. Never leaks, won't blow over even in very heavy winds.
Pretty much the best winter tent and about half as light as the competition. My only issue is that it's too short. I'm 6'3" and just barely fit.
Haven't tried it out of the snow but I've heard it leaks and gets condensation. I'd say it's not the right tool for that anyway, get a Tarptent for those trips.
Arrak
I'm 6'4" tall. Is there anyway I would...
I'm 6'4" tall. Is there anyway I would be able to sleep comfortably in this tent with anothe person or is it too small?
Aaron B.
You really just aren't going to fit very well, possibly if you bought the vestibule and slept with your feet out the door. This tent has sidewalls that slant quite a bit to shed wind, and is only 82" long. By comparison, most tents for regular people are 84", and tents for tall guys like us are 88"+. If you're looking for a burly ultralight single wall that will work for you, check out the Megalight. If you want a freestanding Bibler with a similar design (but some extra weight added) get the Eldorado (its burlier too).
Simon H.
You'd be touching both ends and it wouldn't be too comfortable. Another consideration is that this tent, as with most other single walls, will have more condensation after a night than a similar double wall tent resulting in more moisture on your sleeping bag - head and toe at your height.
knanier
Barely. I'm 6' 3" and I've used it on several long winter trips. My head and feet both bulge out.
That said, it held up to 80 mph winds and had very little condensation. I love this guy but either I need to shrink or he needs to grow!
Arrak
It might help to take along the bottom half of a kitchen garbage bag to put over the foot of your sleeping bag. That seems to keep the sleeping bag dry for me but i am only 5'-11". Then, use the garbage bag to pack out your waste on the last day.
tim_hawtho259084
I spent two months sleeping in this tent while hitchhiking through europe with a buddy.
For light weight, ease of setup and take-down, functionality, durability, and simplicity, this is the greatest tent i have ever had the pleasure of sleeping in. The tent took a beating (we pitched it everywhere from Irish mountaintops to Spanish parking garages) with nary a tear or loose thread. The zippers pulled snag free every time. The ventilation was effective - I never felt like I couldn't breathe in the tent, as I have in many single and double-walled tents. I have a hunch the bright interior played a role in keeping our morale up throughout the two months. By the end of the trip, I was questioning the value of houses: why not live in a tent for the rest of my life? I would live in no other tent but this one.
I'm 5'11" and my buddy is 6'. We were able to sleep in the tent with our backpacks on rainy days (which there were a lot of). It was admittedly cramped, because our backpacks were huge, but cramped can equal cozy with the right mindset, and I think backpacking in general requires a certain psychological shift that makes you more open to discomfort in exchange for freedom/exploration/escape/whatever reason you are camping to begin with.
The tent leaks in heavy rains. We dealt with it, but some may not want to. Those who say this tent is meant for alpine-style summit assaults are correct-it's better at sheltering you from dry snow than rain. However, if you're not afraid of a few drips, this tent is great for extended backpacking trips. A waterproofing fabric treatment is something else you could look into, however do your research because chemicals in waterproofing treatments could theoretically compromise the integrity of the fabric.
Ian Ferguson