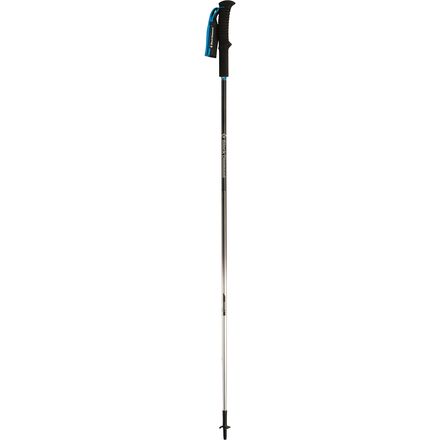 Don't fall on your face.
The Distance Z Trekking Pole is Black Diamond's most affordable collapsible offering, but that doesn't mean it's lacking in quality or design. Although it's made of durable aluminum, the Distance Z still weighs well under a pound per pair, and it features the same collapsible design as Black Diamond's other Z-series poles just push a button to release the sections, and pull the grip like an avalanche probe to reassemble when you're ready to go. The EVA foam grip has an extended mini-grip for easy traversing and side-hilling, and the breathable, padded strap provides plenty of support and comfort on both hot and cold days. Black Diamond also hooked up interchangeable carbide and rubber Tech Tips to help you handle all sorts of terrain, and it included trekking baskets to give you enough support on soft surfaces without catching on trees, roots, and rocks.

Aluminum construction
Three-section collapsible shaft
EVA foam grip with foam mini-grip extension
Breathable and moisture-wicking padded strap
Interchangeable carbide and rubber Tech Tips
Trekking baskets
Liking them so far
Familiarity:

I've used it once or twice and have initial impressions
Only have been able to use them a few times, but so far, so good. stow away nice and small. Light. I'm 5'7" and bought the 110 cm.

Somewhat concerned about the wrist straps, they seem small even when adjusted out as far as possible. Tight on the wrists/forearms.


Thomas Z.
Unanswered Question
How do I know what size to buy. I am 5 ' 7".
Dorothy F.
Great for trail running
Familiarity:

I've used it once or twice and have initial impressions
Bought these to use in a trail run that had very steep ascents and descents. I am 5'8"
and bought the 120cm. They were a great fit, and I am really pleased with them. They are lightweight, fold up into 3 sections that are easy to deploy and collapse, and carry easily on my UD running pack. I could either carry them on the pack, or carry them in one hand. Either way, they were very convenient and helpful on the run. A very worthwhile purchase!
Michael S.
I know this is going to sound like a foolish question, but;
Does this come with 2 poles or 1?
I got burned before while on Amazon thinking I was getting 2 but only received 1.
Jared White
Best Answer
Yes, I ordered these exact poles and received two of them. I called to ask about this exact question as well
Matt Krems
Light and compact alpine pole.
Familiarity:

I've put it through the wringer
As light as a pole can get, and folds up into three sections to fit in even a small pack. I use these poles as approach poles for alpine climbs and love the convenience of being able to pack the poles away on the inside of a pack for climbing instead of having to strap them on the outside. Lock system is very sturdy and there is no wiggle in the sections.
Diana Jenson
Worth every penny!
Familiarity:

I've used it several times
I did a whole bunch of research on poles before settling on these. I wanted something I could fit in check-in luggage. Great value even if they're not the absolute lightest on the market. I took these with me to Spain to hike part of the Camino and they saved me on every terrain possible. Collapses down well. You need an additional tie if you want the three parts of one pole to remain neatly bundled, but I stuck them in the side pockets of my backpack and that worked fine.
Joelle D.
Good product until it broke
Familiarity:

I've put it through the wringer
I Bought my first ever pair of trekking poles this year, a pair of distance Z 120cm poles for a hiking season on the Pacific Crest Trail. I hiked from Campo, CA to Vermillion Valley Resort (~800miles) before one of them broke. Not sure what led to the broken pole but I've had no complaints prior to the break.
Thomas O.
Nicolas h A.
The way these are put together are simple and amazing. The build quality is excellent!
Tim
I really love these poles. The way that they are
Tim
Perfect entry level poles...
Familiarity:

I've put it through the wringer
Extremely light in the pack, very durable on the trail over steep rocks and crossing streams, and an easy collapsible system really worked well for me. Grip felt great on trail even through the rain. Very good value in these poles if you're searching for your first set.
Thomas O.
5 Stars, no regrets!
Familiarity:

I've used it once or twice and have initial impressions
I bought these for my brother for our recent backpacking trip to Kauai. He had the following review to share:

"As someone who's never used trekking poles and decided to buy a pair for this backpacking trip, I couldn't be happier. The price was right for the pair, they are durable, lightweight and give you confidence trekking down slippery, steep mountainous terrain."
David Tucker
Better then twist and slide poles
Familiarity:

I've used it several times
I've used these poles a couple of times while hiking in Zion/Arches and other places around there. Must say I do like the fact they fold up so small and they are light. So I had no problem with just keeping them in my daypack on each hike. Usually I have to guess if I need to bring poles or not. This time I had them with me all the time.
I used them in the Zion Narrows so in the river water and the did well and people did offer me money for them while trying to wade through the water. I will bring these for my snowboarding trips too I think, will save me some walking.
Must say I prefer this system to my old ones where I had to twist and slide the different sections to get it longer or shorter. These older poles either got loose and were sliding back in or they got stuck and I had to use tools to get them back in.
Only thing is that they are fixed length so in case you want to change lenght there is another BD pole with this system combined with a variable length.
Anyway, I'm impressed and I'll be using them for a long time.
Iorus R.
worth it, not perfect.
Familiarity:

I've used it several times
overall light, sturdy, ergonomic, and cheap! Cant say im the biggest fan of the internal string/rubber structure. Design isnt quite snagproof for assembling quickly. Overall worth the price.
Kevin Z.
Grips and wrist straps are meh
Familiarity:

I've used it once or twice and have initial impressions
I previously owned last years model of these poles but I hiked them into the ground over 700 miles of backpacking.
BD tried to "improve" the grips and the wrist straps over last years version by adding aggressive ridges on the grips and a very light mesh and the wrist straps. The ridges on the grips are a little more abrasive on the hands but they haven't caused me any blisters yet. The wrist straps on the other hand are very rough on the hands. I will likely cut them off but I did the same with last years version, for what it's worth.
Overall, I would trade these for last years model if I could.
They still are solid, ultralight poles that don't break the bank.
Charlie Proctor
Black Diamond Distance Z Trekking Poles
Adam Saucedo