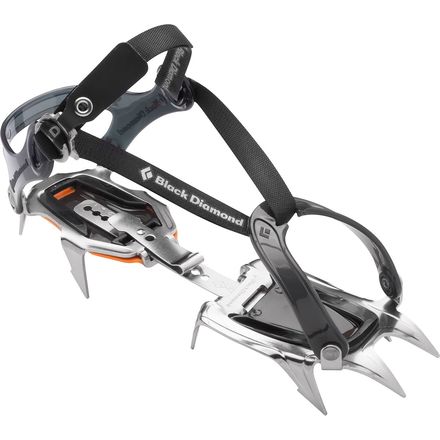 Colors
Make Contact with alpine snow and ice.
For general mountaineering, icy bootpacks, or mountain treks that include snow or glacier travel, the Black Diamond Contact Strap Crampon gives you durable, lightweight dependability. Black Diamond designed the Contact with stainless steel for low weight and to ward off rusting.
Horizontal front points provide more security in steep snow
Full-strap attachment system works with any boots or even shoes
Anti-balling plates keep snow from sticking
I just used these today for the first time on a great ski mountaineering adventure and they were fantastic. Easy to get on and off the feet. They make you feel some much more confident when conditions get sketchy. Great product!
Joseph S.
All time favorite crampon
Familiarity:

I've used it several times
This is one of the most versatile crampons I've ever owned. They fit on everything from my approach shoes to my mountaineering boots. I purchased these for spring hiking in the mountains and they have worked great.
Casey
Unanswered Question
New to crampons and wondering how well these will work for hiking on mixed terrain. Typical trails I hike in springtime will have sections of hard-packed snow and ice interspersed with sections of rocky terrain. How well will these work on the rocky sections and will it be damaging to the crampon ?
Robert Younger
Unanswered Question
Would these crampons work well with my Scarpa AT ski boots for steeper/ more technical ski tours (Shasta, Lassen, etc)?
Mar
Is the price listed for one crampon, or a pair??

tallin G.
Hey Tallin, the price listed is for a pair of crampons. I have these same crampons and have loved them!
Zachary Cox
Very Happy
Familiarity:

I've used it once or twice and have initial impressions
My first pair of crampons, I bought them right before my Mt. Adams climb. I tried them on with my Keen boots before the trip and they seemed to fit well. I did cut off almost a foot of the adjustment strap after trying them on and I haven't regretted it, they come with a lot of extra length. We strapped up at 4:30am and used them for a good 5,000ft up to the summit. After putting them on I never had to tighten or adjust them. They didn't slip around on my boots and they seem like they would fit any ankle boot. Great all around crampon, I highly recommend them!
Lauren D.
Excellent Crampons
Familiarity:

I've put it through the wringer
We give these a 5 star because they do an incredible job doing what they are supposed to do. They are well designed, last a long time when taken care of well, and will strap to anything from a mountaineering boot to a backpacking boot to a ski boot. The downside of these is that they are not the ideal crampon to get if you have a mountaineering boot, as a more secure crampon would be the Black Diamond Sabretooth pro crampon which seats well on mountaineering boots intended for use with these crampons. That being said, BD makes excellent gear and these crampons do a great job!!
World Wide Trekking
Great crampon
Familiarity:

I've put it through the wringer
I'd never worn a pair of crampons in my life but tried these over the weekend and they dominated! After a quick learning curve which included stabbing my leg once and shredding my pants a little, we were able to hike up 2000 feet of varying snow conditions and didn't have any problems, even up 300 near verticle feet to get out of a lake basin. For a newb like me, these things perform awesome.

Can only give 4 stars because still had to buy the separate extender bar. They should just come with it.
PHIL CRAWFORD
Yes, I bought another set of crampons
Familiarity:

I've used it several times
It's been a very icy winter in New England and micro spikes won't cut it and my other crampons don't fit my hiking boot. Decided to go with these over something like the Hillsound crampons. Other than needing to trim the strap down, these are a great pair of crampons for hiking steep trails with heavy, hard ice flows.
Randy H.
too narrow for snowboard boots
Familiarity:

I've used it several times
Maybe I'm just too old or too stupid, but I can't make them fit my snowboard boots (Burton Ruler size 10.5 and DC Travis Rice 10.5) properly; the attachment points are too narrow for the boots. Or am I doing something wrong?
One of the crampons came off numerous times yesterday - on a steep, icy face, where there was no secure place to rest and fit or turning back. A bit too exciting for my taste.
When they stay on the boots they are great, the teeth grip as they're supposed to, and they're really great when then the split board crampons aren't enough.
Christian Hald
Nice basic crampons
Familiarity:

I've used it once or twice and have initial impressions
I bought these crampons to use with medium weight hiking boots with flexible soles. I have rigid crampons for my plastic AT ski boots. I want to use these for light/easy summer snow/glacier use. They fit my boots OK (Lowa Renegade). I like the fact they are stainless steel, my old crampons are rusting some.
Charles H
Will these fit a size 12 snowboard boot? If not then what would you suggest?
David N.
Hi David!

Thanks for reaching out to us with your question!

These will not fit without also purchasing the extra long center bar. If you get the correct center bar then you are good to go!

Need more info/beta? Want help getting geared up for your next adventure? Feel free to reach out to me directly @ nreed@backcountry.com
asdsg
Works perfect! Fits Perfect!
This crampon works perfect with my Rome Libertine Size 10.5 boots.



The tightening system is reliable and easy to use.



The low weight makes this crampon maybe the best of its type.



I would have expected a fabric case included, though.
luisgomez
Will these crampons fit a small foot? Size 36
Hannah K.
el scotto
Will these fit a pair of La Sportive Trango S evo gtx?
Caleb M.
Yup they sure will. You could even get a pair of crampons with the heel being a wire bail, little more secure.



You can call or email me directly. 801-736-6398, or bporreca@backcountry.com
Bill Porreca
Unanswered Question
will these fit on Scott (formerly Garmont) Excursion tele-boots with classic 75mm duckbill? Or is the duckbill too wide for the front strap
Utah Piper
flexible
Familiarity:

I've used it several times
ever tried to use a stiff crampon with flexible hiking boots or snowboard boots? it sucks. feels like you're Achilles tendon is being stretched with every step. this crampon flexes in the middle - perfect for strapping to flexible boots or snowboard boots. used them for shasta. light and grippy.
Ronen Sarig
is this crampon going to fit size 8 1/2...
is this crampon going to fit size 8 1/2 US ? All comments seem to be size 11 or 12. I know the length adjust. But, isn't the boot going to shift and move around between the side post on a smaller size boot? Especially when put under the intense stress of climbing.




bob
Hello bob,



This crampon will fit your 8 1/2 US size shoe. The size of the regular bar ranges from EU 36-46. You will just need to play around with it till you get the perfect fit for the boots you will be using. I hope this helps.



http://blackdiamondequipment.com/en/climbing%2Fcrampons/contact-crampon-BD4000690000ALL1.html
Grant Kates
is this crampon going to fit a size 14...
is this crampon going to fit a size 14 (US) boot?
Jaymes
Jay,

This crampon will fit up to a size 46 euro or 12 US boot. It will work with the Black Diamond long center bar, which you'll find at http://www.backcountry.com/black-diamond-long-center-bars



If I can help set you up with these and or other mountaineering needs please give me a call at 1-800-409-4502 ext 4405 or email me at ssowle@backcountry.com
Scott Sowle - Scooter
Will they fit on http://www.garmontusa.c...
Will they fit on http://www.garmontusa.com/garmont/outdoor/footwear/zenith-hike-gtx.html?___SID=U ????

or which crampons would you recommend for general use to walk on ice or to climb up to 60 degrees???
Antonis
Hi Antonis,



Those crampons will fit perfectly on the Garmont Zenith. My on;y concern is that your boot may not be supportive enough for you to use if you end up needing to front point for long periods of time. For general snow travel, that set up will be fine, but on ice, you'll wish you had a stiffer boot (to allow for kicking and frontpointing).
Thomas Gappmayer