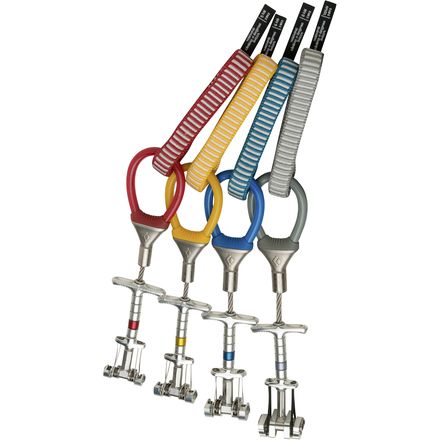 Colors

Detail Images
Small cams, big expansion range.
If you're looking to add some small cam sizes to your rack, look no further than the new Black Diamond Camalot X4 Package, which includes the four smallest sizes in the X4 line-up. The 4-lobed design uses stacked and double axle technology to provide the largest expansion range of any small cam on market. When combined with the extra-narrow head width and the aluminum protection beads on the flexible stem, the X4 gains the ability to provide more placement options than ever before.
Stacked axle technology (sizes .1, .2, .3) and double axle technology (size .4) allows for a huge expansion range
Set of four covers a range from .33 inches up to 1.05 inches
Cam springs embedded in the lobes create a narrower head width than the original Camalot, allowing for wider range of placement options
Aluminum protection beads around the cable increase durability without limiting flexibility
Hot-forged trigger and the symmetric swage improve handling characteristics
Slung with color-coded Dyneema slings for easy size identification
Best way to start your trad rack
Familiarity:

I've put it through the wringer
If you pair these with C4's #0.5-3 you have the perfect way to start your trad rack. I love how they work and the mental security that brings with it, that for me it's one of the more important things when I'm leading in trad climbing. Totally recommended.
Javier Menendez
Pure Awesomeness
Familiarity:

I've used it several times
My first small cams were Metolious. I bought those because they were USA made. I climbed with a buddy that had this set and I was so impressed I bought myself a set as soon as I got home. These feel so much smother, more solid, and have better range of motion. These are much easier to place in the small cracks they're meant for. Anyone wanna buy some slightly used Metolious cams.... hahaha!
Francis Whitney
Versatile and Secure
Familiarity:

I've used it several times
In the picture below, I'm in an OW chimney about 15' above my last piece and now I have to exit towards the opening and do a sort of dyno move to a sloppy ledge, with my feet smearing to get up. All I could get was a mediocre DMM #3 piece in a tiny slot with kinda loose rock. I now have mind games to deal with but I have a .1 X4 left on my belt and I place it, tug on it a bit, I feel better now. End of pitch 1. On to pitch 2.
Shane Martin Smith
Best Alien ever made
Familiarity:

I've put it through the wringer
The .2 is perfect. The others are great, too, but that size is my favorite. The X-4s pick up where the Alien design left off and, thankfully, don't go the hyperlight direction. Instead BD opted for polished and almost beefy.
Scott Gilliam
Bendy, Thinner Than C4's
Familiarity:

I've used it several times
They're really REALLY bendy at the stem, which is nice for horizontal placement.

The smaller sizes have polished smooth lobes and they're not anodized so they have a little better grip when new than the C4's would, when new.

Loop-to-lobe length (without sling) is longer than C4's so not ideal for aid placement.

EDIT: The double, stacked axle system gives the appearance of a single axle, but these do in fact have a double axle system. (Thanks Tom P.) They don't have the same size/strength rating as C4's, but for small finger sized cams these are quite nice.

They feel a little lighter than C4's, which is good for all you elite athletes out there, but you've probably already bought even lighter alternatives by now so you're good to go.

In Summary:

They'll be a nice addition to your trad rack, and they have their place, but there are cheaper options that aren't as *seemingly* hyped and expensive. Wait for them to be on sale, they're fun and shiny and not so devastating to your wallet then.
Max H. Janszen
Good pro, like many small cams nowadays
Familiarity:

I've used it several times
If you wait for these to go on sale, then they're a great (decently priced) addition to your rack in small sizes. The .1 and .2 feel pretttttty small, so place them carefully; the margin for error isn't very large. However, the .3 - .5 feel satisfyingly solid. One caveat is the strength ratings; the X4's are weaker than an equivalently sized C4, take that as you may. That said, I do appreciate having some overlap in sizes between X4's and C4's. The C4's are burlier, but the X4's fit into some placements I couldn't make with the same size of C4. This is particularly true of the .4 and .5 sizes. No comment on long-term durability, but no obvious defects in craftsmanship.
OregonChoss
Love 'em
Familiarity:

I've put it through the wringer
Hope they make a #1 and #2 in these soon.
Clinton Decker
X4 taking the edge off the R rating.
Protecting the opening moves (5.9 R) on the coffin with a X .3. Little Cottonwood Canyon, UT
Grant Burton
Saved my climbing partners life!
Familiarity:

I've put it through the wringer
Although it's always safer not to test your limit, my partner was eager to take on a very inviting 5.11 in Fergusen Canyon. He was able to make it to the crux of the climb just fine, and protected it with an X4 .3 . Even though the cam was too small for the crack it was placed in, at a bad angle, and yanked awkwardly from my partners back flip fall; it held a 20 foot fall. Had the piece pulled, my partner would have speared his helmet-less head on a pillar of granite (he is now an avid helmet wearer). Given that this situation was less than ideal, and it broke the .3 in the process, He was able to protect the crux comfortably with a X4 .4. With a proper placement, he proceeded to fall four times on the .4 without breaking it or himself (refer to video, falls not as large on the .4). After the fourth fall he finally figured out how to move past the crux. By no means do I advocate projecting hard trad routes with these, but as far as I'm concerned it saved my friend's life. Not to mention, I know Black Diamond's Warranty will be happy to fix the cam. I love my X4's, Camalots are the way to go!
Grant Burton
X4: The Missing Link in the Camalot Fam
Backcountry Video
Black Diamond Camalot X4 & X4 Offset
Backcountry Video
Reed
Psyched overall
Familiarity:

I've used it several times
I love using these small cams. The flexible stems have to be my favorite part, and the lobes make it easy to set and clean. I feel like I trust these cams better than all my others. My only complaint is the the .1 and .2 sizes have short stems. I understand why Black Diamond made it that way, but I'd appreciate a few extra centimeters for deeper cracks.
Derek Newman
Perfect sizing in package
Familiarity:

I've put it through the wringer
The sizes selected for this package are ingenious. The .75 and .5 X4 cams have heads that are a bit heavy, making the flexible stem quite floppy. The .1-.4 sizes are really the best of the X4's. This package make is convenient to then continue in the larger sizes (.5 and upward) with C4's or different equivalent sized camming units. The cams in this set have great action, and place great in lots of different rock. I love this set.
Philanthro
Not quite as impressive as the C4's
Familiarity:

I've used it several times
Don't get me wrong, these are great cams. I just wasn't quite as impressed with them as I was with the C4's, especially considering these are actually more expensive per cam. They work exceptionally well and are super light just like the C4's. I guess I think they should just drop the price a little bit.
Sam Dudley
Ok, I'm finally getting the funds to build...
Ok, I'm finally getting the funds to build my own rack, the first thing I went for was two sets of nuts, then the C4 camalots for the large to mid range cams, but for the small cams im torn on what to get. Whats better for the smaller cracks and which do you use more often, the x4's, c3's, or metolius mastercams (what worries me about the mastercams is they dont have the beads over the cable like the x4's and may wear out faster)?
Cassidy T.
Best Answer
I'm a huge fan of the master cam. I love the #2, #3 and #4 master cams. I place them a lot. They are sturdy, narrow, and flexible. I wouldn't be too worried about the master cams not having armored cables, but I could see the armored cables coming in handy if you have a lot of horizontal placements. I've used a friend's X4 and I would say it's a tie between the two for everyday placements. The X4 feels a little more flexible and seems to place a bit better in awkward placements. If that's worth $10 per cam, then go with the X4. I'm definitely going to keep my master cams (2-4) on my rack, but I'm tempted to buy X4s (#0.1 through #0.3) as opposed to master cams (#00 through #1). Overall, I would rate master cams a 9/10 and X4s a 9.3/10. They're both excellent cams. I don't think you can make a bad choice. If you do go for the X4s, perhaps it would be best to wait for a sale or a coupon to come out. I hope this helps!
Meng
Users: does the experience stand up to the...
Users: does the experience stand up to the hype? Are they really an improvement over C4? Worth the extra scratch?
Courtney Dean
Best Answer
Hi country Dean,

short answer: Hell yes!

Long answer: they have a better action than the C4, a narrower head, which is really nice. the stem is not only flexible but protected so that you can place them horizontally without worrying about messing them up.

biggest difference is in the smaller sizes .1 .2 and .3 they have the new 'stacked axle" which has two machined internal axle's (they look like the drive shaft of a car) so you get a small cam with a narrow head that has the expansion range of a double axle cam. have a look at the range specs for x4's compared to mastercams and you can see that you are getting a way bigger range with the X4.

I am not getting rid of my C4's to fully replace them with X4's but you can bet that I won't buy any more .3 .4 .5 or .75 C4's anymore, nor will I recommend anybody buy that size C4. go for the X4, it works a bit better and feels a lot better
Matt Park
Great addition to any rack!
These flexible stem versions of BD's C4's are an excellent addition to any rack. The place well, have good trigger action, the flexible stem inspires confidence in horizontal placements, and their range is amazing.



The only downside to these cams is the fact that the smaller sizes - .1 and .2 don't quite match the sizing on the same color C3's from BD. This takes a bit to get used to as you reach for them in a placement that you would think fits, but they run a bit small.



Awesome design and great action. Catch falls like a champ!
Alex Quitiquit