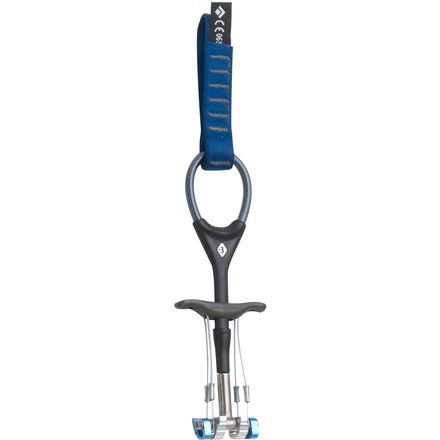 Colors

Detail Images
Gold standard camming device.
There are many reasons why most climbers rely on Black Diamond's Camalot C4 to save them when they fall. Just look around world-class climbing destinations like Yosemite and Indian Creek, and you're bound to see trad racks filled with Camalots. That's because this best-selling and most-trusted camming device boasts the original double axle design for an unparalleled performance. Double axles provide a larger placement range to give you more opportunities to place each cam in cracks ranging from offwidths to tight fingers. The double axle design also allows you to place the cam passively like a stopper. The Camalot also features a continuous cable stem for strength, an ergonomic thumb loop for easy handling, Black Diamond's patented sling for long-lasting durability, and a trigger with stops for easy cleaning.
Gold standard camming device for trad climbing
Double-axle design for extra-large expansion range
Double-axle design works as cam stops
Large thumb loop provides a clip-in point for aid climbers
Color-coded for quick identification
Includes five sizes from .05 to 3 (loose fingers to fists)
Click sizing chart link for range, strength, and weight info
Work-Horse Cam
Familiarity:

I've put it through the wringer
The Cam lobes on these are a perfect logarithm, which means - when placed appropriately, they will save your life with an evenly distributed force into a rock. The pioneer of trad-climbing, these cams have evolved over time to become the safest active pro on the market.
Suzy Williams
The Standard
Familiarity:

I've put it through the wringer
There's a reason these things are the standard. Durable, reliable and bomber.
Matthew Lundberg
Bomber pro as the kids say
Familiarity:

I've put it through the wringer
C4s are the backbone of many a trad climber's rack, and they are rightly so. I love the expansion range the double axle design gives the cams, I love the durability of these bomber pieces, and I love the simplicity of their design. Such a well designed invention, no wonder they are a tried and true staple of the cam industry!
Alex Blackmer
Solid
Familiarity:

I've put it through the wringer
These are some of the best all around cams. Learned to climb with these cams and have owned them for years. I need to resling a few through Black Diamond but after that they'll basically be new again!
Mitch K
Classic.
Familiarity:

I've put it through the wringer
If you're looking for a solid, easy-to-use, convenient and color-coordinated trad rack, start here. These cams are sturdy and strong, can be used tons of times and then still continue to work exactly how they're supposed to. I lead my first 10+ the other day and relied on mainly 2s and 3s to get me up in, despite my few hangdogs on these cams. Felt safe the whole time, even in sketchy situations. I'd recommend this pro to anyone.
Sarah Schlaefke
Literal Life Saver
Familiarity:

I've used it several times
Took my first ever fall on gear last week. My foot slipped unexpectedly and while in mid-fall I realized like I never had before that I wasn't on bolts anymore. After being caught I looked up in horror, not quite ready to accept that I was still alive and well, until I saw my #3 still right where I had placed it. These things hold like champs and inspire confidence. I anticipate taking more falls on the c4's in the future and trust that they'll continue to keep me alive. I'd recommend them to anyone.
Brock
Light. Per expected. And impressively so. Compared to a standard C4 the difference is very evident.
Take a 20% OFF coupons from coupon-code.info
Cain
BD C4 cams
Familiarity:

I've put it through the wringer
Feedback from relative: "Great, durable product from a trusted company. They are light and easy to place and to retrieve. No complaints come to mind when I think of Black Diamond cams and I will be purchasing many more to complete my trad rack."
Randy Hulme
I think that the volume of positive feedback speaks to the C4s quality.
There are other cams that are better suited to specific placements/ different rock types but I don't think that there are any with a double axle design that span such a wide range of crack sizes.
Conor Hampson
Easy to recommend
Familiarity:

I've put it through the wringer
There is no better camset for the price.
Juan Altuna
Superb Gear, Competition Catching Up Tho
Familiarity:

I've put it through the wringer
I started my rack with Camalots years ago and keep coming back. In most ranges they are a superb pieces, and the massive range of the whole set means you can keep one cam type from splitters to off-widths cracks. I have been recently impressed though by the updated Master cams which appear in superior in many ways, but I simply won't be replacing all the BD's because of it. In sized larger than 4, check out the Technical Friends instead. They are wider and have better stability.
Black Diamond has major competition these days and needs to reinvent these (and I don't mean by charging outrageous prices for the UL's)
Ian Lauer
GREAT SET LIGHTWEIGHT AND VERY EASY TO USE. I WOULD RECOMMEND THIS SET FOR ALL LEVELS OF CLIMBERS.
Mayla F.
Golden Standard
Familiarity:

I've used it several times
I finally decided to buy my own cams after my partner (who has cams) moved to different city. I could have bought Black Diamond Ultralight, but I didn't want to spend extra $130 (or more) to shave off 239g.

BTW, I just wanted to say BackCountry, you guys are awesome for going extra mile and being flexible to work with my unique situation.
JBL
Light weight and durable
Familiarity:

I've used it several times
This is my go to cam. Great features and light weight easy to carry.
Mayla F.
Great cam and light weight easy to carry. Very fair price.
Mayla F.
Heavy, but durable
Familiarity:

I've used it several times
BD camalot C4 are heavier cams but durable and have great features. They will be my go too.
Cory Hanson
Thrift Shop
Familiarity:

I've put it through the wringer
I'm gonna drop some cams only got 20 stoppers on my harness. I I'm climbin' lookin' just to go up, this is fucking awesome. Walkin' up the climb like wuddup I gotta big Camalot. I'm so pumped up off some cams I got at the gear shop, sand in the gears it's so damn dusty, people like "damn, that's a well-used cam D." Pluggin' em hella deep, rollin to Yosemite, Lycra's all pink cept my shoes, them's are green.
Derek Newman