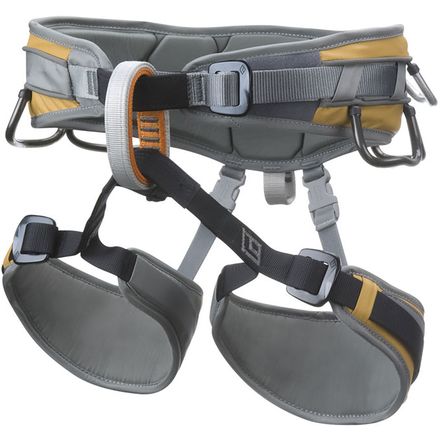 Colors
Gear up for the big rigs, starting with the Big Gun.
Black Diamond created the Big Gun Harness to give you every comfort and convenience when you start up a 20+ pitch big-wall climb. This harness includes seven gear loops to hold a massive aid rack, and two belay loops to help organize the tangle of ropes and daisy chains when you're leading. Black Diamond also loaded the Big Gun Harness with enough padding to keep you comfortable at a multi-hour hanging belay while your partner does battle above you.
Seven gear loops to hold everything you need for an A4 pitch
Full-strength haul loop for your tag line
Extra-wide everything for improved comfort at hanging belays
Comfy
Familiarity:

I've put it through the wringer
After many hard catches and uncomfortable belays I ended up ditching my minimalistic sport harness in favor of this bad boy. I personally love the padding construction and placement, as being a slim jim I have a lack of natural padding of my own. The extra gear loops are a bonus for trad as well, but I have yet to use the extra belay loop. Overall this harness is a great choice for those needing a comfortable fit.
Alex Blackmer
10/10 Would Recommend
Familiarity:

I've used it several times
This harness is incredible. Now, maybe I am over the top about it as it replaced a much smaller, sport climbing harness that I had recently been using for long multi-pitch days, so this thing feels like a dream. The waist belt is really comfortable and forgiving, they put on ample gear loops for those of us that like to have double the gear that the route calls for, and the 2 belay loops make it really easy to manage a lot of rope work when you're getting rowdy up on the wall.

Can't say enough great things about this harness, just don't forget to double back those buckles!

Love it!
Daniel Goodman
Solid
Familiarity:

I've used it once or twice and have initial impressions
I tend to over rack my harness. The many gear loops allow for better organized over racking habits. The two belay loops can be useful for big wall applications. It's a solid, sturdy, comfy harness. It's also heavy. Quite heavy. Know that before buying it. You won't be cramming this harness into the last spare few inches of your pack.
Sage D.
not great on hanging belays for me
Familiarity:

I've put it through the wringer
This harness shines when you need to rack up for trad climbs because of the extra gear loops, and it's supposed to be more padded and comfortable. It has been my go-to harness for all outdoor climbing because the bulkiness inspires confidence.

However, I have always been uncomfortable on hanging belays using this guy. For a long time I told myself this is just the nature of hanging belays. But I've been using my tiny little Mammut zepher harness more lately and realized it's suprisingly WAY more comfortable than the big gun while hanging. I don't know if it's just me, my hips might be too small for the large padding on the big gun so that it never sits quite right.


c70smith2349089
Gear & Belay Loops, with Comfort.
Familiarity:

I've used it once or twice and have initial impressions
I bought this mainly because I'm OCD and wanted to organize all my gear better on multi-pitch routes but couldn't believe how comfortable it actually is! It's pretty bulky but that's just added comfort physically and mentally.
Shane Martin Smith
The cadillac of big wall harnesses
Familiarity:

I've put it through the wringer
Where do I begin? If you're going to be spending the entire day in your harness, or any extended period of time for that matter, then this is the one. With seven gear loops you can easily fit the iron skirt while the design is sturdy and keeps the harness from sagging. Two belay loops let you multi task and also provides that warm fuzzy feeling when you know you're being redundant. Sometimes i feel like i'm sitting in a lazy boy and forget that I'm at a hanging belay. This harness is my work horse for most of the climbing I do, and was definitely money well spent. It's durable and is built to last.
Nick Rothenbush
Comfort
Familiarity:

I've used it several times
This harness is definitely the most comfortable harness I have ever had. It has a good amount of padding, tons of gear loops and the double belay loop is a pretty cool feature to have. This harness is great except for the fact that it doesn't pack down super small but i'd rather be comfortable and carry a bulkier harness. I'd recommend it for multi pitch/big wall and even for single pitch crag days if you aren't worried about weight. I'm 6'3" and about 165 lbs, I purchased a medium and it fits perfect.
Greyson G
Super Comfortable!
Familiarity:

I've put it through the wringer
I have had this harness for about a year. I switched from a thinner sport harness. The only down side to this harness is you sacrafice being comfortable for a little bit of extra weight. I wanted a more padded harness for those days of sitting on the wall doing multi-pitch climbs or bigger alpine climbs. I will say when I tried them on I tried the medium and large. I went with the large only because the medium seemed to small and they aren't suppose to stretch at all but it did. But over all I love this harness. Being able to stack cams, water bottles, slings, draws, etc and still be comfortable is a huge plus.
Joel Durden
yumdedum
22.5 oz for the medium size
Andrew Ryan
Unanswered Question
Are there any built in Ice Clipper slots on this harness?
Steven Waller
Great harness, but hot
Familiarity:

I've used it several times
Size up if you're a short-waisted woman. I have a 28" waist (so I ordered a small) but because I'm hourglass shaped and the waist belt is so wide, it didn't fit and I had to go up to a medium.
Love just about everything about this harness except for two things:
1. The padding is awesome and makes it more comfortable, but if you're in a warm place you will sweat a TON under this harness- and I am not a sweaty person.
2. I wish they made a women's version because the width of the waist belt and leg loops are disproportional to my 5'2" frame. Girls need big wall harnesses too!
Wayfinder Ali
Super Comfortable
Familiarity:

I've put it through the wringer
Absolutely awesome harness. I use it for my all day trad harness at the Gunks. Super comfortable to hang in and for rapping. I can fit my entire rack on it, with space to spare, and makes organizing things a breeze. 2 belay loops are awesome for at the Gunks, allows you to keep your belay organized. Everything is super padded on this harness, so even at long hanging belays I'm able to prevent losing feeling in my legs, which is a bonus!
Ryan Roeber
Very comfortable
Familiarity:

I've put it through the wringer
Solid harness that I don't mind being in for an entire day. Only problem for me is the position of the gear loops, when you have the harness completely loaded it can become a pain to get to what you need. The double belay loops makes transferring a belay very quick.
Steve L
Does this model of harness require that the leg/waist loops be doubled back when being tightened?
Serena D.
YES! See photos. Wast and leg loops must be doubled back for this harness!!
jrc
Am I wearing a harness or pillows?
Familiarity:

I've used it several times
This is the most comfortable harness I have every worn. I can, and have, hang in them all day. The number of gear loops is great for all your pieces and whatever else you want to bring. I also find myself using this harness while I'm setting at my local gym, which I find to be a wonderful decision. No more blood loss/tingling in the legs!
Jake Anderson
7 gears loops
Familiarity:

I've used it several times
This puppy has 7 gear loops. I can put so much gear on here that I end up wearing my whole rack up routes just because I can. Whether that's a good thing or a bad thing is up for debate. But this thing is comfortable. I can hang in this thing all day. I often will spend an hour or more top belaying several people up routes just to try and save time, which wouldn't have been possible in my old Petzl Corax. This baby supplies all day comfort.
Travis Powell
Fallen, bashed, and wore for many hours
Familiarity:

I've put it through the wringer
I love this harness. I've fallen on it, abrasively moved it against rock, and sat in snow, dirt, and various elements without any problems. It's comfortable as all can be and the gear loops make for an easy management of whatever you may have.
Justin Van Horne
Do the seven gear loops ever seem like to...
Do the seven gear loops ever seem like to much or do they really make rack organizing and use that much better?
Dan Lexie
Best Answer
Organization will vary from person to person, but I use about 2-4 of the 7 loops at a time it seems and I am really not hampered by the remaining gear loops. They can be convenient at times when you have someone else's gear randomly on--or some last minute "Oh I just need some extra webbing here" kind of thing. The loops are definitely not impeding.
Justin Van Horne
Fantastic Harness - beginner to pro
Familiarity:

I've used it several times
I bought this harness as an entry level rappelling harness. The fit is excellent and the harness is easy to put on. It has MORE than adequate gear loops and is very comfortable to wear on long pitches and big descents.
Kirk G.
Great Harness
Familiarity:

I've used it several times
comfortable, easy wearing, carries lots of gear with ease and i barely felt the weight of the rack
pertho