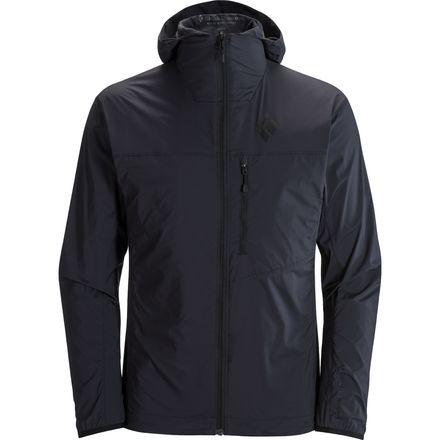 A lightweight shell for misty mountain climbs.
The Black Diamond Men's Alpine Start Hooded Jacket keeps wind and light rain at arm's length whether you're on the approach or arête. Weighing a mere 8.5 ounces and featuring a stowable design, this jacket fits great in your pack or attached to your harness, and it won't weigh your alpine rack down too much. Climbing specific gussets allow your arms full mobility, while the helmet-compatible hood keeps your head protected from the elements. Schoeller softshell fabric is highly breathable, so you can hike fast and climb hard, and the jacket is treated with Nanosphere technology, making the stretch fabric resistant to both moisture and dirt.
Schoeller stretch softshell with Nanosphere
Athletic fit
Adjustable, helmet-compatible hood
Underarm gussets
Elastic cuffs
Drawcord hem
Packs into chest pocket
Bluesign approved fabric
Favorite Wind Jacket
Familiarity:

I've put it through the wringer

Fit:

True to size

Size Bought:

Large
There's lots of great light wind jackets out there these days. They're all pretty solid in my experience, and serve their purpose, but what I love about this one is that it is a softshell material that is much more supple and comfortable than the more plastic-y feeling materials others use. Despite being soft and comfortable it still blocks the wind well and keeps enough heat in to stay comfortable on those cold morning starts. I've had mine for over 6 months now and still loving it.

At 6' 195lbs I went Large for a snug enough fit for running/biking. For colder weather use requiring more layers I'd probably want an XL.
Vinny Mauro
Height:
6'0"
Weight:
195lbs
Super versatile
Familiarity:

I've put it through the wringer

Fit:

Runs large

Size Bought:

L
Rain jackets are super useful in a lot of scenarios, but most of the time, a light, water resistant layer is enough.
The sort of inclement weather that I run into during the summer and fall typically doesn't require more than a moderately water-proof shell. And, while the Alpine Start isn't necessarily a winter layer, I wear it touring, and it provides a bit of protection against crisp air.
The Alpine start is light, breathable, water resistant, and comfortable in most settings. There are probably comparable layers with distinctly more technical features than the Alpine Start, but I am not sure that there are many jackets on the market that are as seasonally versatile.
Conor Hampson
Height:
6'2"
Weight:
170lbs
BD FTW
Familiarity:

I've put it through the wringer

Fit:

True to size

Size Bought:

Large
I bought this jacket after either running too hot or too cold on my spring MTB rides. This jacket provides the wind protection needed but also breathability so that I do not over heat during a tough uphill stretch.

I have ended up using this jacket for almost any activity, adventurous or casual about town.
Derek R
Height:
6'1"
Weight:
185lbs
Great Layer for Most Adventures
The Alpine Start is a great minimalist layer for the weight conscious hiker or climber. It's tough, breathable, and water resistant. As the name would indicate, it's great for early starts or approaches where weather may be changing.

For my size, the Medium is a bit tight for layering but fits well otherwise. I can get a mid-weight down jacket underneath. It is snug, but doesn't compromise mobility (which is one of the biggest assets of the Alpine Start). That said, it's not the best winter soft-shell anyway so I typically don't wear it on colder days.
John Beye
Height:
6'00"
Weight:
155lbs
So how does this jacket compare to something like the OR ferrosi?
jonathon G.
Hi Jonathan, The Alpine Start is going to have more stretch, be lighter weight, and have a more athletic fit than the Ferrosi. The Ferrosi is going to is water resistant and more breathable than the Alpine Start as well as having a more standard fit. I hope that helps you some. If you have any other questions, please feel free to reach out to me directly and I'll help you out. - Matthew Pizza - Expert Gearhead
Matthew Pizza
Awesome Piece
Familiarity:

I've put it through the wringer

Fit:

True to size

Size Bought:

Medium
This has become my go to for most conditions. This thing is so light and packs down so small. It breaks a surprising amount of wind for how thin and light it is. The NanoSphere coating is easily the most impressive part to me. I've worn this piece in light rain numerous times and even after some abuse the coating beads the water up like a champ. Absolutely the perfect piece for something light around town or on an alpine start when you know its going to heat up like crazy once the sun comes out. Its surprising tough too, I've worn this climbing several times and its shown almost no wear.
jordan emery
Height:
5'11"
Weight:
170lbs
Absolutely Amazing!
Familiarity:

I've used it several times

Fit:

True to size

Size Bought:

Large
The Black Diamond Alpine Start is one of my favorite soft shells. It weighs almost nothing, and stuffs into the corner of your pack with no weight penalty.

Breathability is stellar and wind resistance is good. During high elevation hikes in heavy gusts you feel protected from the elements. The Schoeller fabric is stretchy and comfortable against the skin. The arms are nice and long, and articulation allows full range of motion without the hem riding up or wrists becoming exposed.

The Alpine Start is also weather resistant. Only after 2 hours of being pounded by blizzard snow at 9500ft, and 30 minutes of spring rain at around 6000ft did it finally wet out. Abrasion and snag resistance thus far has been no concern.

I use it as an outer-layer piece in fall, winter and spring.
Armand C
Height:
5'11"
Weight:
190lbs
Lettering washes off, otherwise awesome.
Familiarity:

I've put it through the wringer

Fit:

True to size
I love how lightweight this is. I keep it in my backpack (folded into its chest pocket) and it doesn't take up more space than a really thick sandwich.

I was really surprised by how much wind it reduces for how light it is. It's simultaneously amazingly breathable and also warm. I've worn it as my only layer on hot days in Joshua Tree to keep my skin from getting burnt and 50-60 degree windy days in Yosemite.

Durability of the fabric itself has been strong -- I've put about 1.5 years of regular use (wearing casually and as a wind reduction layer while climbing) and no rips/tears yet. It's even been through some crack climbing (sleeves) and rough treatment in chimneys with no visible wear.

The black diamond lettering (kind of a rubber-like material) started wearing off early though (don't know if I'm alone in this? no other reviews mention it). The diamond on the chest looks really sharp when it's new but it looks sort of lame when it's half there and half washed away. I've always washed it as a delicate and let it hang dry. That's probably the only negative thing I can say about this jacket (I guess I expected it to stay on for the price).

(That and don't buy the hype about the Schoeller fabric giving you any kind of lasting rain resistance -- it soaks through just about as fast as any other shirt I have).
Russell Ryan
Tough, thin, and somewhat wind-resistant
Familiarity:

I've put it through the wringer

Fit:

True to size

Size Bought:

Medium
I'm torn. I bought this as a lighter weight alternative to my Outdoor Research Mithril, a burly 3-layer windproof/water-resistant soft shell hybrid. The Alpine Start has a niche, but it's on the side of providing minimal wind and water resistance and protection of more delicate layers (ie down) against abrasion. The jacket wets out quickly in anything more than mist or 10 minutes of sustained light drizzle. This jacket is very breathable. I think the Outdoor Research Ferossi, or something similar, may better fit my needs. The Alpine Start Hoody is a very think jacket.

I just finished my first cold-weather run in this jacket. I wore a midweight grid fleece and the Alpine Start. Temps were 30 degrees F and wind speed was ~30-35 MPH. Without the wind. Without the wind, the AS hoody would've provided just enough extra insulation, however the head on wind significantly cut right through the AS hoody and I froze my butt off.

I used the AS hoody for fall weather climbing in the NE, either alone, or layered against a lightweight fleece or lightweight insulated jacket. The jacket held up well to off-widths, chimney, and the occasional scrape against sharp Rumney rock and still looks new. It breaths like a champ.

I will use this in the fall and spring for running, climbing, and hiking. I'll give it a shot on all-day winter hikes and short approaches, but I'll be bringing a burlier backup, to be sure!

I probably wouldn't but this jacket again because, for the price, it's a total odd ball piece in my layering kit.

I'm 5'9, 170 lbs, wrestlers build with a 40 inch chest, average torso/leg ratio, and 32 inch arms. I can layer a base layer and heavyweight fleece or lightweight down/synthetic under this jacket, but not much more. The cut allows great freedom of movement. A well known product review site recently reviewed this item, and I agree totally with that review.
Michael L.
Height:
5'9"
Weight:
170lbs
My everyday jacket
Familiarity:

I've put it through the wringer

Fit:

True to size

Size Bought:

Medium
The more I wear this jacket, the more I appreciate it. Breathes very well, moves nicely and is non-constricting. I bought it so that it fits very trim to my silhouette, so I'm not necessarily able to fit a fleece or other warm layer underneath (but then again, I didn't want to be able to do that). If you're not familiar with this fabric, be aware that it is quite thin. Repels mild sprinkles/showers well, for which I'm thankful living in the PNW. This has become me regular part of my climbing kit, as well as just gets worn on a regular basis. Worth noting that the white Black Diamond logo started to peel off a bit on my jacket, but was easily re-affixed with a bit of fabric glue. Love this jacket.
Michael's account
Height:
5'10"
Weight:
190lbs
Breatable and Lightweight
Familiarity:

I've used it once or twice and have initial impressions
Nice lightweight soft shell that fits perfectly. I am 6-1, 195 pounds and the large fits with a light fleece underneath. Nice long cut and the sleeves are not too long. The fit is similar to the dawn patrol soft shell jacket. I am waiting for the temperature to drop and the winds to pick up to really test it out. So far it has been comfortable in 50 degree weather with 15 mph winds. I would give it 5 stars once I can test out the durability. I generally have trouble with other soft shells where my pack rubs on the lower back. The Schoeller material seems durable but you never know until you give it a thorough test.
Charles O.
Definitely one of my favorite jackets. I've worn it hiking in the fall weather and it keeps me cool enough and not too hot. It is a little thin and feels like it might tear easily, but it is an all around good jacket. Good for inside and outside
sambroome
A fantastic breathable wind jacket
Familiarity:

I've put it through the wringer

Fit:

True to size

Size Bought:

Small
This is a great jacket for aerobic activities where you need a bit of protection from the wind. I like that it is made with softshell material making it super breathable, but still protects you from the wind and the occasional precipitation. It has an athletic fit, fits a baselayer or two underneath. Buy it, you won't regret it.
David Leydet
Height:
5'10"
Weight:
150lbs
Epic 3 Season Climbing Jacket
Familiarity:

I've put it through the wringer

Fit:

True to size
I bought this jacket March 2015 and since then it has seen some heavy use. The fabric is much thinner than I expected but when paired with an athletic fitting sweater or thin baselayer, the jacket can be considered comfortable in 40 degree weather.

I often wear the jacket when climbing off width or chimney pitches and the fabric withstands the rock abrasion superbly. The gusseted arms really make a huge difference in mobility and I never feel the jacket pull when I go for a big move or place gear. Unfortunately in the Adirondacks last weekend, I found the limit of the schoeller fabric material when I took a huge whipper. I put a small hole in the fabric but this will not change the way I use the jacket.

There are a couple things that the jacket can be improved on. The cuffs are made out of a stretchy polyester like material that is supposed to make a tight fit around your wrist. I find that after a month or so of use, the cuffs start to lose their elasticity. Not a major concern of mine but could be made better for future versions.

Another thing I noticed is that the jacket is not waterproof. It does a great job at beading spray and light rain, however a couple times I was caught up in a downpour and the jacket soaked through in no time.

People complain about the neck area being very tight but I think it comes down to personal preference. It is a tight fit but I am not as bothered by it as other people are. In some ways, I like it more because it keeps the rain and mosquitoes out.

If you are looking for a light jacket that checks most boxes, this is the jacket for you. This is BY NO MEANS a dedicated rain jacket, but will take care of you well enough for the occasional spring rain cloud. As a 3 season jacket, it is my absolute go to because it withstands all kinds of abuse while being light, breathable and mobile enough to suit my needs.
Charles C.
good, highly breathable windshirt
Familiarity:

I've put it through the wringer

Fit:

True to size
This is a highly breathable windshirt.

There have been many times where I started to overheat but I was too lazy to stop and take it off. With a less breathable windshirt I would be on fire and sweating buckets. With the alpine start I didn't overheat too bad.

The downside is it's not all that warm. It doesn't work as well as something like a patagonia houdini as a warm up layer when you need to warm up in a hurry on the move.

It's not totally windproof, but a good compromise. Enough air gets in there to carry away sweat vapor.



This thing is not very water resistant at all, it wets out quickly. But probably good enough for falling snow.



The hood and neck is a bit weird, but hasn't been too much of an issue for me.



This is a good option over a lighter windshirt for winter use (breathability being more important) or for someone who wants a bit more durability.



Weight for my size medium is 7.2 ounces.



It has a slimmer fit. Just enough room for winter hiking in the Sierras. If you planned on using this for deep cold, size up to fit more layers underneath. It does have a lot of stretch so you can jam mid layers under there without too much issue.
Justin Baker
Super breathable, super light
Familiarity:

I've put it through the wringer

Fit:

True to size
First, what it's not: it's not windproof, and it's not waterproof. This is an ultralight, stretch-woven softshell. It's not as wind-resistant as something like a Houdini, and it's not going to keep you dry in a downpour. HOWEVER, the Alpine Start breathes like a lung- this is the most breathable softshell I've owned, bar none (and I've owned a lot). It's also ultra-light, incredibly soft and stretchy (it feels like silk), has decent water resistance, and compacts down to nothing. Compared to the OR Ferrosi (my previous favorite), it's lighter, more compact, MUCH more breathable, dries much faster, has a better hood, and though it doesn't have hand pockets, those were always covered by pack straps on my Ferrosi anyway. This is what I wear for mountain biking and trail running in temps from the 20's to the 60's. It keeps enough wind out of your base layers to keep you warm, but it breathes so well that you don't get soaked in your own sweat (and I sweat a lot). You'll probably want more weather protection for long belays, alpine environments, etc. But for really aerobic activities, nothing I've tried so far beats this.
Puzman
Light and breathable
Familiarity:

I've used it once or twice and have initial impressions

Fit:

True to size
Protects you from the wind and light precipitation while breathing very well when skinning or running.
Matt Heffernan
Wind barrier+ breathable
Familiarity:

I've put it through the wringer

Fit:

True to size
I picked this up for an alpine biking trip in the Chilcotins, BC. It provided excellent protection from the wind but was breathable enough to pedal in it all day long. Surprisingly it held its own and didn't get snagged on rock and branches while riding. Also packs down to almost nothing.

It's not quite waterproof enough for rainy outings in the PNW, but if it's misting or light rain it's great. Looking forward to testing it in winter conditions.
Jeff Campbell
Super Versatile, light, breathable!
Familiarity:

I've put it through the wringer

Fit:

True to size
Fits slim, but really well. Most of the time I wear this over a base layer.



Love this because it breathes really well, I can wear this running and mountain biking and it stretches too. Have used it to skin up in Spring or as a backup layer in the pack when the weather has a chance of turning.



Not waterproof, but with one of the best water repellent treatments I know. This plus proof of versatility: I have done a long run in it in 50 degree weather in Europe and even though it got somewhat wet in a full downpour it dried super fast as I kept running in it. Then wore it the next day to dinner :)
Martijn L.
Instant Favorite
Familiarity:

I've put it through the wringer

Fit:

True to size
I've worn this piece for about a year now and it quickly became my favorite go to shell. It is lightweight, stretchy and breathable. I use it while ski touring, bring it on multipitch climbs, trail run with it, and wear it mountain biking. The breathability while touring and duribility while climbing are the key features. The Nanosphere works really well for light rain/ snow, but it's not a substitute for rainwear when it's really wet outside.
Tom D.