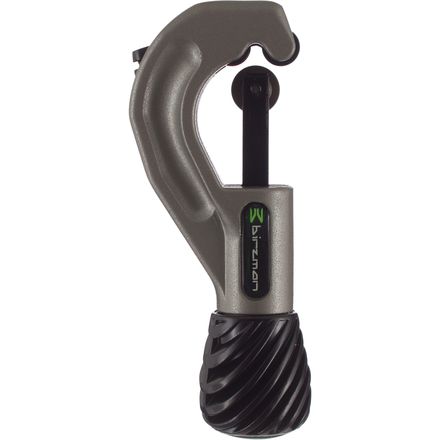 Colors
Don't be a hack.
Your sexy new fork just arrived, and now it's time to fit it to your head tube. Please don't say you'll be cutting it with that hacksaw. Studies have shown that 94% of all steerer tubes cut with a hacksaw are crooked. OK, we made up that statistic, but it might be true. The Birzman Tubing Cutter cuts your steerer tube straight every time, and it's easy to use. Plus, it isn't motorized, so you can cut steerer tubes on the sly. We aren't sure why you would want to, but you could.
Alloy Only Cutter
Familiarity:

I've used it several times
This is a brilliant little tool that saves you so much time and mess over the traditional clamp and saw method!
One of our mechanics showed me the beauty of using this vs. a hacksaw and guide and I have been sold eversense.

As others have mentioned, you will want to go slow when using this as well as mildly sand down the lip that is left after the fact on your steerer, alloy bar, or alloy seatpost.

Save yourself some time and potentially a horrible metal shaving blister, add one of these to your garage tool kit.
Kyle Smyth
Right tool, for the right job
Familiarity:

I've used it several times
While this tool doesn't get used too often in my tool box, it certainly performs as it is supposed to when called upon.
I use this on any alloy bar, seatpost or steerer tube. As mentioned by others it is suggested to clean off the lip formed by the roller digging into the alloy. I use a super fine file to clean it up, and clear the burs inside the tube with the included swivel tool.
There's nothing not to like about it and if you enjoy working on personal bikes or friends bikes, this is a must have in the tool box.
Scott Golsan
Great for the job
Familiarity:

I've put it through the wringer
A bit pricey, but works great. The integrated burr remover is a nice touch. Be sure to go slow with the pressure to minimize the lip created by the pressure of the cut. Do NOT use on carbon, this is for metal only.
Luke Dordai
Great tool for cutting
Familiarity:

I've used it several times
This thing works great. Only gripe is the price.
Ben B.
a diffrent cut
Familiarity:

I've put it through the wringer
I use this in the Backcountry.com Retail Store bike shop here in Salt Lake City, Utah. Seat posts and steerer tubes are no match for this thing. It doesn't produce any metal shavings or mess. Go slow to go fast and this thing cuts like butter.

One Con I have noticed is that it creates a little lip where the cutter has pushed the metal to make the cut. Using some sand paper smooths this out pretty easily.

johngchrist