Billabong

7MM Xero Enduro Glove
Item #BIL032S
Billabong
Wetsuits
Men's

S

MS
M
MT
LS
L
LT
XLS
XL
XXL
Height

5ft 6in - 5ft 8in

(167.6 - 173cm)

5ft 6in - 5ft 9in

(167.6 - 175cm)

5ft 9in - 5ft 11in

(175 - 180cm)

5ft 11in - 6ft 1in

(180 - 185cm)

5ft 7in - 5ft 9in

(170 - 175cm)

5ft 11in - 6ft 1in

(180 - 185cm)

6ft 1in - 6ft 5in

(185 - 195.6cm)

5ft 8in - 5ft 10in

(173 - 178cm)

6ft - 6ft 5in

(183 - 195.6cm)

6ft 1in - 6ft 4in

(180 - 193cm)

Weight

135 - 150lb

(61.1 - 67.9kg)

145 - 160lb

(65.7 - 72.5kg)

155 - 170lb

(70.2 - 77kg)

165 - 180lb

(74.7 - 81.5kg)

175 - 190lb

(79.3 - 86.1kg)

185 - 200lb

(83.8 - 90.6kg)

175 - 190lb

(79.3 - 86.1kg)

190 - 205lb

(86.1 - 92.9kg)

205 - 220lb

(92.9 - 99.7kg)

Chest

36 - 38in

(91.4 - 96.5cm)

38 - 40in

(96.5 - 101.6cm)

39 - 40in

(99.1 - 101.6cm)

41 - 43in

(104.1 - 109.2cm)

43 - 44in

(109.2 - 111.8cm)

44 - 46in

(111.8 - 116.8cm)

Waist

29 - 31in

(73.7 - 78.7cm)

30 - 32in

(76.2 - 81.3cm)

31 - 33in

(78.7 - 83.8cm)

33 - 35in

(83.8 - 88.9cm)

36 - 38in

(91.4 - 96.5cm)

38 - 40in

(96.5 - 101.6cm)

Women's
0
2
4
6
8
10
12
Height

4ft 10in - 5ft 1in

(150 - 155cm)

5ft 1in - 5ft 3in

(150 - 155cm)

5ft 3in - 5ft 5in

(160 - 165cm)

5ft 4in - 5ft 6in

(163 - 168cm)

5ft 5in - 5ft 7in

(165 - 170cm)

5ft 6in - 5ft 8in

(168 - 173cm)

5ft 7in - 5ft 9in

(170 - 175cm)

Weight

80 - 95lb

(36.2 - 43kg)

90 - 105lb

(40.8 - 47.6kg)

100 - 115lb

(45.3 - 52.1kg)

110 - 125lb

(49.8 - 56.6kg)

120 - 135lb

(54.4 - 61.1kg)

130 - 150lb

(58.9 - 67.9kg)

140 - 160lb

(63.4 - 72.5kg)

Chest

27.5 - 29.5in

(70 - 75cm)

29.5 - 31.5in

(75 - 80cm)

30.5 - 32.5in

(77 - 83cm)

31.5 - 33.5in

(80 - 85cm)

32.5 - 34.5in

(83 - 88cm)

34 - 36in

(86 - 91cm)

35.5 - 37.5in

(90 - 95cm)

Waist

21 - 23in

(52 - 58cm)

23 - 25in

(58 - 63cm)

24 - 26in

(60 - 66cm)

25 - 27in

(63 - 68cm)

26 - 28in

(66 - 71cm)

27 - 29in

(68 - 73cm)

29 - 31in

(73 - 78cm)

Hoods
XS
S
M
L
XL
XXL
Neck

14.5in

(37cm)

14.75in

(37cm)

15in

(38cm)

15.5in

(39cm)

16in

(41cm)

16.5in

(42cm)

Head

20.5in

(52.1cm)

21.5in

(54.6cm)

22.5in

(57.1cm)

23.5in

(59.7cm)

24.5in

(62.2cm)

25in

(63.5cm)

Boots
S
M
L
XL
US Shoe Size
6 - 7
7 - 8
9 - 10
11 - 12
Gloves
S
M
L
XL
Hand Circumference

5.5 - 6in

(14 - 15.2cm)

6.5 - 7in

(16.5 - 17.8cm)

7.5 - 8in

(19 - 20.3cm)

8.5in+

(21.6cm+)
How to Measure:

For best results, take measurements over your underwear.

Chest:

Measure under your arms, around the fullest part of your chest.

Waist:

Measure around your natural waistline, keeping the tape a bit loose.

Neck:

Measure around the thickest part of your neck, holding tape loosely.

Head:

Measure around the largest part of your head.
Select style & size:
Select options
Select options

Black, S

Sale:$21.72
Tech Specs
Material:
Xero Endure neoprene
Manufacturer Warranty:
3 months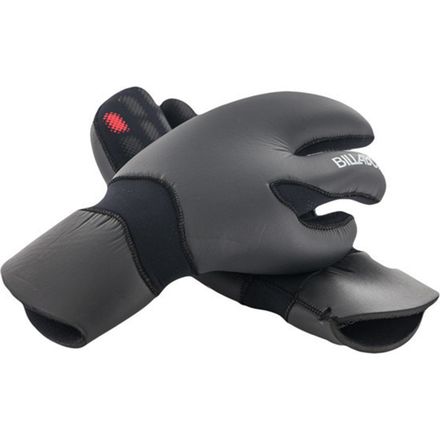 Colors
Toasty claws.
You could just wait until the waves numb your fingers, or you can surf comfortably with Billabong's 7MM Xero Enduro Claw. Furnace lined and insulated with 7mm Xero Enduro neoprene, this slip-on claw keeps your mitts nice and toasty.
Frequently purchased together