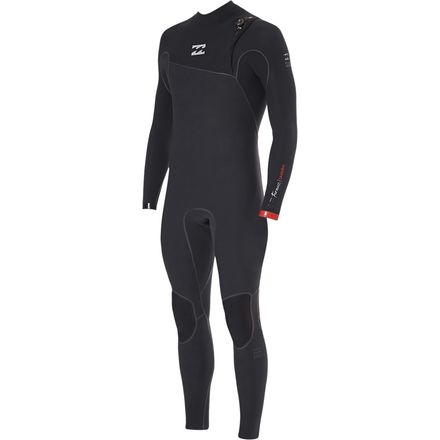 Colors
Surf where most won't go.
You fancy yourself a tough guy, but gritting your teeth will only get you so far if you're waiting for perfect waves in 55-degree water. If you're getting ready to brave the chill, it's pretty key to have a super warm suit like the Billabong 3/2 No-Zip Carbon Furnace Men's Wetsuit (along with a tough-guy attitude). Billabong constructed the Carbon Furnace from thick, super-stretchy, and durable 3/2 neoprene, which you'd expect, but then it lined it with two types of quick-drying and super-insulating fabric. Japanese Tatara Carbon is the strongest, lightest, and warmest wettie lining yet, so you can spend more time waiting for the perfect wave and less shivering on the beach, and Billabong complemented it with its famous Furnace jersey lining for increased warmth when the water's colder than that big layback you're itching to lay down.
To increase waterproofing and limit bulk, the seams are sealed rather than stitched, and designed with a minimalist construction to improve the Carbon's flexibility and comfort. Silicone seals on the wrists prevent flushing, and the Boa Closure System cinches the neck down securely without the need for zippers or other clumsy closures.
3/2 neoprene
Tatara Carbon lining
Furnace jersey lining
Zipperless Boa Closure System
Stitchless sealed seams
Minimal seam design
Silicone-dipped wrist seals