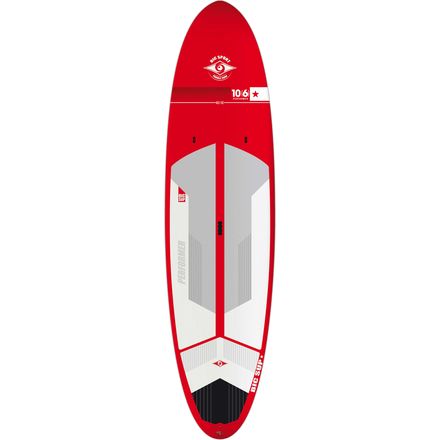 Colors
A Performance Board For All Adventures.
Step up your overall SUP experience with the Ace-Tec Performer Stand-Up Paddleboard from BIC SUP. An even-keeled volume distribution throughout this board creates a smooth, stable ride that's ideal for all conditions. Slight rocker throughout the entire board makes the Performer a champion on flat water, and it can hold its own on big waves and small. Additionally, the Performer is equipped with a thruster fin setup, complete with a Quick Fin (10in) in the center and smaller side fins help hold you to a straight line or keep yourself pointed down the face of a big wave.
To help you keep your footing, BIC SUP added an EVA deck pad for cruise-long comfort and stability, and a rear leash attachment ensures that even if you do take a tumble, you can still come up near your board. An Ergo-grip carry handle makes transport from the car to the shore a snap. Though, some of the main performance characteristics of this board come from its Ace-Tec construction. The Ace-Tec design consists of a unique layering system that utilizes various types of fiberglass layered between durable styrene polymers. All of this adds up to a board that can shrug off shocks and dings that would leave other boards reeling.
An adaptive board for all-around use or surfing
Rocker throughout with rounded design for easy maneuvering
Ace-Tec multi-layer construction ensures longevity
Thruster fin setup provides smooth tracking
Grab-handles make for an easy carrying experience
Secure your gear with the two attachment points
Fin defective decal. Board great.
Ordered the pink paddle board and beware it is really PINK! Barbie Pink! But,,.it will show up nicely on the water and I am sure my granddaughters will love it! The fin came in separate packing and the decal was defective. Customer service said I would have to ship the board back at my expense in order to get a refund. I just wanted to exchange the fin! Otherwise the board has a nice bumpy pad for a good grip and is not heavy at all. Overall happy with the purchase.
Penny V.