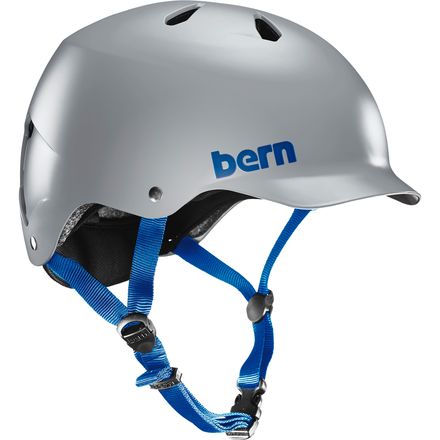 Colors
Protect your cool.
Bern's Watts Thinshell EPS Helmet is guaranteed to keep you safe and cool — in every sense of the word. Bern's OG visor design offers up a slick look, while 10 different ventilation holes keep your dome from roasting under the sun. The Watts features Sink Fit, a low-profile configuration to ensure a comfortable and seamless fit, and the thin ABS shell lined with EPS Foam offers the perfect combination of strength and lightness. The helmet also accepts Bern's snap-in liners to accommodate colder weather. Finally, the Watts EPS complies with EN1078, CPSC, and ASTM2040 safety standards.
Sink Fit configuration
10 vents
Accepts Bern snap-in liners
Meets EN1078, CPSC, and ASTM2040 safety standards
Recommend!
Familiarity:

I've used it several times
Fits great, feels great and I love it! I ride everyday to work and back, 22 mikes a day.
Jason
Unanswered Question
Is this helmet actually thinner/lower profile than the original Bern Watts helmet? Or did they just rename it?
Robby Stout
Brain Saver!!
Familiarity:

I've put it through the wringer
Excellent helmet! I primarily use this helmet for mountain biking and commuting but its versatility allows me to use it as a snowboard helmet as well.
Construction: The construction of this helmet is quite good. The shell is fairly lightweight and the ventilation is adequate for all but the hottest days. The visor also works well to redirect water when riding in the rain.

Comfort: It's very comfortable and the Sink Fit configuration really allows for a secure fit. The XXL/XXXL sizing is right on for my 62cm head.

Protection: As far as its protection capabilities go, it's AMAZING! I had a downhill mishap while riding some local single track and took a tree to my left temple at full force. I should've had a concussion or worse but was able to walk away none the worse for wear. ALWAYS WEAR A HELMET!

Bern Watts for life!
Pete D.
Protect the Dome
Familiarity:

I've put it through the wringer
I got this helmet for a multi-use purpose. I purchased a snap in liner directly from Bern that can convert it into a cold weather bucket; the liner even has built in speakers so that is pretty cool. I use the liner in the winter while shredding the slopes, and in the summer to rip some dirt or crush some waves in the boat. That is the exact reason I love it, I don't have 2 or 3 different helmets taking up space in the gear closet. I have 1 and a liner that snaps in within seconds.



For the price, this is a great product, add another $40 or so for a liner from Bern, and you've got yourself a solid multipurpose helmet.



Feel free to reach out to me directly if you've got any questions on the helmet, or any gear we have to offer!


Travis Bivins
Solid, not earthshattering
Familiarity:

I've used it several times
This helmet seems to do what a helmet ought to do (I do rely on BERN's crash-testing, though). It's as comfortable and stylish as can be expected for a big chunk of foam and plastic. Some people here say its smaller than other helmets. I'd say it's just a little more appealingly shaped than other bike helmets, it's still pretty large (and I got the "s/m" size). It's not some super end-all-be-all helmet. But if you like the unracer look you won't be disappointed.
Daniel C.
City riding
Familiarity:

I've put it through the wringer
Got this helmet to protect my noggin while riding my road bike around Salt Lake City. The helmet easily adjusts to get the fit spot on and is super comfortable once you get the fit dialed. The vents do a good job of venting heat, though my head does get a little sweaty in temps above 80, but then again I sweat in a trucker hat in the same temps. My favorite thing about this helmet is the slim profile that doesn't make my head look ridiculously big. I have a big head and anyone else that does too knows the struggle.

Contact me directly if you have any questions about this helmet or any other helmets on the site!
Trey Schanzenbach
This is a great helmet for the price. I bought the winter attachment and use it as my ski/snowboard helmet. It's really light and they are pretty stylish.
Justin B.
Nice fitting and slim look
feels like I don't even have a helmet on. Happy with this buy
Allen C.
What a Great Noggin Protector
Familiarity:

I've used it several times
I'm not the usual guy who uses this product. I purchased the helmet to update my paragliding kit. I used it several times this summer for flying, and I've got to say that it's probably the most comfortable helmet I've worn for flying to date. The knob on the back of the liner gives you the perfect fit. The short bill does a remarkable job at keeping the sun out of my eyes without impinging on my ability to keep an eye on my paraglider. Now that the weather is starting to get cooler, I have purchased the winter liner to help keep my ears a little warmer at cloudbase. The helmet is light, fits wonderfully, is cool in summer, warm in fall conditions (and at altitude) and seems adequately durable to survive the rigors of checked baggage. I'd recommend this helmet to anyone.
Michael S.
Wonderful, Stylish Helmet
This Bern helmet was the perfect choice for me, and the color is awesome. Very bright, very noticeable and safe. I love my helmet!
Samantha S.
Unanswered Question
Could you please tell me the sizing for the xxl/3xl ? I bought a xxl 60.6-62 cm and it is too small. Thanks
carl lange
Bern Watts Thinshell EPS Helmet video.
It's video. It's easy. Watch it!


Bern Rep
Does the cold weather liner come with this helmet?
THOMAS W.
Hey There,



This helmet does not come with the cold weather removable liner. Check out item #BRN000S which comes with the removable liner or if you prefer one of these color options, you can purchase the removable liner separately. If you have any more questions about helmets or any other gear, please give me a call at 1-800-409-4502 ext 4446 or email at gconner@backcountry.com
Geoff Conner
Where can I get a knit liner for an xxl?
Justin D.
I'd imagine we will be getting more of those in stock when winter gets a little closer... So check back in maybe in like a month? OR check out Bern's website. They do have a store and a bunch of options for liners. Just make sure that you get the EPS liner, not HardHat. They are slightly different.
LF
Great so far.
Familiarity:

I gave it as a gift but have feedback to share
From the recipient:



I haven't crashed while wearing this helmet so I cannot attest to its ability to protect your brain, but I will say that I really enjoy the functionality of the air vents, visor and ratchet adjustment. This is a very well designed and stylish biking helmet.
Casey Glaubman