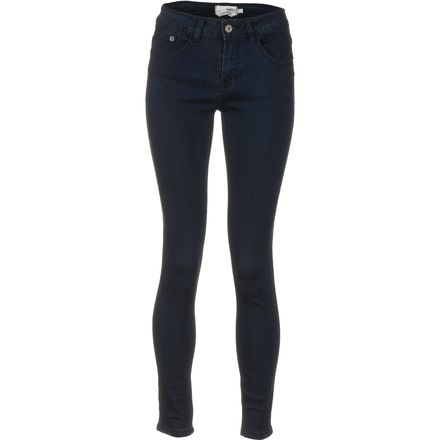 Colors

Detail Images

Community Images
The Bellfield Women's Seaton Denim Pant pairs well with flannels for dive bars or cute camisoles for clubs.
Stretch denim
Skinny fit
Five-pocket styling
Mom jeans
Familiarity:

I returned this product before using it

Fit:

True to size

Size Bought:

small
Maybe these fit well on some girls but they fit my body terribly. They have a really high waist and the pockets on my bum looked really bad. I'm returning them. The Prana Kara jeans are freaking adorable though!
Jamie B.
Height:
5'5"
Weight:
125lbs
Okay Jeans
Familiarity:

I've used it several times

Fit:

True to size

Size Bought:

8
I went back and forth between keeping these and decided to take a chance on them. I like the color, I like the softness, and I love the way they fit on the bottom of my leg from the knees down. They are pretty stretchy, and I feel like they dig into my stomach despite them being the right size.
Jessica
Height:
5'5"
Weight:
143lbs
Almost There
Familiarity:

I've put it through the wringer

Size Bought:

XS
After reading all of the great reviews on these, I was super stoked to pick them up! Unfortunately, they just didn't quite fit me like the rest. They're okay... but not fabulous. To start, I found them to run REALLY big. I am ~25 waist so I got the XS, and still have to wear a belt with to be comfortable, otherwise I've got 1.5-2in I can pull them out away from my waist. I'm short and have athletically built legs- they fit me great in the thighs but are long (as to be expected). The knees are not as trim as I would like- they still bunch up more than I like, but then my calves fill out the lower half of the pant again. All in all, the fit is close- but not quite perfect for me. Past that, the fabric is great and I love the darker wash. Very clean look!
Kayla Weiser
Height:
5'2"
Weight:
120lbs
Too Small
Familiarity:

I returned this product before using it

Fit:

Runs small
I read the reviews of these tiny chicks that said these pants were too big. I recently lost a bit of weight and thought by using the size chart that size 12 would be a Medium. I am a size 12 for other jeans, but these Mediums were a bit too small still. So if you are a little more curvy, like me, you might want to go with a Large :). They are super nice and I loved the color, if they would have fit I would probably worn them everyday.
Angie
Good Features
Familiarity:

I returned this product before using it
I didn't find the fit to work for my athletic legs so I returned them. I did like the fabric and the details on the pockets. The sizing is a little odd being a jean and sized S/M/L.
Jen
Seaton Denim Pants and Athletic Thighs
Seaton Denim Pants, flexible enough to climb trees in!
Lindsay Gray Carlson
Seaton Denim Pants and Athletic Thighs
Familiarity:

I've used it once or twice and have initial impressions

Fit:

True to size

Size Bought:

Medium
I'm going to start this review with a bit of a disclaimer and it is this: jeans don't fit my body. I am an athletically built tall girl (a bit over 5'9'') with strong thighs (I lift a lot of weights, but I'm not quite Annie Thordisdottir) and a shapely gluteus maximus (I do a lot of squats, but I'm not quite Nicki Minaj). This makes me an excellent candidate for "Least likely to find jeans that fit." I also appreciate comfort and won't tolerate pants that pinch, give you love handles when you don't have them, or fall down constantly.



That being said, I actually will wear Bellfield's Seaton Denim Pants. These pants are very stretchy, almost like leggings (but not quite), so they actually do a great job of fitting many body types. Also, since they're true pants (NOT JEGGINGS), they're loose enough to be really comfortable. I know the size chart is really confusing, but the medium was great for me. I'm tall, so they may run a little long for some, but I found them to be the perfect length. I usually wear a dress size 4 or 6, or 28 in juniors sizing.



The one negative on the fit is that although they did fit my legs and hips well, there is still a bit of what I call a rain catcher. If you have a shapely bottom like myself, you may have experienced a similar problem where your jeans fit everywhere else but the center 6 inches of your back. In this area, they flare out so that someone could most likely pour a glass of water directly down your pants. This is not remedied but belts but instead causes severe and odd looking belt line wrinkling and folding. These pants only have a slight rain catcher problem, but it does allow them to slide down my hips a little further than I would like.

Unfortunately, these pants may be for a bit more of a long distance runner shaped person than a sprinter person. However, these are still the best fitting pants I've worn in a long time!



As for the style, I love it! The cut is a really stylish skinny that will go well under a boot for fall. The pockets aren't too prominent but are attractive looking and actually hold things. The color is a very flattering dark wash that I find quite slimming and classic. As the description says, I think you could wear these pants anywhere. I usually choose the boots and flannel option, but I wouldn't think twice about wearing them with heels and a fancier top for an evening out. As with all Bellfield items, a very high quality that I will wear for a long time.
Lindsay Gray Carlson
Height:
5'9"
Weight:
140lbs
This photo was taken BEFORE I washed and dried the pants in an attempt to shrink them. They were way loose then as you can see the material bunching up... all other photos were taken AFTER washing/drying the pants.
Lauren Weibert
They're awesome, but big
Familiarity:

I've used it several times

Fit:

Runs large
I want to give a shout out to Backcountry.com and Bellfield for hand-selecting me to review this piece of gear for the benefit of the Backcountry.com community. Thanks for having faith in me!

I am 5'2" and 115 lbs and got the size SMALL.

The sizing chart is REALLY CONFUSING! I should be a medium according to the chart but I opted for the small and I really should have gotten the extra-small.

The smalls are too big on me! I am so bummed they're too big because the material is AWESOME and the jeans are SO comfortable! They have a LOT of stretch to them and feel just like leggings. I am telling you, these pants are comfortable!

With these pants being too big and already having big thighs to begin with, I look bigger than I actually am with these jeans on. Fantastic. I know if I had gotten the extra-small, they would have fit me perfect. Even with my thighs, the extra-small would fit due to how stretchy the material is. I washed these jeans and threw them in the dryer to try to shrink them. They shrunk a little, so they looked better but they are still too big.

To get the photos with these jeans, I had to really pull them up so they looked like they actually fit, hahaha. These jeans have a lot of room in the crotch area as well as behind my thighs. They're also a little long on me so they bunch up at my knees, making me look shorter than I actually am. They do look nice when I roll them up at the bottoms, but that doesn'€™t help with the bagginess in the zipper area. There's a weird tent too in the zipper area when I sit down. That probably won't happen with a smaller size, but keep that in mind anyways.

The color looks fantastic... I'm picky about denim colors; I hate lighter colored jeans and if I saw these in a store, I definitely would buy them. There's no weird bleach marks like some other companies like to do on their jeans (usually in the crotch area, front thighs area.... why? Just, why?). These jeans are a darker blue, very flattering color. The craftsmanship looks great on these jeans; seams are straight and there's no defects as far as I can tell. I have a good feeling these will last a long time. I will update my review in due time.

Also-- I am wearing another Bellfield product in my photo below- the Bellfield Gateshead T-shirt which I LOVE... backcountry.com sells it too! Check it out for my review on that shirt. :)

Lauren Weibert