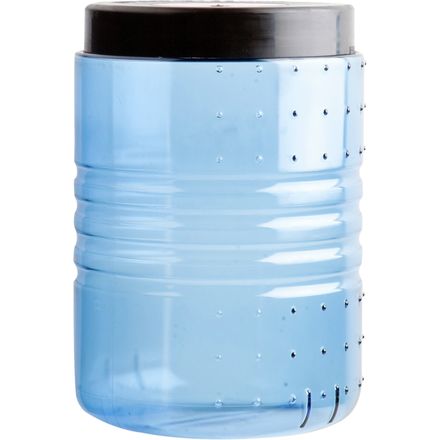 Colors
A fed bear is a dead bear. The BV500 protects you and our furry friends.
Head out for a trip into Yosemite or Denali National Park with your food safe and secure in the Bear Vault BV500 Bear Resistant Food Canister. This large-capacity container's 700 cubic inch interior stashes enough supplies for weeklong trips into bear country. An innovative tool-free top gives you quick access to your goodies, and the see-through polycarbonate housing and extra-wide lid make it easy to find what you're looking for. Slip this lightweight Bear Vault canister into your expedition pack or use the guides to strap it down.
Proposition 65 Warning for California Consumers: This product contains chemicals known to the State of California to cause cancer and/or birth defects or other reproductive harm.
Large food canister for camping in bear country
700cu in capacity suitable for weeklong trips
Tool-free access provides reliable bear-resistance
I like this over other canisters for 2 reasons
- It's transparent so I can see where items are located within
- the lid is easier to remove than others I have used.
Nate Simpson
Great Canister
Familiarity:

I've put it through the wringer
Fits way more than you think – definitely great for multi-night trips with multiple people. Takes up considerable space in your pack – no getting around that. I sometimes have trouble opening it which has resulted in a lot of jammed fingernails, but if I can't get in, here's hoping a bear can't either. As an added bonus, it's an A+ camp chair.
Kari Jensen
It does the job
Familiarity:

I've put it through the wringer
Like any bear cannister it is bulky and takes up a lot of space in your pack, but it does what it is supposed to do and functions well as a seat and even a wash basin for your clothes on long trips. The wide opening on this model makes it easy to jam pack it with food.
Stan S.
Gets the job done
Familiarity:

I've used it several times
Bit heavy and bulky, but keeps you from starving when the bears decide to check it out.
Craig Cunningham
Keeps the bears out. Can be a little tricky getting the lid open with cold fingers.
Taylor
beefy and effective
Familiarity:

I've used it once or twice and have initial impressions
Before I took this bad boy out into nature, I threw it around in my friend's kitchen and abused it a bit to make sure nothing broke. It didn't.

It's pretty bulky, so it's reserved for longer trips for me. Doubles nicely as a little stool as well.
Zach B
Good For Peace of Mind
Familiarity:

I've put it through the wringer
I did a bike tour from Prudhoe Bay to the lower 48 traveling down the bear infested Stewart-Cassiar Hwy in BC and used the BV500 to protect my food and give me peace of mind in camp. It's so nice being able to walk a distance from camp, plop it on the ground and forget about it. I never had issue with break-ins although I did find the canister toppled over a couple mornings. Also, in the arctic there aren't any trees to hang food so this is a necessary piece of kit. I used it as much to keep the rodents at bay as I did the bears. Another person I was traveling with hung his $120 pannier in a tree only to have something chew the ever loving crap out of it to get to what was inside.

I'm giving it 4 stars because it does allow moisture to get inside even when standing upright. There must be some type of wicking action that takes place with the lid because after a night in the rain, there would be moisture inside the canister. It was a enough that any food items not in plastic would have gotten wet. I ended up putting a plastic bag over the top and it ended the moisture problem.

An added bonus is it makes a nice camp seat.

As far as it being difficult to open, follow this grom's advice. It works like a charm.

UPDATE: As to the problem with moisture getting in, here is what the folks at BV said:

"There is a small lip on the BearVault housing which prevents a bear's claw or tooth from getting under the lid during an attack. If the BearVault is almost perfectly upright then during a rain this lip can allow a small "moat" of water to form at the top of the housing. If the storm then passes during the night, the atmospheric pressure gets higher and this forces the water in the "moat" up the threads and into the housing.

To prevent this, just tilt the unit slightly during the night so that the water cannot accumulate in that "moat" if it rains- it's that simple."

Tim T.
Essential
Familiarity:

I've put it through the wringer
A total requirement when camping in bearitory. I've never had mine preyed on, but I always keep my food in the BV500 when in the backcountry. It also serves as my snack and dry goods container when desert camping, where I've had plenty of mice and other small, likely hantavirus-infected rodents open up wrappers and nibble away while I was sleeping.
The BV500 is pretty difficult to open when it's brand new, but it seems to get easier on your fingers the more often you use it.
Jeff Catalano
Best "budget" canister out there
Familiarity:

I've put it through the wringer
I purchased this for the John Muir Trail as most of the trail it is a requirement and for good reason.

Many reviewers have touched on a lot of the things I would have to say about this item, however I have to disagree about the size/weight ratio.

I own this canister in both sizes and for their carrying capacity they have some of the smallest overall footprints and weights. Realistically you are looking at getting a Bearikade if you want anything that is either higher in carrying capacity or lighter and have you seen the price tag on those things? Not worth the extra cost unless you need a much larger capacity.

Keep in mind the number of days that they say you can fit seems to be based around the average 2000 calorie diet. I was eating over 3000 on the trail and still lost 15 pounds so I could never get as many "days" as they say. Most people have little need for the smaller one because you end up needing to put more things than just food in there as well. One large and one small worked well for me and a partner but if either of us were alone we would have definitely needed the big one.

As for the lid opening issue, it can be a little tricky. I seemed to have less issues than many other fellow hikers (this was the most popular canister on the John muir trail with the garcia in a close second). Most people also really only seemed to have problems in the early morning when their hands were cold. If your hands are cold you can use a coin to push on the textured black part on the tab. Alternatively and what I did when I needed to was pick up a stick or a rock. Thumbs and tools are cool!
Stephen McSweeney
Mixed Emotions
Familiarity:

I've used it several times
This item gets the job done and will keep the bears out just fine it seems. It would work great for a base camp/car camping situation. It seems excessively heavy in my opinion, but it may have to be to keep the bears out. As the other reviews say, its a great stool.
amber nelson
Protects your food stash
Familiarity:

I've used it once or twice and have initial impressions
I purchased this for a backpacking trip on the Lost Coast of California, where carrying bear canisters is mandatory. Until this trip I have gotten by just fine with hanging my food in bear country. More storage space then I thought, but it does go fast. I think you'd have to get pretty creative to pack a whole weeks worth of food in it. I packed several fragile food items and like that they were protected in the pack. Relatively easy to open, and the lightest wight canister I could find.
Jason L.
Beary safe!
Familiarity:

I've used it several times
This canister is awesome! So secure i'm ashamed to say it takes me a little bit of effort sometimes to get into it. I feel so much more confident going into the backcountry with this cansiter and knowing that my food is secure. Not only for my safety but for the animals as well. It can be a little awkward to carry but I love how burly it is so It's worth it to me. If you need a bear canister this is definitely a great option for you!
Emily Noll
Heavy but works
Familiarity:

I've used it once or twice and have initial impressions
While we didn't get to "test" it up against a bear, we did haul this thing to the top of Yosemite Falls full of food. It is HEAVY. It can be a little difficult to get open, but that's the goal, right? The Yosemite park employee recommended hiding them and making them difficult for the bear to get to. "she has been dropping them off cliffs to bust them open". Where there's a will there's a way!
Josh L.
Easy to pack & a great camp seat
Familiarity:

I've put it through the wringer
I bought this for use in RMNP - a place I frequently travel in the summer months. Bear canisters are required for the warmer months, and this was a great option. I did a ton of research before, and had tried some of the alternatives. Options like the Bearikade are lighter, but the BV provides a good price to weight ratio. Counter Assults/Garcia's are super burly, but don't provide a good seat and are harder to pack due to their unique shape.

Speaking of packing, I like the volume of this one as it provides enough room for 1-2 days worth of food for a group of 4. Obviously, the type of food you are bringing is a large factor, and learning to pack smart allows you to maximize space. Start with the last meal at the bottom and work your way up to the first meal on top with snacks in between. Remember to leave enough room on top for your toiletries and other smelly items at night.

Opening this lid can be difficult, but I use a spork to keep my fingers from struggling to move the latches. The other canisters I mentioned earlier are a little easier to take off - given you have a tool or quarter handy.

Even with the difficulty opening at times, this canister is a good value due to it's moderate weight, large volume, easy packing, and ability to use as a camp chair. I would also note, I carry this internally in a larger 65L pack. Might be difficult to strap to a smaller pack.

Overall, 5 stars and would recommend to any friend who needs this type of product.


Andrew M.
Safety First
Familiarity:

I've put it through the wringer
When entering an area you know there is bear activity, this is one of the MUST haves on the list. Yes it is big, yes it is hard, but it will save your life.
This canister is perfect, great seal, and impact resistance.
Emily Forsdick
Bear tried and true
Familiarity:

I've used it once or twice and have initial impressions
Product worked as promised. We had a bear who raided our camp and ate all the food that wasn't in the canister. Really wrecked the trip. You are asking why wasn't all the food in the canister. We had 3 people and 3 days worth of food in our group trying to fit into one bear canister. The math didn't work. In retrospect the large one I think would be challenging to get 7 days of food for one person. The food in the canister was safe compared to the mountain houses that the bear ate (can you imagine eating a dry mountain house?) I give it 4 stars as a design flaw. It is very hard to attach to the top of your pack. I intend on attaching some nylon webbing so it can easily outside.
Gary G.
This product performs as expected. The clear container is a major plus. It is sturdy. Opens and closes easily enough. Holds a considerable amount as well. Solid product. Well designed.
Ric T.
Love this BearVault
Familiarity:

I've used it several times
Love that you can see the contents, lighter than other bear canisters, perfect for 3 nights and 2 people...a "tool" (like a stick spoon) to push the tabs in, is easier on the fingers.
Emily Forsdick
bears
Familiarity:

I've put it through the wringer
this is a big container , i took it on a 27 mile backpack trip it held enough food for me and my dog 7 days ,its kind of hard to get in to which is the point i guess , i plan on useing it for years to come ,im going to glue a piece of dense foam to the lid ,it makes a great seat
Ryan B.