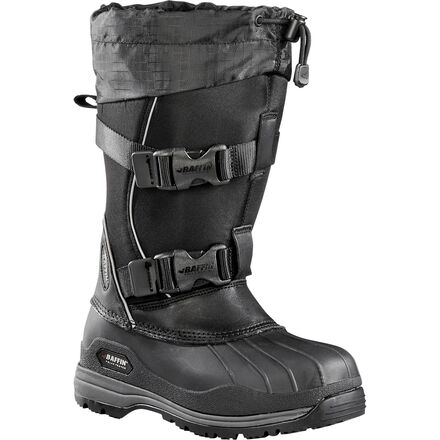 Colors

Detail Images
Keep you feet warm when it's really, really, really cold.
Designed for use in the planet's coldest regions, the Baffin Women's Impact Winter Boot is rated to an amazing -148F (-100C). A two-buckle closure provides easy access when you're wearing gloves so you won't risk loosing fingers just to lace up your boots. A snow collar tops the 1000d Diamond-Lite insulated nylon upper and keeps your feet nice and dry. The Impact has removable liners so you can warm them up in your sleeping bag at night. A narrow heel profile will help these boots fit your feet great and the GelFlex shock absorbing system will keep them comfortable while you're pulling the sled over the miles ahead.
Unanswered Question
I am wondering what the difference is between the women's Baffin snogoose boot and the Baffin impact winter boot? I would be wearing them for snowmobiling and would like the warmest boot possible. Thank you in advance for your feedback.
Becky
FINALLY! Warm Feet!!!!
Familiarity:

I've put it through the wringer

Fit:

Runs small
I have horrible circulation in my feet, so finding winter boots that will keep me warm while I play in the snow has been a huge challenge. Not anymore! These boots are worth every penny. I wear a size 7.5 and ordered the 8. They fit perfectly. The heel does slip a bit, which for me, isn't an issue. These are for playing and walking in deep snow, so they are more like a "snowmobile" boot, rather than a fashionable boot. I love them, and will definitely order another pair if these "wear out".
April Wartner
Neener-neener, my feet are warm!
Familiarity:

I've put it through the wringer

Fit:

True to size
Flip winter the bird with these bomb-proof beauties! I suppose they aren't the first choice of fashion plates but boy howdy are they warm. I plow snow and split wood in them, they work really well.



I wouldn't choose to hike any distance in them nor would I go snowshoeing in them. They're definitely pacs and I don't think the inside will hold up to serious walking. I'm comfy riding my four-wheeler in them and I reckon they'd do well snow catting too. I used them during muzzleloader season to get to my treestand when the snow was deep so I'd say they're appropriate for 1-2mile jaunts.



It's getting difficult to find snow boots that you can just step into like old-fashioned Sorels. If I want to fetch the newspaper or restock the beer fridge, I don't want to spend time stuffing my jeans into fashionable boots and then spend more time lacing them up. I step into these, tug the buckles if needed and VOILA, warm, dry feet.



The removable liners are cool, if you wear them out, you can buy a new set from Baffin. I haven't snow-sealed my pair but I haven't had any issues with wetness, these are some well-made winter kicks!
Erin Radford
Antarctica Proven!
Familiarity:

I've used it several times

Fit:

Runs large
When it comes to keeping your feet warm, these boots are perfect. I rented a pair for a trip to Antarctica and cold toes were NEVER an issue .... stood out on the ice runway for over 30 minutes, went hiking for an hour, went cross-country skiing for three hours .... feet stayed warm and toasty the WHOLE time. I only wore one layer of wool socks.



My only problem is the fit. My rented boots were way too big; nothing I can do about that. I bought myself a pair when I got home, and they feel slightly too snug in the toes but the heel slips. I wore them snowmobiling anyway and again, feet were comfortable the ENTIRE time. I'm just skeptical about if these will be useful for activities that involve a lot of walking .... a size down will not fit, so hopefully the heel slippage doesn't get any worse and the liner forms around my toes and feels more comfy over time.
Sasha
Baffin Impact Winter Boot - Women's
Backcountry Video
Unanswered Question
I wear a woman's 8D tennis shoe. What...
I wear a woman's 8D tennis shoe. What Baffin boot would I be able to wear? I'm looking at the Impact, need extra warmth but reviews I'm read wondering if they are too narrow.
Sandy
I bought these boots for a dog mushing trip on the north slope of Alaska, north of the Arctic Circle. Temp during our trip was -10 to -40. Pros: comfortable, fit well, socks stayed dry Cons: Normal foot perspiration went to thru to the bottom bottom layer of the boot, where ice crystals formed. My wool socks stayed dry, my feet were frozen from the ice. Had to literally wipe the ice out of the boots with a towel at the end of the day. The insole inserts also were frozen. I contacted Baffin - they wanted to send me a new pair. No thanks! After 7 days of cold feet I will never trust this brand again.
C Thomas
Wish they came in 1/2 sizes. I took the liners out and walked around the house to break them in, just like recommended. But the shell of the boot is what's going to determine the fit of the boot cause once I put the liners back in they felt snug in the toes again. Wear only regular socks though and my feet are very warm. Like the easy on/off. Excelent for snowmobiling.
Punner F.
Ordered these boots for myself & two daughters, age 12 & 14. I normally wear a 7.5, ordered an 8 and love the snug fit. My daughters on the other hand didn't and I ordered up 1.5 sizes for each of them. I believe it's because they were accustom to how other boots with felt liners are a little sloppy feeling. They are happy and I have relief if they're feet grow any more! We all have somewhat narrow feet (especially in the heel for the girls) so a very slight slipping inside of boot on the heel...no biggie, keeping these babies!
Kelly V.
I just purchased these boots for my wife and it has been very mild and unseasonably warm for this time of year in Chicago. I will definately repot back as soon as these boots get a real test from her. She keeps saying how comfortable they are and she is really anxious to test them also.
London C.
I want to order these boots but am not...
I want to order these boots but am not sure which size to order. I wear a size 8.5 but these do not come in half sizes---should I go up or down in sizes?
Steve A.
If you wear an 8.5 then you will only need a 9.
London C.
Baffin Impact Winter Boots
I LOVE THESE BOOTS. They are absolutely amazing, and incredibly warm!!! I seriously have trekked through ice, snow, rain, etc. with these puppies on and have felt like I was walking on a nice memory foam mattress the entire time. Bring it on, winter! I'm ready for ya with these boots!

The boots are true to size--I wear between a 9-10 and got the 9s. They fit perfectly! Love the comfort and the lining. Strangely, too, the boots do not feel terribly heavy/clunky, either. I've actually run short distances in mine.
Diana L.
Gotta take the inner boot out to dry sometimes...
Hey everyone, just wanted to post this in case someone like me is out there and didn't happen upon this yet...I wear these alot and walk my dog a couple miles a day in these when the temps are cold, and when you wear a rubber boot that can't breathe its gonna build up moisture somewhere in the boot. This boot does a fantastic job of keeping sweat/moiture away from your feet by wicking it to the outside of the inner boot, and that is where i found all of my yummy sweat the other day. The inside rubber was pretty socked full of moisture , yet the liner was still holding up and doing a great job of keeping my feet dry (barely any wetness to the touch on the outside of the liner, inside of the liner was totally dry of course). So, if you wear these alot (like hours every day) i'd recommend taking the liners out every day and letting them air dry overnight, also take out the orange rubber grid insole thingys that are under the liners so that you can take a paper towel or rag and wipe up all the moisture that has built up inside the entire rubber part of the boot. I just worry that if this isn't done at least once in a while wouldn't/couldn't mold/mildew and other great stuff start to accumulate in there? I know this sounds so gross but i felt i had to share...hope this helps...
Diana Miller
I love these boots! I bought them for snowmobiling and they keep my feet nice and warm for 12 hours of riding!
Kari P.
You'll find what you've been looking for here. I was pleasantly surprised with the plush, comfy liner, I love sliding my feet in these. They are also incredibly warm. I love 'em, glad Baffin makes 'em and glad I found 'em!
lizmike.da1812895
Do you need to buy a size bigger than your...
Do you need to buy a size bigger than your usual shoe size or is extra room already figured in for heavier socks?
Barb
1) You do not need heavier socks as the boot is rated to -145 F!
2) I wear a 91/2 shoe and ordered a 10 - should have gotten a 9 as the heel bed is quite loose.
3)great boot, just wish it were a bit smaller!
Susan M.
Unanswered Question
How much do these boots weigh - a sz 7or...
How much do these boots weigh - a sz 7or 8. I spend all day 8+ hours for work backwoods snowshoeing. Weight is important.
mn hiker
These are a really high quality winter boot, and when i first ordered them (geez, this is a whole other story), my UPS driver left them at the end of my driveway at my mailbox right before X-mas and somebody stole them, but backcountry was amazing and sent a replacement set out right away...anyway, i thought that the inner boots were snug and hurt the bones in my feet from the memory foam scrunching them together (actually, when i initially tried them on for about 30-45 minutes they didn't feel too uncomfortable, it was the next day when i woke up and tried to walk that i realized how bad things were and that they had squished my foot bones!), so i had to return them...

BUT, I wish i had read the reviews about breaking them in and wearing them for at least a few hours (or many more) to let the memory foam liner mold to your foot since many other people seem to have had this snugness problem as well, so, i have since re-ordered them from a site where I found them at a great discount and after some initial dicomfort the first two days, they are feeling really good. Its now taken about a week for the inner boot to get to where i feel like it is totally stretched out and molded correctly to my foot.

I feel that they run true to size, as i am always a 10 in everything and after the memory foam has given, i even have a tiny amount of wiggle room now, so i would not recommend ordering up, just be patient with them. These probably wouldn't be uncomfortable in the beginning for the average person, as i have lupus and arthritis and semi-wide feet to boot (no pun intended), and alot of shoes/boots are uncomfortable for me. The arch support is fantastic, they are amazingly warm, seem well built & durable, and have really helped out with my Raynauds over the past week (no way you're getting cold feet in these, and i literally have the coldest feet on earth!). Thanks backcountry for your great customer service amidst all the chaos of the holidays!
Diana Miller
I have a women's 9 narrow foot and have never worn a size 10 in any shoe, so I ordered these in a 9. Way too small. Not really too narrow, just very short in the toe. Order up a size! Other than the size issue, they seemed great. I was disappointed not to be able to wear them as we'd just had a huge snowstorm. I'll send them back for a size 10
Susan H.