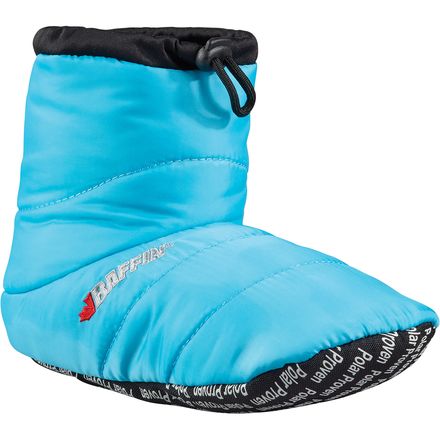 Colors
Whether it's an arctic expedition or just a chilly day around the house, the Booty keeps you warm.
The Baffin Women's Cush Booty Slipper indulges your feet with thick quilted warmth, with slip-resistant soles for inside the house or tent. The Cush Booty Slipper's higher top provides extra plush comfort, and a lockable tie holds your foot securely in place.
Great dry camp booties!
Familiarity:

I've used it once or twice and have initial impressions
This is the second pair of booties I purchased. These slippers are super comfy and warm in colder weather. The soles are not super think so walking over rocky areas or wet ground can be uncomfortable - unless you have super tough feet! My sister loves the pink color and when her old pair were ruined there was no question these were her go to. These slippers are light and pack away easily so you can take them anywhere.
Chanae H.
Toasty Toes
Familiarity:

I've put it through the wringer
I picked these up for a winter yurt trip, and they've ended up being one of my favorites pieces of gear. They are super comfy, and VERY warm- perfect for winter use for me, though I probably couldn't wear them in more mild spring/fall temps. I love that they have a more durable sole- I could walk around outside on the packed snow no problem, and the grips worked well. I am a size 7, and the M fits well- a little roomy, as to be expected with the multi-sizing scheme, but allows me to wear a pair of socks comfortably. Highly recommend if you need a pair of toasty winter booties!
Kayla Weiser
Great at the end of the day
Familiarity:

I've put it through the wringer
I take these car camping and backpacking. Super packable and worth it. They are super warm and cozy and great to stick your feet in after a long day in hiking boots. They are good to kick around in camp with but you wouldn't want to walk too far in them or on rocks. They don't have heavy duty soles.
Ashley E
Warm bootie; not outdoor proof
Familiarity:

I've used it several times
I purchased these booties for my mom who is diabetic and gets cold super easy. We have purchased other slippers similar to these but first time purchasing this brand. They are super warm and the drawstring helps them stay on your feet. My mom loves wearing htese around the house and when she sleeps. The downside is that she wore them outside the other day in a light rainstorm and they soaked all the way through to her socks. There was no protection from the elements which leads me to believe a quick trip in dry weather to the mailbox is about all these booties should see of the outdoors. Great booty for warmth but not so great in the outdoors.
Chanae H.
Love Them
Familiarity:

I've put it through the wringer
I bought another pair for another friend for Christmas. I know she will love them.
Amy L.
Warm Toes for the Win!
Familiarity:

I've used it several times
My partner has had frostnip on her toes too many times, so her feet are pretty much always cold. On backpacking trips, it's a rush in the cold weather to set up the tent so she can crawl into her sleeping bag.

We bought these booties not expecting much from them, thinking they would be cheaply made but worth a try, and boy were we wrong. A few frigid nights camping and she has fallen in love with them, wearing them regularly when we were staying in a cabin, and now daily around the house.

I won't be surprised when the day comes that she starts wearing them out on errands - like to the grocery store - and they fall apart. For the price point though they are cheap enough to replace!
Fits true to the size chart with room for a thicker sock and the drawstring keeps them from slipping off inside a sleeping bag.
Daniel
Bought for myself, then as a gift
Familiarity:

I gave it as a gift but have feedback to share
I use the low cut men's slippers for cold days at the house and on yurt trips. I just bought these for several family members and wish I had bought this version for myself. It seems to solve the most annoying issue i have with mine where my foot occasionally slips out. They are very warm and the nonslip grip is great
Nick Schlegel
Love These
Familiarity:

I've put it through the wringer
I love these so much I keep wearing mine out and buying more.
Amy L.
These Are Great!
Familiarity:

I've put it through the wringer
These are the most comfortable slippers ever. The only thing is they wear out fast.
Amy L.
Excellent!
Familiarity:

I've used it several times

Fit:

True to size

Size Bought:

Large
I surprised my girlfriend and bought these for her, and they were a hit! The first time you wear them, it's tough to squeeze your feet into but they do stretch after a couple uses. They were warm and VERY comfortable, and once she puts them on it's tough to get her to take them back off! The bottom is durable, I mean I wouldn't hike in these but running outside quick or wearing them around a bonfire, they'll hold up against the ground. Even with a little snow on the ground, they hold up well! Again, I wouldn't hike in these, we haven't tested how "water resistant" they are, but if you're looking for a great around the house or bonfire slipper, then these are great!
Alec L.
Warm
Familiarity:

I've put it through the wringer

Fit:

True to size

Size Bought:

small
These boots are very warm. Not good outside. I just wear them around the house. I also like the way they look.
Amy L.
Height:
5'3"
Weight:
120lbs
Winter bootie love
Familiarity:

I've used it several times

Fit:

True to size

Size Bought:

Medium
Going out on hut trips, and to winter cabins bringing some booties to keep your feet warm and comfortable all night is just shy of mandatory. These little Baffin slippers are pretty much perfect. Light and pack-able for the way in; down warmth and slip-proof for making it through the night.
ALEX ZUHL
Height:
5'7"
Weight:
125lbs
Great Gift
Familiarity:

I gave it as a gift but have feedback to share

Fit:

True to size
This product is a total layup if you need a gift for somebody. I gave them to my girlfriend and she loves them. Fit is true to the size scale, and since it's not a super precise fit it's pretty tough to screw up! I own a pair myself as well and I also love them. There's some cool options with more outdoor friendly rubber soles, but for indoor chillin I strongly prefer having these soft booties. They can still survive quick and careful outdoor maneuvers.
Vinny Mauro
Height:
6'0"
Weight:
195lbs
T(winners)
Familiarity:

I gave it as a gift but have feedback to share

Fit:

True to size

Size Bought:

8
I picked up the men's version of these about a month ago for the cold winter and instantly knew my GF would love a pair as well. I had to get her a some because they are so warm and comfortable. We use them around the house and as a comfort shoe on our way to and from the ski hill. We are going on a yurt trip this weekend and know that they will be the perfect shoes to have while we are there! Very lightweight. The only reason I remember they are on my feet is because my feet are almost too warm if I'm wearing them inside haha. She got the Merlot/Black in a medium. She is usually a size 7.5-8 and they work perfectly for her. So far, no complaints in terms of durability, but we know not to take them out into extreme situations since they are slippers. I'm sure they will hold up for years to come.
Sam Hurst
You need these!
Fit:

True to size

Size Bought:

Medium
My friend Rich from backcountry advised me to buy the baffins Cush booty slippers for camping and so I bought these! No regrets I cannot go camping with it ! Even sometimes at home I like to where them to go on my balcony during the winter! The size fits perfectly and you can wash them (of course don't throw them in the dryer) but if you were them outside your tent don't worry to get dirty it is so easy to wash (on cold) !
Alexandra Euler
Height:
5'9"
Weight:
136lbs
Perfect For Cold Floors
Familiarity:

I've used it several times

Fit:

True to size
My husband got tired of me wearing mis-matched wool socks indoors in winter, so I began my hunt for well-made, long-lasting, warm slippers with treads on the bottom (I'm clumsy). Tried Acorn slippers, the soles are too stiff to wear while relaxing on the sofa or sitting cross-legged. The soles on these are sturdy but flexible, which means you can wear them lazing around, or while watching TV in bed. The interior material at the sole is very soft, the slippers are very warm, while not being too warm. Warmer than plain, mis-matched wool socks. I waterproofed them with Nikwax so I can take my dog out when the pavement is wet. So far so good.

I wear an 8 - 8.5 and got the mediums. They fit exactly perfect - I think 8 - 8.5 would be the absolute max for a medium, and if you are 8.5 you may want to size up.

My only issue is that I have high arches, which makes these really hard to put on. The high-top part of the bootie does not stretch at all, which means a lot of twisting and pulling to get them on, as my arch is too high.

Other than that, I would definitely recommend these booties for indoor wear when you need warm feet.
JMR
Warm snuggly slippers!
Familiarity:

I've used it several times

Fit:

True to size
I love these slippers. I have been looking for something that will keep my feet warm on my cold floors. I wear a size 7.5-8 in shoes depending on the brand, and bought the large just to make sure they fit. They are a bit big, and my next pair will be a medium, but it also allows thick socks. I have not worn them outside since the bottoms are not outdoor worthy, however indoors, my feet stay warm and cozy.
April Wartner
The dogs do you have any?
These will make a great chew toy. 10seconds to destruction.
tom wagner
So Cush
Familiarity:

I've put it through the wringer

Fit:

True to size
I love these boots. I bring a "poof suit" when ski touring and when spending the night in the bitter cold I have a montbell down coat and down pants then then boots. I was perfect. Dare I say even a little warm. Wish I could where them outside a little more but that's ok. I also wear them around the house and I find them so comfy.

I'm a 6.5-7 and I got these in a small and without socks they are fine but I should have gone with med. They are honestly too small but I refuse to return them (they were sold out of med).

Buy them! Great all down alternative. I find just as good as feathered friend booties. Well. Maybe not as high end but they do the job.
Ingrid J