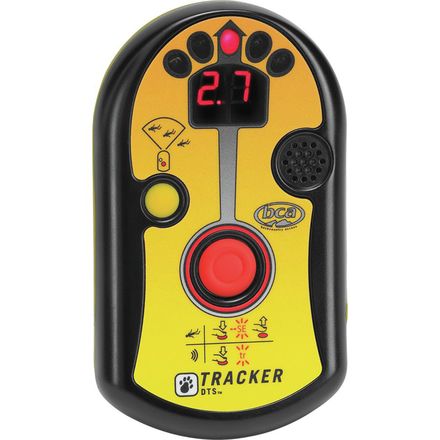 Colors
Best-seller that set the standard.
The Backcountry Access Tracker DTS Beacon is one of the older models that outlasted the competition due to its affordable price and easy-to-use functionality. Backcountry skiers and splitboarders quickly learn how to use the simple interface, with only one button that switches from search to send modes. The second button lets you flag multiple burial victims, an original feature for the DTS that's now pretty much standard in all modern beacons. Backcountry Access included a secure harness for the beacon and three batteries for use right out of the box.
Best-selling beacon for backcountry skiers and splitboarders
Short 40m digital range in an easy-to-use interface
Flagging option assists with multiple burial victims
Included harness secures beacon around your chest
BUY A TRACKER 2 0R 3
Familiarity:

I've put it through the wringer
the DTS was great when it came out but is now outdated. spend the extra $$$ and buy a 3 antenna, not a 2 antenna if you ever have to dig your ski buddy out he/she will be glad you purchased the right gear. BCA is a great company but should not be selling this beacon anymore.
Stefan C.
Super simple and easy to use.
This beacon is your go to beacon for beginners and anyone looks for an awesome, simple to use beacon. I've had this beacon for the last 4 years and have never had a problem with it. Arrows point you in the right direction and the digits get lower as you get closer to the signal your following. Definitely recommend this BCA beacon.
Jackson Smith
Trustworthy and Easy to Use
Familiarity:

I've put it through the wringer
First and foremost, I am lucky I have never had to use this. But in my practice and classes this beacon has been very easy to use and never skipped a beat. This beacon also always seems to be the majority in groups and a favorite among instructors. Sturdy construction, easy to carry and quick to get out and use if needed. You cannot go wrong with this. I hope no one who buys it ever has to use it in a real situation. But, why not get a good quality beacon for the chance if you do?
Alex Cocco
Easy and effective
Familiarity:

I've put it through the wringer
This transceiver is the epitome of consistent, predictable, and functional. It is intuitive and takes very little time to figure out how to use it, which translates to ease of use when it counts. Other brands may offer transceivers with more features, but I know that I feel the most comfortable skiing in a group where those around me are using equipment that minimizes the chance to mess up. This is my tool of choice for any backcountry trip.
Xander Guldman
This product should not be sold still.
Familiarity:

I've used it several times
Dual antenna beacon's like this are outdated and unreliable. When it comes to a partner rescue after an avalanche every second matter, and this dated technology is significantly slower than the standard three antenna beacons.

It's time to retire this beacon.
Alex S.
Simple but Outdated
Familiarity:

I've put it through the wringer
The BCA Tracker DTS is a great introductory beacon for someone hoping to start traveling in the backcountry. The dual antennas and easy to use button makes this a great intro beacon. Here is the caveat, this beacon's technology is now outdated. Three antenna beacons have a much more accurate transmitting and receiving signal. When you're life is at stake this is an important feature to think about spending some extra cash on. That being said, I used this beacon for 2 seasons and never had any issues with it. The harness is comfortable and easy to use. Remember, this beacon should be worn with the screen and button facing in towards your body.
Jake Ward
Tried and True
Familiarity:

I've put it through the wringer
This has been my go to beacon for the past few years. It is incredibly easy to use, and reliable. Thankfully I have never had to use it in a real situation, but on beacon drill days it has never let me down once.
Andrew Meehan
Great beacon, tried and true, read comments on revamped harness and pouch. Thing is full-proof, simple and durable. Its really not missing much at all and if you can't explain why/what's it is missing w/o personal experience in the field, then its a great beacon for almost everyone. Tracker 2 is simple and great as well. Get whatever you are comfortable with/trained with in your Avy class.
Kevin P.
It does what it needs to do, worked well in training never had to use it in the field yet. No extra fancy features to get confused with.
Mason Kirby
Occasionally, gadgets with extra features of dubious functionality are actually cool, but, in the event of my own burial in the back country, I'm hoping that the folks searching for me will have simple, easy to use beacons in hand. The DTS's minimalist design is functional and intuitive to operate. The DTS has only two manual features, and a single display screen - there's an on/off switch on the back, a transmit/search mode button on the front, and a small digital window that indicates distance and direction while the beacon is searching.
Ultimately, the best beacon is the beacon that you know how to use, and have trained with. The DTS is equipped with all of the features a modern beacon should have - three antennae is preferable - but, two antennae or three, the beacon is only a tool, and you're only safer owning one if you can effectively use it in the event of an emergency.

Conor Hampson
This is the beacon I learned on, and it is super easy to read and understand. Reliable and functional!
Emery Gaylord
Simplicity is key for me
Familiarity:

I've used it several times
While it doesn't have the furthest range or most technical of viewing displays, I feel that this simpleton gets the job done and at no inconvenience to the user. It's a little clunky, but that kind of comes with the territory. Hope to never have to use it, but I'm confident that if I have to I can rely on it. The simple display takes away guess work and overthinking. It shows accurate direction and distance and that's what really matters.
Dom Totino
Used to be good
Familiarity:

I've used it once or twice and have initial impressions
This transceiver is outdated and should not be for sale anymore!!! Buy a three antenna current technology model
Ryan Anderson
Ole reliable! Simple and user friendly!
Familiarity:

I've put it through the wringer
I've had this for a few years now and I've used it quite a bit, outside of a real avy scenario (thankfully). I used it for my avy 1 cert as well as the refresher courses I do every year and just teaching friends how to properly use a beacon that are looking to explore the backcountry. Signal reads are pretty accurate, but I don't rely on them. I use triangulation to find my mock victims and I always find them, even to the point that I'm probing the actual beacon. Just the way I was taught how to use a beacon from my avy instructors.



I've buried it in snow, have thrown it into snow(for people to find), and have toured with it for a few years. It's durable! I definitely recommend it, I personally think that it is the best bang for your buck beacon. It is somewhat bulky but you get use to it to the point that you don't notice it while traveling to your sick line.



Hit me up if you have questions about gear or this beacon.
Warren Young
Never used it outside of training.
Familiarity:

I've put it through the wringer
and I hope I never have too, but it's been solid when used for searchs.
Chris Shafer
Bad signal reads
Familiarity:

I've used it several times
I have onever of these the my wife bought for me last Christmas. I have used it 10 times. During a visit training this week it was having a hard time registering anything better than .06 when held right up to other beacons.
micah
Haven't used it much but so far so good
Familiarity:

I've used it once or twice and have initial impressions
The Tracker avalanche beacon is great. The ease of use is the reason I selected this one to replace my old beacon. I also noticed that it has a better micro processor that my old beacon making reading come up quicker.
chris besnia
Haven't had to use this yet, but it is pretty straight forward. A great choice for the price.
Jason Zavala
I haven't used this in an avalanche, but this beacon seams to be the standard.
Scott Hemming
Great beinner's beacon
Familiarity:

I've used it several times
Basic beacon that is great for learning
Bevan R.