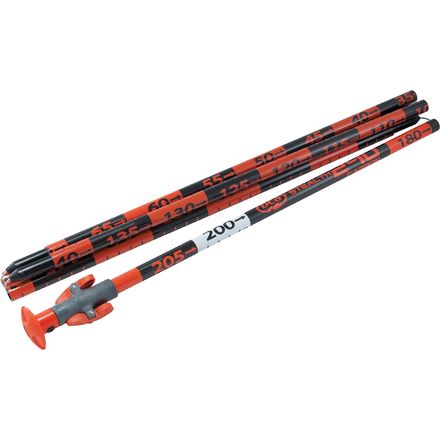 Colors
When ounces (and seconds) matter.
With the Stealth series, Backcountry Access already had the easiest and fastest probe assembly system on the market. It then decided to take things a step further and use the superior strength-to-weight ratio of carbon to create the Stealth 240 Carbon Probe. The result is an easy-to-use, ultralight probe with no decrease in reliability or toughness.
The Quick-Lock system has no loose cables to cause hang-ups, allowing you to deploy the probe in mere seconds, which is crucial when every second counts in a rescue situation. Laser-etched depth markings further increase efficiency by helping you take accurate depth readings without having to squint or double-check. Plus, the whole things folds up into a very compact size, so you don't have to waste any space in your pack.
Ultralight carbon probe for avalanche rescue
Quick-Lock hardware for easy and fast deployment
Laser-etched depth markings for quick readings