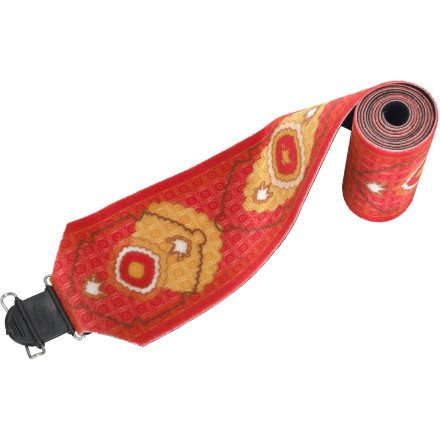 Colors
Slap on the Backcountry Access Magic Carpet Skins, do a beacon check, and begin your trek up the mountain for some deliciously deep pow turns.
Water-repellent nylon sends you gliding steadily up the skin track
Glue is formulated for cold North American temps
Tip and tail hardware is compatible with most ski designs, including rounded twintip designs
Included trim kit gives you the tools you need to cut your skins to fit any sidecut
Length: 195cm
BCA Magic Carpet Skins Stick
Familiarity:

I've put it through the wringer
I've used these all over the world in every type of snow imaginable. They stick. When my buddies are sliding back and flailing, I'm sticking and gripping.

These things are tough, as well. I commonly climb over jagged steep rocks in these and they don't get beat up.

The glue is also crazy strong. Almost too strong. But I'd rather have the glue be strong and last a long time than the alternative.

Overall these stick, they're tough, and the glue goes forever.

They are a bit heavier than some other skins on the market, but the tradeoff in power more than makes up for the tiny bit of extra weight.
Miles Clark
A lot of reviewers here state that the glue is super sticky on these skins. They are correct. The glue is like cement! Took them out yesterday for their first day of use and i will never use them again. After touring up to a ridge, it took two people to get the skins OFF my skis. This should've been my first red flag but the untouched pow stole my attention and down we went into a gulley to get fresh tracks. When it was time to tour back uphill....We could NOT get my skins apart (I folded them in half like I've always done...no skin savers). My partner and I tried for 10 min to get the skins apart which was a hilarious and futile scene if anyone had been watching. While my partner was prepping to tour out for help (no way could I walk uphill thru fresh pow), a group of snowshoers appeared and offered to help. It took 3 people to get my skins apart and we were pulling so hard that we tore the nylon from the black base of the skins (see pic). I was able to use them to get out to civilization again....but damn....I wouldn't recommend these skins to anyone!! Not sure if it was the 11degree temps that cemented the glue or if I got a defective pair...but I'm not sure why anyone would want skins that are pretty damn near impossible to use. Two stars because they had excellent grip going uphill.
TiffDawg
Satisfied
Familiarity:

I've used it once or twice and have initial impressions
The cutting tool worked great and I cut my skins to my ski fairly quickly! The feature of folding itself back on the stick side is interesting, however it works great! Climbing up I stick great to the snow. I know I can rely on these skins!
Jackson Hill
Brother is Happy
Familiarity:

I gave it as a gift but have feedback to share
Got these for my brother. I don't think he has used them yet, but the construction on them seems great and I doubt he'll have any issues.
Carly Mueller
Grippy and Trustworthy Skins
I have always toured with BCA Magic Carpet Skins and they have yet to disappoint. I have had friends have issues with their skins when the skin track is icy, or adhesion wearing off quickly, but not the magic carpet skins. I had my old pair for 3 seasons and were still SUPER adhesive - I only got a new pair because i got new skis, but will always be loyal to the BCA Magic Carpet Skins. Also, super easy to cut and the skins come with a cutting tool. And I personally like the clips on these skins more than other systems as they are really easy to get on and off quickly.
Larissa Bortz
Unanswered Question
Does this hardware work on splitboards?
Jordan L.
good grip, great glide
Familiarity:

I've put it through the wringer
I have been nothing but pleased with my BCA magic carpets. The uphill grip is good, and the downhill glide is great. I have heavily used my magic carpets for three seasons now. The glue is still as sticky as the day I pulled them out of the bag. Never have I been the guy with multiple voile straps holding my skins on, and BCA I salute you for that. Sierra conditions as we all know are wet, and rarely do I find snow gathering/clumping to the bottoms of my skins. For the most part, these skins outlast my legs. Take a ride to the top of a mountain on the Magic Carpets. You won't be disappointed.
BennySchmitt
Solid all around skins
Familiarity:

I've put it through the wringer
I have used these all winter, touring about 5 miles a week, and they show very little signs of wear. They're super grippy and won't slip back even when the people around you are. The glue is also still sticky and I haven't had to do any maintenance on them. When cutting them, I recommend using a marker to draw the cutting lines for the tail connector. Makes it super easy!
Isaac
Lighter and Stickier
Familiarity:

I've put it through the wringer
I was using Black Diamond skis for years until it came time for a new pair which is when I bought a pair of magic carpet skins. These skins proved to be lighter than the BD skins and ultimately prevented me from slipping in places where I wasn't be able to keep my feet under me before. Look no further.
Ben Goertzen
Sticky SOB's
Familiarity:

I've put it through the wringer
The Magic Carpet glue is phenomenal and almost too sticky. They are more reliable than BD's Ascension Nylon's in terms of adhesion. The glide is ok on these but the traction and skin graphics are awesome!
Matt A
This is my second season using these skins and I have become less impressed with continued use. While slipping is rarely an issue on steeper slopes I have found that during spring skiing conditions they accumulate snow very quickly. Having had a very warm February, BC expeditions have been especially difficult because of ice and snow build up on the skins.
My next move will be to invest in some skin wax but overall I have been disappointed with their performance. Especially considering my BC buddies who are using different brands of skins have no issue in the warmer/stickier snow conditions. If skin wax isn't sufficient in taking care of snow build up I will definitely be purchasing a different pair of skins. The added effort of carrying around 1-6 inches of snow on your skis can lead to some tired legs!
-0
I think anyone would agree the graphics on these skins are awesome! Beyond the look they are great skins. Easy to cut and fit. Easy to attach to your skis and the system keeps them there and as we all know there is nothing worse than a skin that keeps falling off your skis.
Francesca Pavillard-Cain
This may be a silly question, but I saw that the skin length is 195cm. Will they work for a 179 ski?
Jesse Cohen
Hey Jesse,



They will fit! They are adjustable to any ski under 200mm. Let me know if you have any other questions getting set up or if you would like me to help set up your order!
Justin Morgan
Hey Jesse - Justin is right, you will just need to trim these skins to fit your 179 cm skis and reattach the tail clip.
Kyle Livingston
Have been great so far
Familiarity:

I've used it once or twice and have initial impressions
Took these skins out for a couple laps last week and they truly performed. The conditions were very spring like with wet/slick snow in places. I slipped a few times but only on the second lap and it could have been more to do with the snow softening/getting icy. They were very easy to cut, and very easy to get on and off my skis. I use these skins on volkl 10eight w skis and the combination has been great. I would recommend these skins to anyone looking for a new pair!
-0
What size will i need for the Nordica Bushywanye 153-127-146
The 145mm will do the trick! Hit me up directly with any other questions.



TREY SCHANZENBACH

Expert Gearhead

Office: 1-800-409-4502 ext. 4689

tschanzenbach@backcountry.com
Trey Schanzenbach
Unanswered Question
Can I get away with the 130mm skins for my RMU North Shores 135-145-114-130-126?
yourDisplayName
Unanswered Question
Would these work on line sir francis bacon's in 178? Wondering about the 195 cm length..
Matthew G.
Dependable
Familiarity:

I've put it through the wringer
The best gear is the gear you never have to think or worry about. I never have to worry if my Magic Carpets will be up to the task. The glue is borderline cement (easily remedied by a strip of packing tape), the glide is fantastic and the grip on the way up is second to none. I do however use an STS tail clip verses the stock tail clip as I think it is more versatile and the skins can fit multiple length skis. These skins have never failed me even after years of use and abuse.
Weston D
fleek
Familiarity:

I've put it through the wringer
O the compliments I get on the style of these skins is enough to recommend them! but then how easy they are to cut to your ski's and how well they glide and also purchase makes them an easy decision. best skins i've owned yet.
Colter